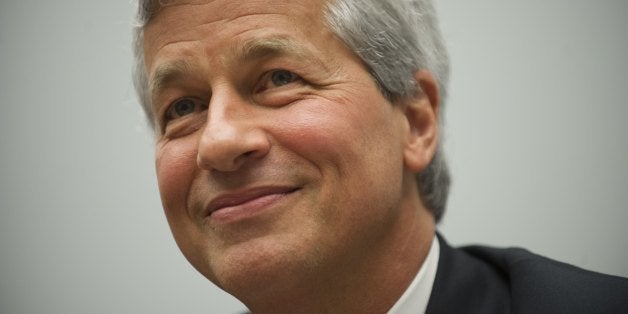 After wrecking the U.S. economy and sucking hundreds of billions of dollars from American taxpayers for their own survival, what can our patriotic big banks do for an encore? Why, help American companies flee the U.S. to avoid taxes, of course. For America!
Andrew Ross Sorkin had a must-read New York Times column on Tuesday about how some of our biggest bailout recipients also have the biggest share of the nearly $1 billion banks have made in the past few years helping U.S. companies do "inversions." That's when an American company buys a company in an foreign country that has a lower tax rate and then moves its headquarters to that country to shave a few points from its tax bill, possibly costing the U.S. government $19 billion over the next decade. For America.
And you'll never guess which bank has made the most money on this patriotic activity! OK, you'll probably guess: It is Goldman Sachs: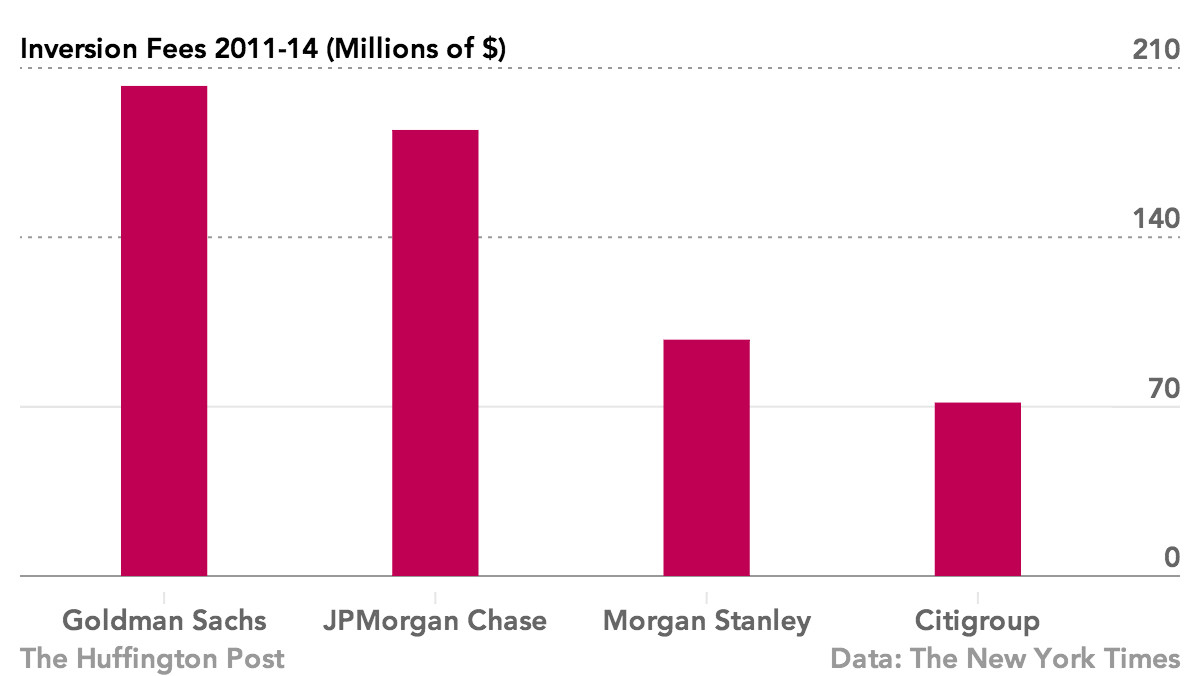 Yes, the Vampire Squid has made more than $200 million advising companies on 10 different inversion deals since 2011, according to the NYT's crunching of Thomson Reuters data. The second-busiest inversion handmaiden is Morgan Stanley, with 8 deals at nearly $98 million. JPMorgan Chase has made more than $184 million on 6 such deals, and JPMorgan CEO Jamie Dimon has taken the extra step of publicly defending the practice, Sorkin noted.
"We have a flawed corporate tax code that is driving U.S. companies overseas," Dimon recently said on a conference call. "Even if you stop and say, 'Don't invert,' capital will move away."
And then Dimon added this hilarious kicker: "I'm just as patriotic as anyone." Which is a little like the "some of my best friends are black" racism defense.
I dare say that Jamie Dimon might not be exactly as patriotic as anyone, like, say, a soldier holding it down at a forward operating base in Afghanistan or, I don't know, maybe the CEO of a company that decides against doing an inversion for reasons of actual patriotism.
But Jamie Dimon is not the first person in a Sorkin column to declare their undying love of country while doing the opposite thing. In a recent column titled "Reluctantly, Patriot Flees Homeland for Greener Tax Pastures," Heather Bresch, the CEO of drug maker Mylan, called herself a patriot as she reluctantly packed her bags to reluctantly move her company forever to the Netherlands, in order to reluctantly cut her company's tax bill from 25 percent to the "high teens."
Dimon and other defenders of inversions claim they keep U.S. companies competitive and so are truly patriotic. If only the U.S. would cut corporate tax rates, they say, then these companies would stop running away. But most of these companies already pay far less than the statutory tax rate of 35 percent. And one tax professor told Sorkin that the U.S. would have to cut its corporate tax rate to less than 10 percent to have any real effect.
Unlike Dimon and Bresch, many bankers involved in inversions apparently have normal human shame responses and thus declined to comment to Sorkin on the record about inversions. One told Sorkin, anonymously:
"This is going to sound cynical, but as much as I may hate these deals and the ramifications for our country, if I don't do the deal, my competitor across the street will be happy to do it."
Pro tip: If you ever hear an investment banker start a sentence off with "This is going to sound cynical," you'd better brace yourself for a blast of weapons-grade cynicism right in the face.
President Obama has called for Congress to stop inversions, so of course they will probably go on forever. But if even Andrew Ross Sorkin, who usually struggles to find reasons to criticize Wall Street, is angry about them, then maybe the chances are a little better than we thought.
Related
Popular in the Community