Some U.S. banks are opening their doors to marijuana-related businesses across the nation but remain wary of them, and many are also continuing to shutter marijuana businesses' accounts.
That's according to new data from the Financial Crimes Enforcement bureau of the Treasury Department, obtained by financial regulatory analysis firm Dynamic Securities Analytics via a Freedom of Information Act request and published Monday.
The data reveal that financial institutions in 25 states filed more than 1,700 reports for marijuana-related businesses receiving traditional banking services. Those are businesses that the banks believe to be in compliance with federal guidance and their state laws.
According to FinCEN guidance, banks that work with state-legal marijuana businesses must report their activities in a "suspicious activity report," or SAR, of which there are three classifications -- "limited," "priority" and "termination." The "limited" filing means banks are simply working with marijuana-related businesses and those businesses are not believed to be in violation of federal guidance or their state marijuana laws. More than half of the 3,157 marijuana-related SARs filed were of the "limited" classification.
However, the FinCEN data also reveal banks are filing nearly as many reports that terminate service with a marijuana business.
There were 1,292 SAR filings classified "termination" -- a classification banks reserve for marijuana-related businesses to which they cease to provide banking services in order to maintain compliance in a federal anti-money laundering program. The remaining 313 SARs were classified as "priority" -- meaning banks believed those marijuana businesses may have been violating federal guidance or state law.
That doesn't mean more than 1,700 marijuana-related businesses are receiving financial services and more than 1,500 are breaking the law. Banks knowingly working with state-legal and regulated cannabis businesses are obligated to submit regular reports, and the data doesn't reveal how many businesses are associated with the reports -- nor does it indicate how many are actually receiving access to banking. And since FinCEN has never released such detailed data on its marijuana-related SARs previously, it's also not clear if the number of reports -- or the number of marijuana businesses receiving financial services -- is growing or shrinking.
Alison Jimenez, financial regulatory analyst and president of DSA, told The Huffington Post the number of "limited" filings does indicate that some financial institutions are opening their doors to marijuana businesses, which is good news for the businesses. But she said the other two filing classifications, making up nearly half of the total SARs filed, indicate banks are "still cautious about engaging with marijuana-related businesses due to regulatory uncertainty."
Historically, banks have been mostly unwilling to work with state-legal marijuana businesses for fear of being implicated as money launderers. Marijuana-related businesses are often forced into cash-only transactions, putting the retailers' safety at risk and creating complications around taxes and employee payroll.
Guidelines announced by the Treasury Department and the Department of Justice last year were intended to ease those concerns, outlining that the federal government would not be targeting banks working with marijuana-related businesses that are legal and regulated on the state level.
However, the guidance falls short of expressly protecting banks that work with state-legal, state-licensed marijuana businesses from prosecution -- a fact that, more than a year later, still gives banks pause.
"Marijuana is still illegal under federal law, and if we process funds from a marijuana business and something turns out to be wrong, we risk losing our charters," Rob Rowe, American Bankers Association vice president and associate chief counsel, told HuffPost. "Banks are very aware of the needs of these businesses, but we're stuck."
Rowe explained that based on informal conversations he's had with banks around the nation, some have indeed begun to offer financial services to marijuana businesses, but only if they deem them as "extremely good customers." But ultimately, Rowe said, banks for the most part are "very wary" of these businesses, and still see the risks as too high to offer traditional financial services to them despite federal guidance intended to facilitate increased access to banking.
Overall, nearly 400 financial institutions filed 3,157 marijuana-related suspicious activity reports in at least 42 states and the District of Columbia between Feb. 14, 2014, and Jan. 26, 2015.
It's the most detailed data to date on how banks are interacting with marijuana businesses. Previously, the only available data was mentioned during a 2014 speech by FinCEN director Jennifer Shasky Calvery, in which she revealed that just over 1,000 marijuana-related SARs had been issued by banks to FinCEN during a six-month stretch of that year.
DSA notes the total reports filed add up to 3,341 -- not 3,157, as reported by FinCEN. The reason for the discrepancy is unclear, but one possible explanation DSA offers is that banks can include more than one SAR classification in a single filing -- i.e., both "priority" and "termination" could be used simultaneously when a marijuana business' account is shut down.
Marijuana is already a quickly expanding multibillion dollar industry. Advocates for marijuana reform say the federal banking guidance simply does not go far enough for this growing industry, given that 23 states have legalized marijuana for medical purposes, four states and the District of Columbia have legalized recreational marijuana, and at least 10 other states are considering legalizing marijuana in some form over the next several years.
"We're happy for anything that allows even a few more cannabis businesses to get bank accounts, but this is a crisis that demands a sustainable, industry-wide solution, and the guidance just hasn't been more than a Band Aid," said Taylor West, deputy director of the National Cannabis Industry Association. "Seventeen hundred limited SARs reports, many of which are likely to be recurring reports, is nowhere close to sufficient."
There isn't hard data on just how large the legal marijuana business community is, but West estimates there are at least 2,000 to 3,000 dispensaries nationwide. But that number doesn't include the many cultivators, edibles manufacturers and ancillary businesses that circle the industry.
And while any increase in the number of "limited" SAR reports "is better than nothing," West said, it's increasingly clear the federal government's banking guidance for marijuana businesses is "just not working in a broad-based way."
Before You Go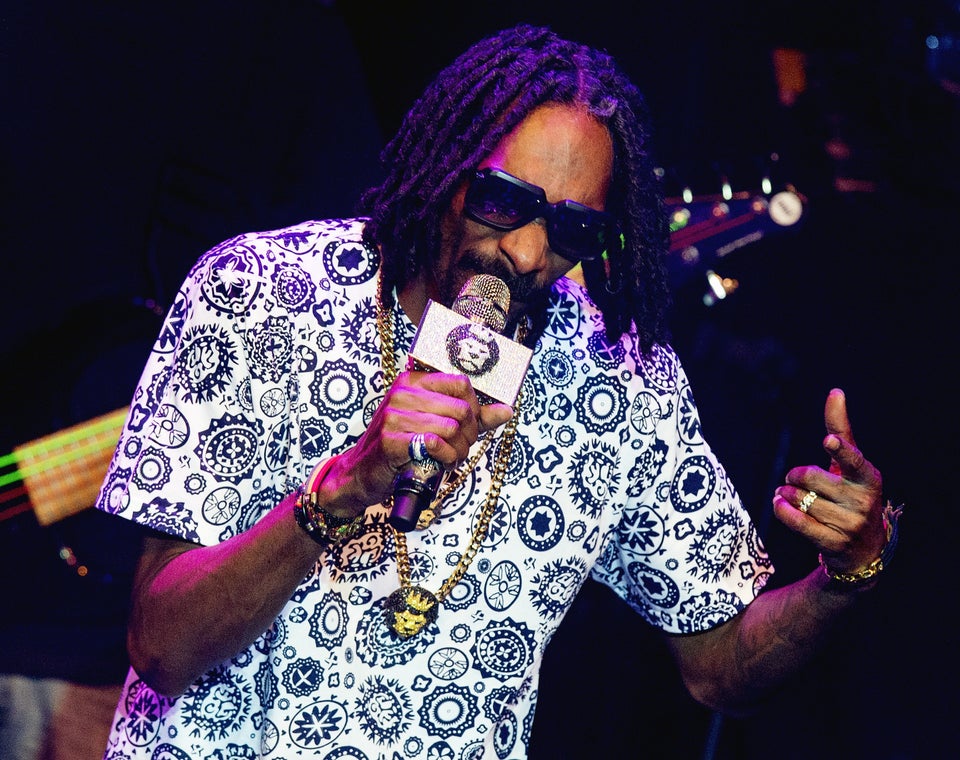 Most Influential People Who've Used Marijuana
Popular in the Community