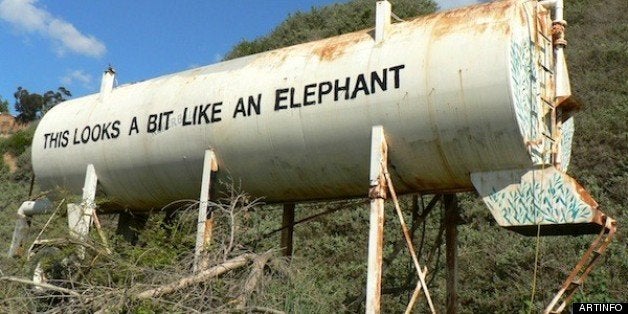 In 2011, while in Los Angeles promoting his documentary "Exit Through the Gift Shop," the shadowy British street artist Banksy tagged a vaguely elephantine water tank near the Pacific Coast Highway with the sentence "This Looks a Bit Like an Elephant." Unbeknown to him, the abandoned tank had been serving as a makeshift home for Tachowa Covington, and the attention brought by the famous artist's stencil forced him to abandon his home of seven years.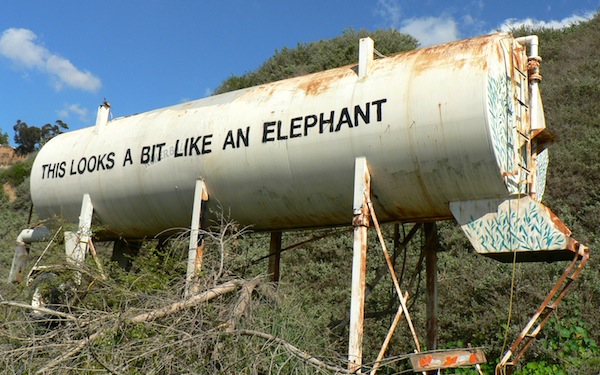 via Capturing Banksy
"I watched it for a month or so," Covington told the Independent, recounting his discovery of the tank after it was abandoned in 2004. "Eventually, I climbed inside and saw that it was empty. I thought, 'Wow. This would be a cool place to make a house.' I picked it as a sanctuary, a place to kick back, to be close to God and to the ocean." A choreographer and dancer, and a former escort and Michael Jackson impersonator originally from Sacramento, Covington became friendly with the local police, who didn't bother him, and even had his mail delivered to the tank.
"People left me alone because they thought it was an empty tank and I was just climbing up there with a sleeping bag," he told the Independent. "But I was building inside the whole time." By the time February 21, 2011 rolled around, he had installed a generator and security cameras, and was lobbying to secure squatter rights to the tank. That's the night he heard to people moving around outside his home.
"I looked out of the hatch, and there were two guys there," he told the Independent. "I asked what they were doing, and one of them said, 'We're just making a joke'. I climbed down the ladder, looked at the writing, and I said, 'Hey, that looks pretty cool!' I introduced myself, and the English dude told me his name was Banksy. I didn't know who he was, so I didn't think twice about it."
Less than two weeks later, after buying the tank directly from the city of Los Angeles, the owners of the design firm Mint Currency had it removed by crane and trucked away, leaving Covington just 16 hours to gather his possessions and vacate his home of seven years. That's when Banksy stepped in to help the man he'd inadvertently left homeless, giving him enough money to find an apartment and pay his bills for a full year.
"He helped me so fast, I didn't have to spend a single day more on the streets. It was like a miracle," Covington said. "There ain't no better man than Banksy... He was an angel to me. He helped me more than anybody helped me in my life."
Recently, the artist's money ran out, and Covington was forced to move back to the hillside where his water tank home once stood while he waits for state-supported housing to become available. In the meantime, his story has inspired a new play, "Banksy: The Room in the Elephant" -- which debuts at the Edinburgh Fringe Festival this week -- and a forthcoming documentary.
Calling all HuffPost superfans!
Sign up for membership to become a founding member and help shape HuffPost's next chapter