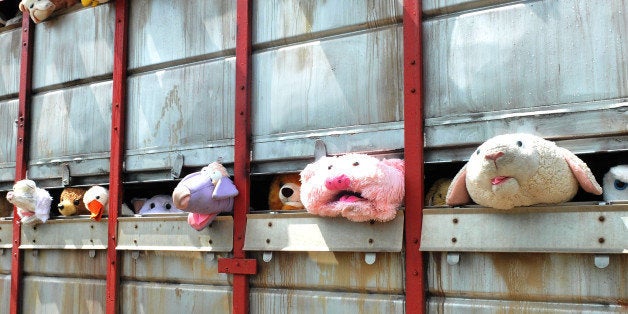 One afternoon in 2006, a Frenchman and a guy who looked like a plumber drove up to a warehouse at the end of a quiet commercial street east of downtown Los Angeles.
The Frenchman was Thierry Guetta, aka Mr. Brainwash, an eccentric filmmaker who frequently collaborates with the elusive British street artist known as Banksy.
The other man -- the plumber type -- was Banksy himself.
So starts the juiciest personal story in the repertoire of Joel Unangst, the owner of the warehouse he said Banksy and Guetta drove up to that day. The two men were scouting a site for "Barely Legal," Banksy's first American art show, which notoriously featured an illegal painted elephant, and would prove instrumental to the artist's rise.
The deal went through. True to form, Banksy liked the building for its "remote" location on a dead end street, Unangst told The Huffington Post.
For his part, Unangst said he had no sense that the ordinary-looking Brit he was signing up would become one of the world's most famous artists.
It may be hard to imagine Banksy as a nobody, as his high-stakes, much-covered New York City residency, "Better Out Than In," comes to a close Thursday. For the past month, the famed prankster has played a cat-and-mouse game with the NYPD, dropping public artworks daily -- some simple (the classic black-and-white Banksy stencil), some staggeringly elaborate (a slaughterhouse truck packed with stuffed animals, in protest of factory farming, titled "Sirens of the Lambs"). He's managed to criticize the obvious targets along the way -- McDonald's, the art world, the new World Trade Center -- and rankle Mayor Michael Bloomberg.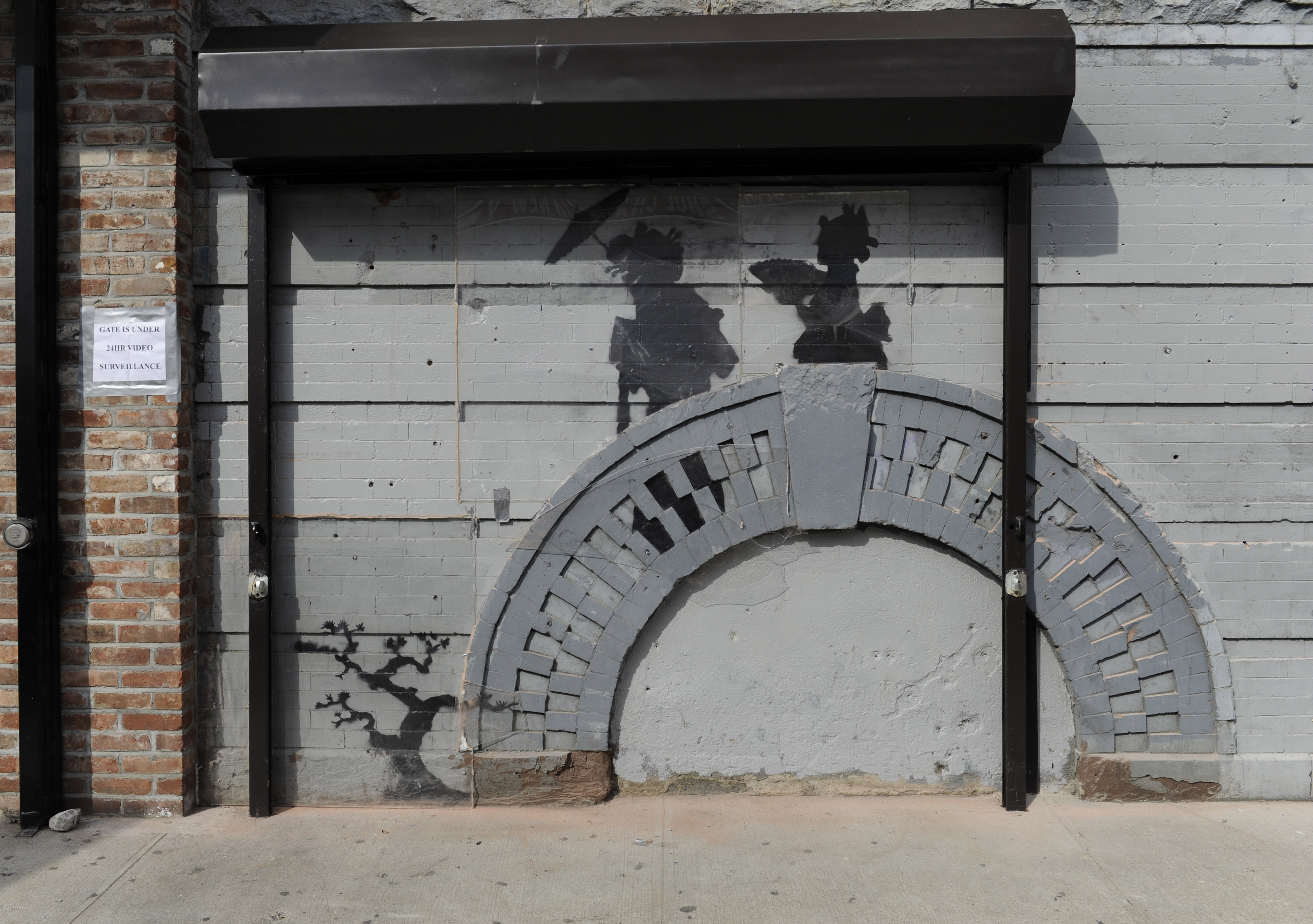 A spray-painted wall attributed to Banksy in Williamsburg, whose owners have hired security guards to protect it.
But bigger than all those triumphs is that he wasn't caught. Throughout the monthlong residency, Banksy's secrets were kept -- his location, his given name, his cell phone number. Anonymity is crucial to his operation. It keeps him out of jail, and sustains, as he put it in a New Yorker article "the element of surprise" his fans love.
He hasn't always succeeded. An article published on the Daily Mail on July 12, 2008, features the below photo of a man, underneath which the caption reads: "In the frame: The man in this photograph, taken in Jamaica four years ago, is believed to be Banksy." Unangst said these are the real deal. "There's pictures of him at the Daily Mail," he said.
Among the street artist community, though, there's a silent agreement not to squeal. "A lot of people know who Banksy is. A lot of street artists," said Steven P. Harrington, co-founder of the popular blog BrooklynStreetArt. "I think that's part of the fun of the street. People don't talk. To me, that more or less proves the kind of respect he has on the streets. If you wanted to damage his brand, the first thing you'd do is expose him."
Banksy wasn't exactly welcomed by his American colleagues. The "clannish" nature of the street art community made for "xenophobic comments," Harrington said, "about this British guy coming over here to New York."
But "as far as codes go, it's 'Don't rat,'" said Bishop203, owner of Low Brow Artique, a graffiti supply store in Brooklyn. Bishop, himself an anonymous artist, said Banksy "haters" sounded off in his store all month, but there was never even a wishful allusion to outing the artist.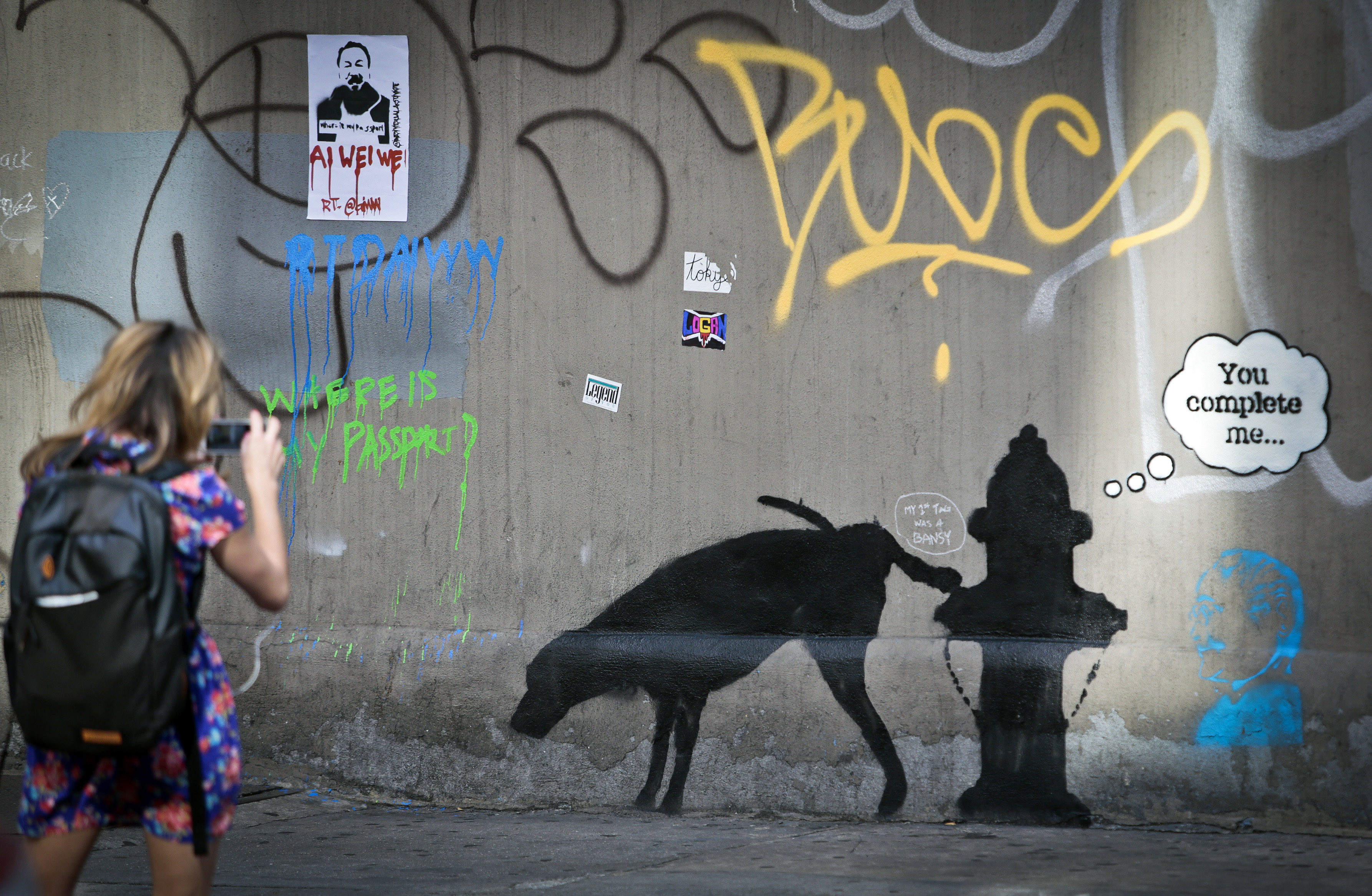 "What's the point?" said Yoav Litvin, a New York-based photographer who writes about street art. "Your reputation would be destroyed. Street art is a lot about respect."
Respecting Banksy occasionally backfires. The story goes that a few months ago, an artist uploaded a picture to Instagram of himself and another man, captioned "me and my boy, Banksy," according to Bishop. The idea, Bishop suggests, was to show off.
But the peacocking apparently had the opposite effect. "Every other graffiti writer verbally destroyed him, until he finally took it down very quickly," Bishop said.
Conspiracy theorists point to the aura of protection around Banksy as confirmation of a much-espoused rumor: that he doesn't actually exist.
James Top, a member of New York's first generation of graffiti artists, subscribes to this explanation. He said he believes Banksy to be an invention of "powerful and wealthy" art world players who've discovered how to reliably turn a buck -- by making and selling work as "this mythical Banksy person."
To Top, a scheme headed by an imaginary mascot seems less farfetched than an all-powerful code.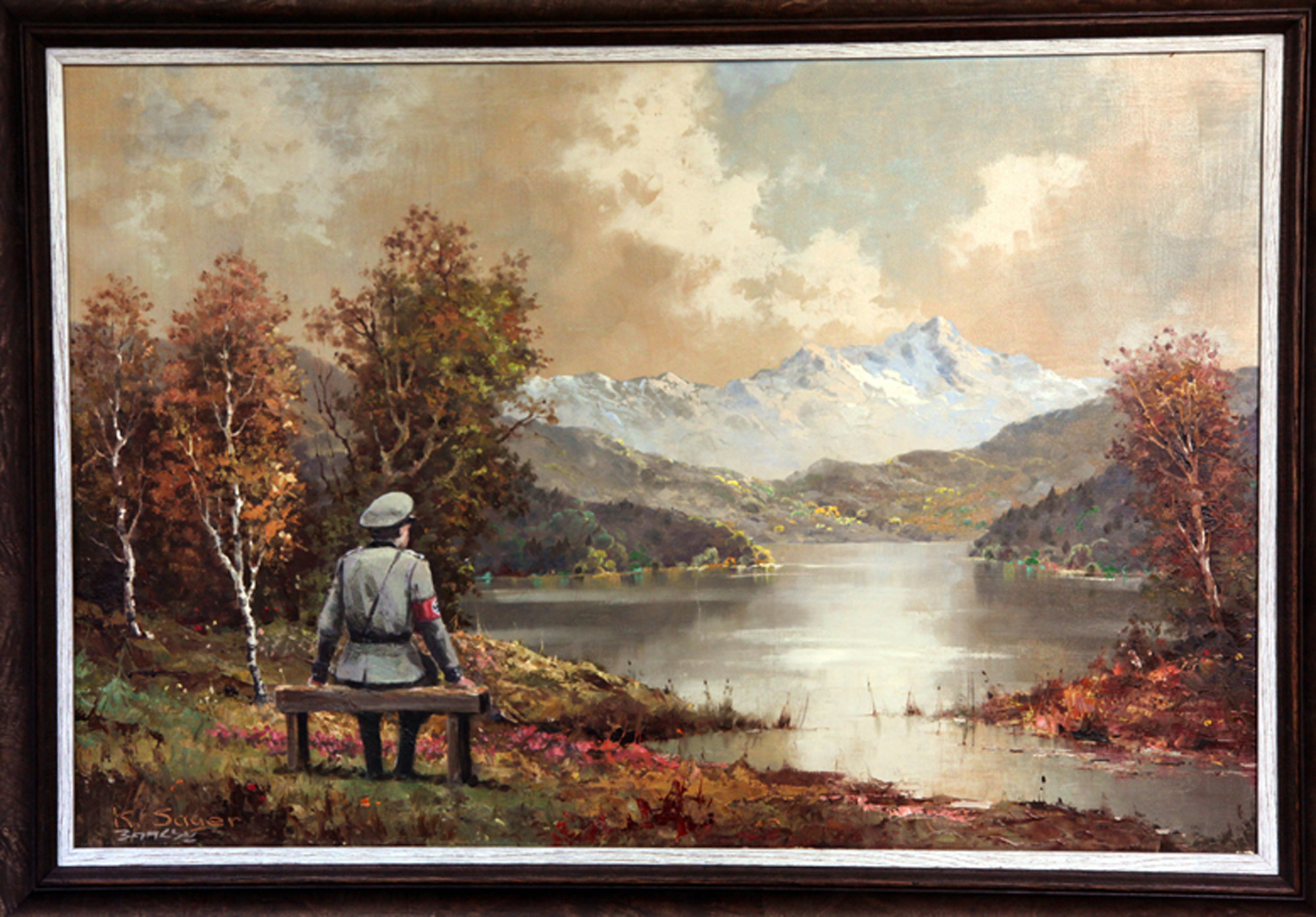 One of Banksy's stealthiest acts during his New York residency -- a landscape donated to a Housing Works shop, with a Nazi figure painted into it.
"Some of his friends must be in difficult financial situations," Top said. "If someone needed $15,000 to save his home versus protect Banksy's image, you're telling me he wouldn't be willing to sell a picture of Banksy here in New York?"
Unangst, who swears Banksy is real, said the answer is simple: "If you want to be cool with Banksy, you don't really talk about him."
Unangst's revelations weren't explosive. Banksy is "a genius and a madman," he said, "like everybody, but ... like nobody." Some details were clearer, like Banksy's penchant for paint-smudged T-shirts. Unangst said he was asked to use a generic male name when talking to him. But nothing was damning -- there were no birth names confirmed, or covert photographs sold to the magazine.
Still, there was a "fallout," Unangst said, adding that he's no longer in touch with Banksy or his team.
He remains a fan. "Better Out Than In" has compelled him for its sheer scope. Unangst hypothesizes that the crew of 15 or so Englishman he met in 2006 has blossomed into more. Banksy -- who he said was "very good at cutting stencils," and "paranoid" about being outed -- may well be sitting in the shadows while his army of "art warriors" execute the plans out on the street.
As for why no one in Banksy's inner circle has gone soft and run to the tabloids, Unangst has a simple theory: "Even they don't want to be photographed."
CORRECTION: A previous version of this story misidentified the co-founder of the blog Brooklyn Street Art as Stephen Powers, instead of Steven D. Harrington. Mr. Powers is a well-known street artist, but not the right man.
Related
Before You Go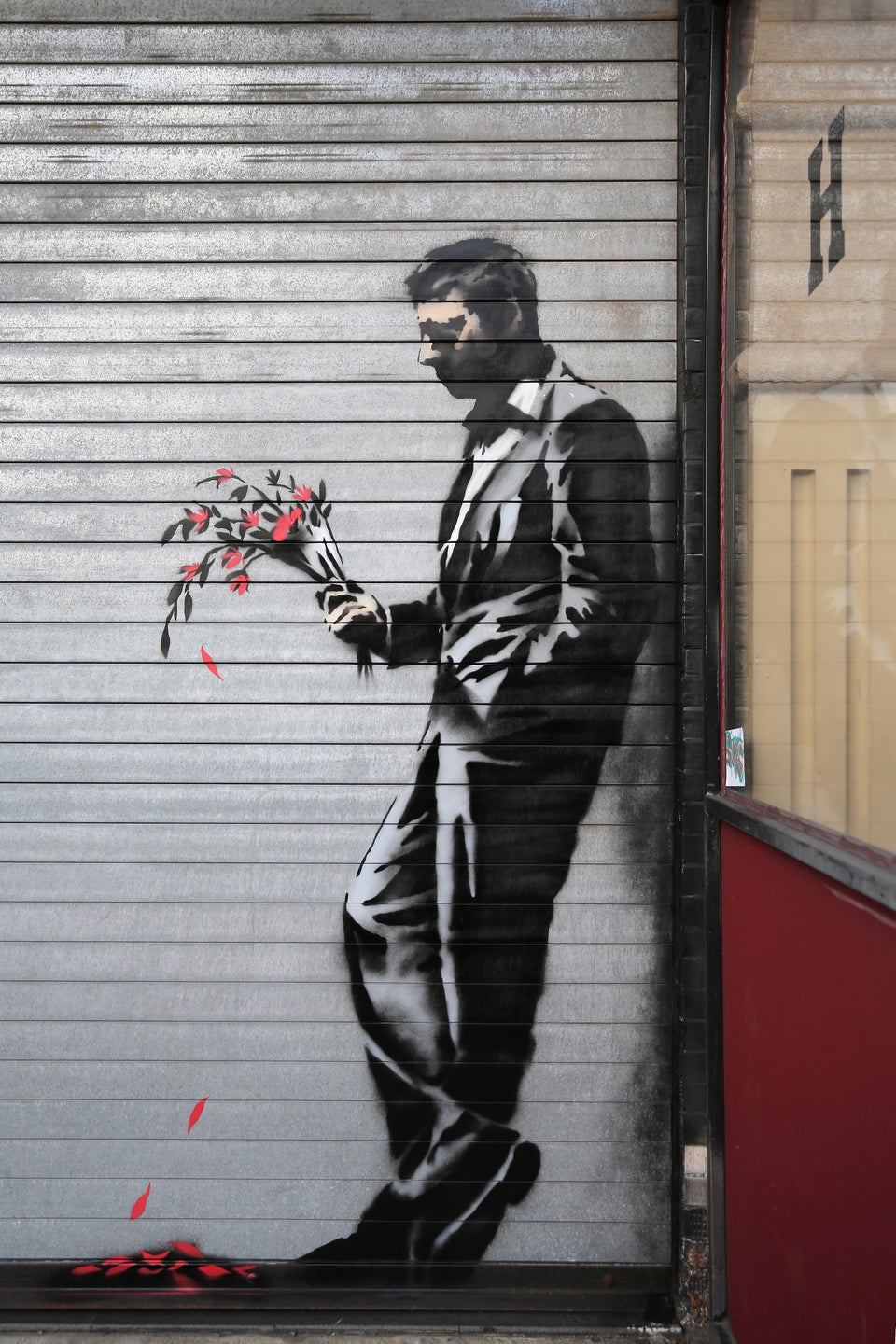 Banksy In NYC
Popular in the Community