Hey, have you heard those Banksy rumors?
This could be the opening line of every article we've written about the anonymous British street artist. He (or she) seems to enjoy confusing fans, teasing projects without revealing any useful information. Banksy came to New York, spent a month pasting work on its walls -- no one caught him. Banksy frequently tags towns in the U.K., and we're none the wiser to his identity. There were those documentaries, that brought us zero percent closer to understanding the man behind the spray can.
This week, the Banksy rumor mill was churning out a doozy. According to a good handful of news sources on both sides of the Atlantic, including The Guardian and Vanity Fair, Banksy is building an entire theme park under our noses. Not a miniature theme park. Not even a kind of small theme park. He's imagined a Disneyland-esque "pop-up exhibition" the size of a movie set in Somerset, England. 
The theme park, located at the site of a former Tropicana pool that's been closed for 15 years, is thought to be dubbed "Dismaland," a title that many are interpreting as a darker version of the happiest place on Earth. Whispers of Banksy's involvement began after Holly Cushing, Banksy's rumored manager and a named producer for "Exit Through The Gift Shop," was maybe spotted at the site of the park earlier this month. 
Currently, the faux-movie set appears to be, well, a movie set. Some reports note that the area has been cordoned off by Hollywood film producers from Atlas Entertainment, who claim they are filming a crime thriller called "Grey Fox." Those reports also note that no one's seen a camera crew in the vicinity. All we really know of the project so far is that it's tightly guarded -- and people really want it to be a Banksy theme park that opens this Friday to the public.
We reached out to Banksy's handling service, Pest Control, for comment but have yet to hear back. While we wait until Friday rolls around, wondering whether the gossip is true or if Banksy fans are trolling us all, let's predict what could possibly show up at a Banksy-themed amusement park. Because, why not? 
1. A merry-go-round made to look like animals on their way to the slaughter house. Remember when he made fluffy toys squeal like dying animals in New York City?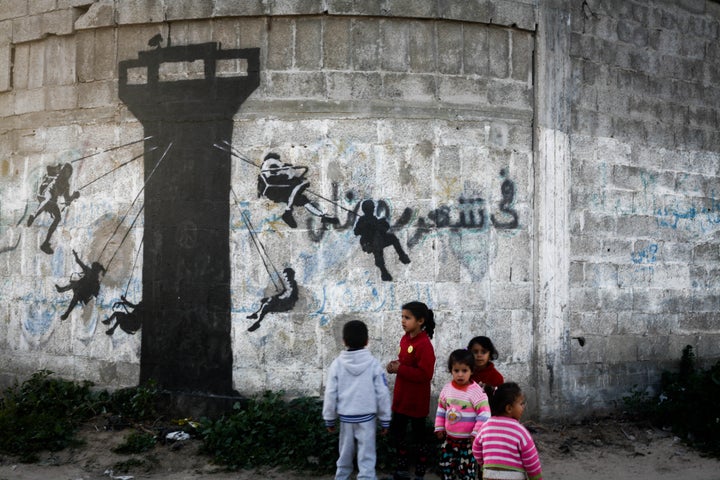 3. A space for theme park enthusiasts to play "no ball games." Only it costs £500,000 to play and, no, there is no ball.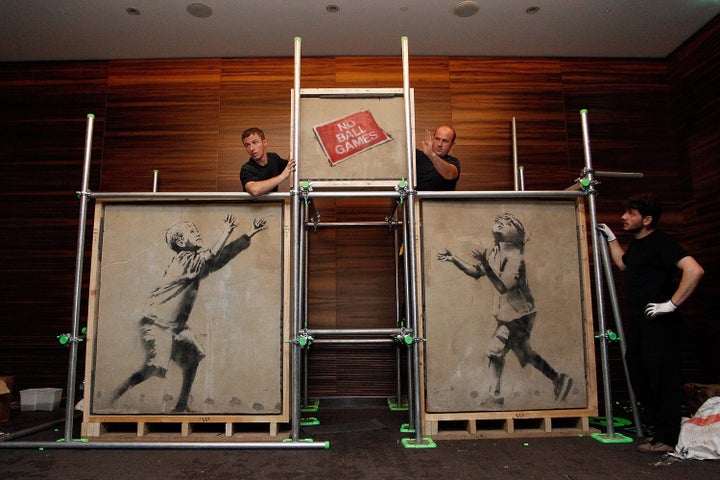 4. A giant concession stand advertising only snacks that are out of stock. Think about your lifestyle, man.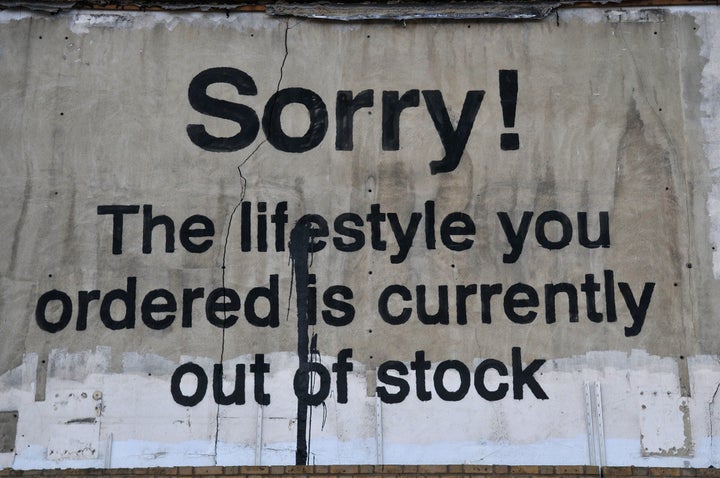 5. A darts game in which players attempt to pop red, heart-shaped balloons. One of the balloons, the rules claim, has a photo of Banksy inside. But it's all a ruse. Every balloon has a photo of a person who is not Banksy inside of it. You will feel betrayed, like the tiny girl below.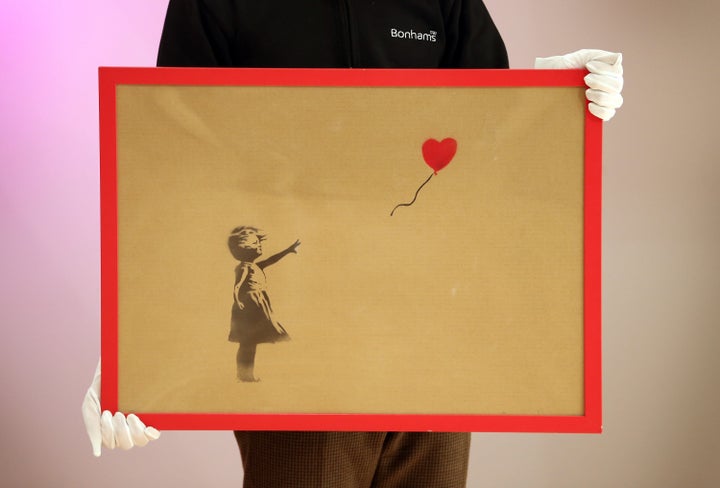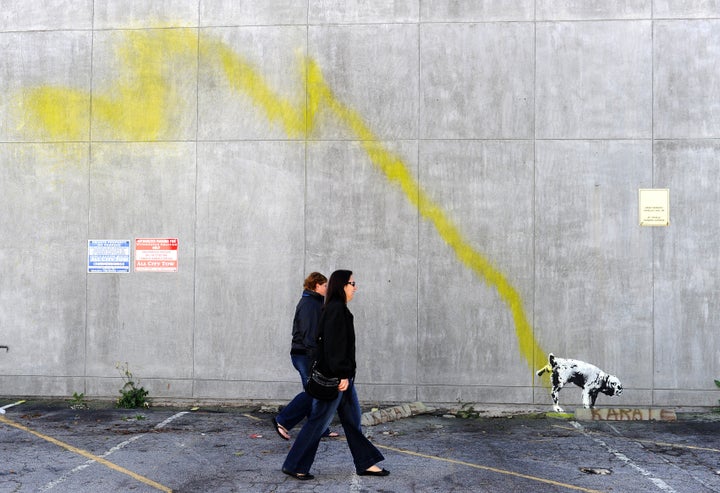 7. Definitely something having to do with rats. Guess a rat's weight? Pin the tail on the rat? Tilt-a-rat?
8. This. This will be a game.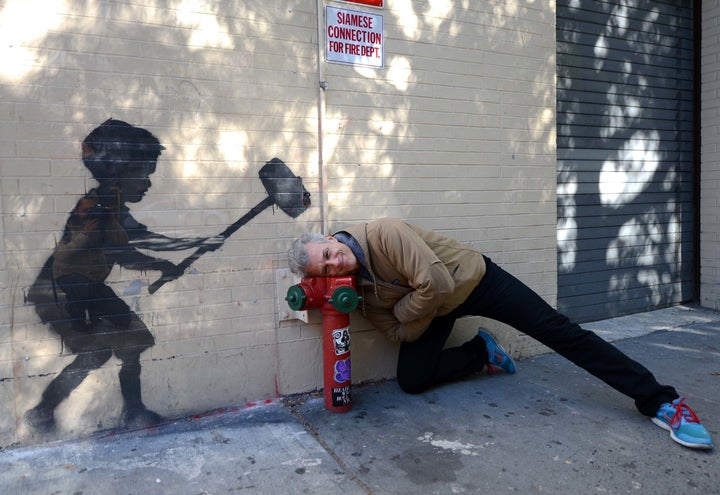 9. A roller coaster that appears one day but is actually white-washed a mere hours later. Either that, or the developers who own the park property show up midway through the day, place some red velvet rope in front of the ride, and charge you $50 extra to even look at the thing.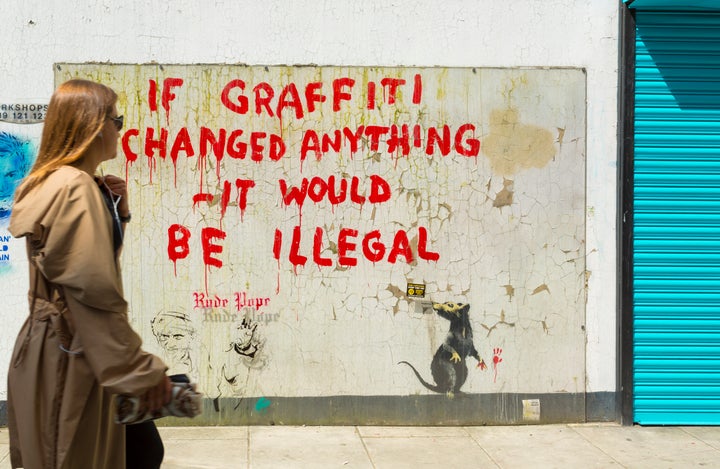 PHOTO GALLERY
Banksy In NYC
REAL LIFE. REAL NEWS. REAL VOICES.
Help us tell more of the stories that matter from voices that too often remain unheard.