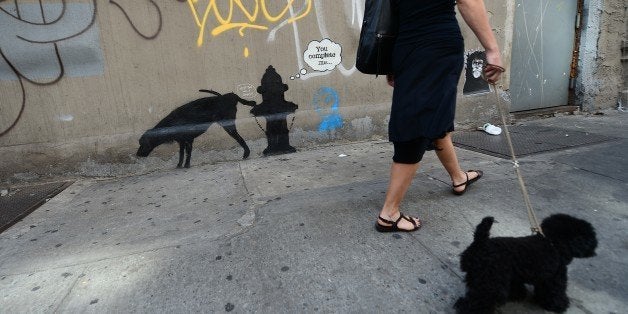 People decide whether they like something based on who else likes or dislikes it. Taste has always been a team sport rather than an individual opinion. British artist, Banksy, is a good example of an artist who is well admired and popular among people who feel that they know something about art but probably don't know as much as they think they do.
The people who do know more about art take notice that the wrong people like Banksy and so therefore they choose to dislike it. I might be very traditional but I have been training myself to be the best visual artist I can be and so I am always eager to expose myself to more art. To me, being a good artist is having an interesting idea and then being able to visualize it in a way that keeps the attention of a viewer. Banksy is a conceptual artist who makes visual puns and is blazing a trail as a third tier, third generation, Andy Warhol wannabe. He would probably make a better creative director at an advertising agency.
His work is cool and interesting to a certain extent but simply does not provoke you to look at it for a very long time. Good art should draw you in for more than just a second. Banksy's does not.
Maybe Banksy is right and I am old fashioned. Maybe everything can be reduced to a tweet and the idea of writing and making art in depth is outdated. Today everything is reduced to 140 character tweets and 6 second vines. Maybe this is simply today's visual culture in which you see something, understand it, move on and you're left not feeling sure whether you saw art, advertising or something indistinguishable from advertising. Banksy's work has become the backdrop for an iPhone "selfie."
Banksy's work is witty, surprising, adequately sophisticated street art. Some say that you can take his work at face value and there is truth to that. By virtue of the fact that it makes a dull street interesting, I am not arguing against it. I am only saying that it has its place but I am not going to put his work in the same category as other great artists like Francis Bacon, Philip Guston, Alice Neel and Egon Schiele, to name a few.
According to art critic Jerry Saltz, "Our month long snore-fest is over. Banksy's work, without the spotlight of hyped up publicity, now look as trite, generic and as boring as they really are." At its best, Banksy's work will have some sort of place in the archeology of New York City and London after the apocalypse.
Calling all HuffPost superfans!
Sign up for membership to become a founding member and help shape HuffPost's next chapter