The first week of December means thousands of art aficionados from all over the world will assemble in Miami for Art Week.
Art Miami at the Midtown Miami complex in the Wynwood Art District will enter its 24th year. The international contemporary and modern art fair begins Tuesday, December 3 continuing through Sunday, December 8, and will feature 125 international galleries. The fair runs simultaneously with Art Basel on Miami Beach.
A VIP preview, by invitation only, will take place December 3, providing a first view of Art Miami and CONTEXT, its sister fair launched in 2012 to showcase emerging and mid-career artists.
Included in Art Miami's preview, the Keszler Gallery will unveil a photographic retrospective of Cindy Crawford, one of the original supermodels of the 1980s and 1990s. The New York gallery will exhibit recreations of fashion photographer Marco Glaviano's best-known black and white images of Crawford, which are large-scale versions printed on canvas and sprinkled with diamond dust.
"Marco Glaviano is a world-famous photographer," said Stephan Keszler, owner of Keszler Gallery. "We had a show with him in 2012 called 'Supermodels,' and we had a lot of celebrities who attended including Janet Jackson."
Keszler said Crawford will be the guest of honor at the event.
"Because of her friendship with Marco, whom she did a lot of photo shoots with in the '80s and the '90s, Cindy immediately said, 'I'd love to come, and I'd love to help you to promote it,'" he added. "Since that was very kind of her, we will give 10 percent of the proceeds to a charity she is very supportive of, American Family Children's Hospital."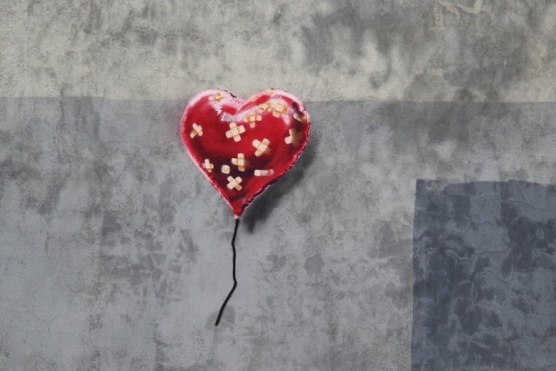 Before it was tagged, Banksy's Band-Aid covered red heart balloon created on a warehouse wall in the Red Hook section of Brooklyn. Photo by Maria Georgiadis.
Keszler said his gallery will again bring to Miami artwork of the popular, yet anonymous British street artist, Banksy. "I think people love his art, including me, because it's very smart and witty," he said. He also commented that Banksy has a following because his work critiques society, and his anonymity fuels interest.
The artist completed a residency on the streets of New York City during the month of October called, "Better Out Than In." A Banksy work the Keszler Gallery obtained, which will be for sale at Art Miami, is a Band-Aid covered red heart balloon stencil created October 7 on the wall of a building in the Red Hook section of Brooklyn. Keszler said his gallery currently has two works, and are working on acquiring two more. However, as with past Banksy street art acquisitions, the artist isn't involved.
Last year, Keszler, who had his first Banksy show in 2008, with prints, at his gallery in Southampton, brought to CONTEXT Banksy artwork created on walls in locations including Bethlehem, Los Angeles and San Francisco. They were highly popular during the fair, but not without controversy.
"I think that, street art, once it's done, it's up to the people and not the artist anymore," Keszler said.
According to Keszler, it's a person's right to sell Banksy artwork if it's without the approval or consent of the artist or if it's on their private property. Some New York City property owners, who discovered their buildings were selected by Banksy to be a part of his residency, did just that.
"A few (property owners) contacted us because we are the authority, the only gallery in the world who is dealing with this kind of very heavy and not easy to handle works," Keszler said. "We get contacted by people because we have the record of credibility to deal with those works."
He said that acquiring and selling Bansky's street art, in which some pieces are literally thousands of pounds of concrete wall, is saving the work from being destroyed. He explained:
80 percent of all the artwork he (Banksy) does is getting destroyed by other people in less than a week. There are people who say that he doesn't like that the works will be saved, like we do, as always. But on the other hand, he must like this also because he is giving hints to people like me, and to owners, where he does his work since he puts it on his website. He includes a Google map to locate every piece. He could put the artwork on public buildings. On public buildings they would get destroyed immediately. So it's a little bit contradictory, but I think this is part of his cleverness.
Even though the bandaged balloon in Red Hook was tagged by a NYC street artist, according to the New York Post, Keszler estimates it will sell from $700,000 to $900,000.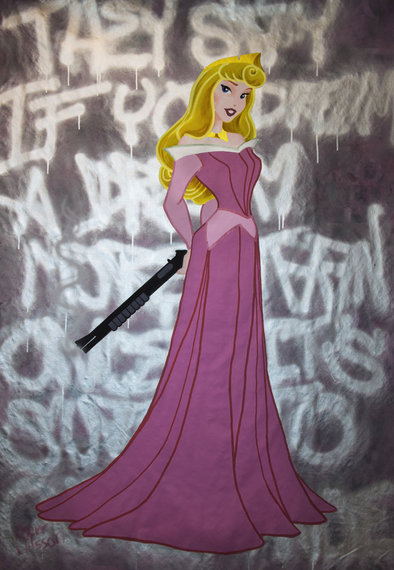 Dark Princess Sleeping Beauty, 2013 from the Dark Princess series, spray paint on canvas, 75 x 52 inches. Photo provided.
Continuing in the realm of street art, the Keszler Gallery will also feature Swedish street artist Herr Nilsson at Art Miami.
"We also have a younger graffiti artist who is already cool, named Herr Nilsson," he said.
They will unveil the artist's controversial site-specific work, which juxtaposes conflicting imagery such as a Disney princess with an array of weaponry.
When: December 3-8, 2013 (VIP preview December 3).

Where: The Art Miami Pavilion, Midtown - Wynwood Art District, 3101 NE 1st Ave., Miami, FL 33137.

Tickets: Click here.
Info:(305) 432-2855.
Related
Popular in the Community