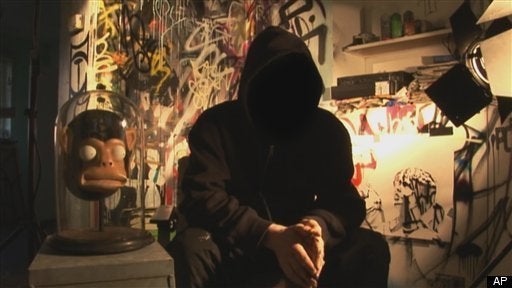 Street artist Banksy doesn't show his face in public -- and as a result, the Oscars may kick him to the curb.
Rumored to wear a monkey mask while making rare public appearances, his antics have those behind the Oscars worried -- and ready to make contingencies in case he wins.
Academy executive director Bruce Davis talked about the issue to The Wrap. "If that film wins and five guys in monkey masks come to the stage all saying, 'I'm Banksy!' Who the hell do we give it to?" he asked rhetorically. Because of those worries, the artist will most likely not be allowed on stage.
"We suggested to them that it might be a good idea that if he did win, one of them would accept in his place - that it would not be dignified for the Academy to have somebody come up wearing a monkey's head," Davis said, referring to conversations with the Jaimie D'Cruz, the film's producer.
Whatever happens, prepare for some monkey business.
Popular in the Community