Banksy has suggested what should happen to the statue of a slave trader that was torn down by protesters in his home city of Bristol, England, over the weekend.
The anonymous street artist said his idea would keep "everyone happy," whether they supported the removal of the controversial statue of Edward Colston ― that was toppled from its plinth and unceremoniously dumped in the River Avon during a Black Lives Matter rally ― or not.
Check out the video of its rolling into the river here:
In an Instagram post on Tuesday, Banksy proposed the statue be hauled back onto its original base. A cable could be tied around its neck and life-sized statues of protesters "in the act of pulling him down" added, he wrote.
The updated artwork would satisfy "both those who miss the Colston statue and those who don't" and commemorate "a famous day," Banksy said, alongside a sketch of his idea:
Bristol City Council retrieved the statue from the river early Thursday.
"It is being taken to a secure location before later forming part of our museums collection," the authority tweeted:
"People of colour are being failed by the system. The white system," Banksy wrote. "Like a broken pipe flooding the apartment of the people living downstairs. This faulty system is making their life a misery, but it's not their job to fix it. They can't — no-one will let them in the apartment upstairs."
"This is a white problem," he added. "And if white people don't fix it, someone will have to come upstairs and kick the door in."
Check out the post here:
Prosecutors in Abruzzo, Italy, meanwhile, on Wednesday said they had recovered a stolen mural that Banksy had painted on the door of the Bataclan concert hall in Paris, the venue of the 2015 terror attacks.
The piece, below, was discovered inside a farmhouse: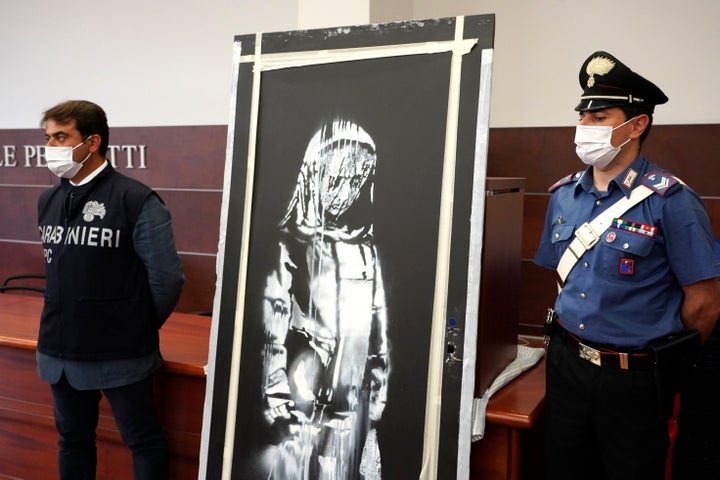 Related
Popular in the Community