Banksy draws attention to the plight of a jailed Turkish artist with his new mural in New York City.
The anonymous British street artist calls for the release of Zehra Dogan with the 70-foot-long mural unveiled in Manhattan on Thursday.
Dogan was sentenced to two years and 10 months behind bars in March 2017 for her watercolor painting that reproduced a newspaper photograph showing the Kurdish town of Nusaybin ravaged by Turkish security forces.
"I really feel for her," said Banksy, who created his new piece on the corner of Houston Street and Bowery with fellow artist Borf. "I've painted things much more worthy of a custodial sentence," he told The New York Times.
In Banksy's mural, tally marks represent Dogan's time in jail. Her face stares out from one set of "bars," and "Free Zehra Dogan" is painted in the lower right corner.
Banksy's official Instagram account captioned a photograph of the piece with the hashtag #FREEzehradogan. It also shared Dogan's watercolor, and urged people to "protest this injustice by re-gramming her painting and tagging Turkey's President Erdogan."
Dogan hasn't yet heard about the New York mural, a publicist for Banksy told HuffPost on Friday. "She receives only periodic visits to the cell she shares with 40 other inmates, many of them journalists and victims of the Turkish Government's clampdown on the media."
Jessica Goldman, the CEO of Goldman Properties which owns and curates the wall, said: "We are proud that Banksy chose New York and the Houston Bowery wall to share this message. We stand alongside every artist who chooses to use his or her creative abilities to highlight human rights issues."
An image of Dogan's watercolor will be projected above the mural from 7.30 p.m. to midnight each night for the next week, Banksy's publicist said.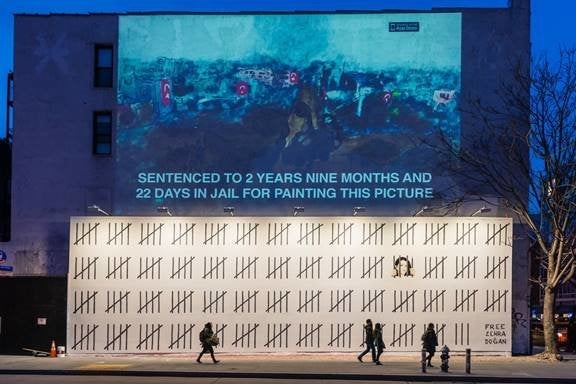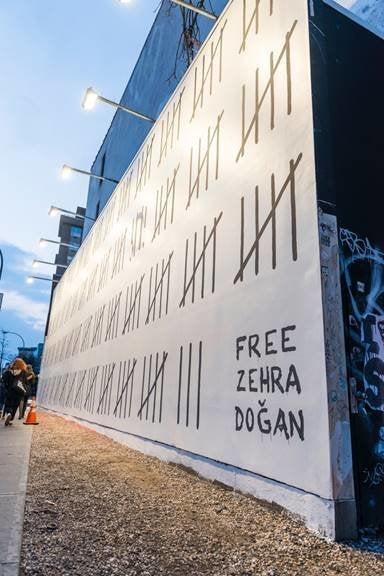 The projection can also be viewed live by clicking on "Bowery Wall" on the WALLTIME app.
The mural is Banksy's second New York piece to be unveiled this week. He added a rodent to the clock face of a former bank building in Greenwich Village on Wednesday, which fans speculated was a play on the term "rat race."
Popular in the Community