My special guest on this edition of Google Plus Week is Adam Guerbuez, the Montreal marketer who got sued for $873 million by Facebook and lost. Banned for life from Facebook, Guerbuez has been spending a lot of time on Google Plus lately. He tells us about the Facebook lawsuit and shows us a few creative Google Plus workarounds he's discovered. He also demonstates how a controversial GPS vehicle tracking device works.
(The first part of this talk begins at 18:55.)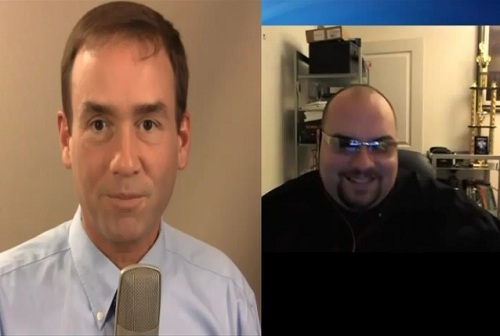 Other topics include Google+ brand pages:
Harold Carey, Jr. talks about what he learned setting up a brand page featuring the history and culture of the Navajo people. He finds the pages difficult to promote.
Anthony Clauser finds brand pages annoying and has uncircled a number of them.
Allen Firstenberg is a bit disappointed in the pages and their limited functionality.
I note that the pages from well-known existing brands will gain users but it is very difficult to build a brand on Google+.
Bruce Turner is longing for friendly urls.
Allen Firstenberg notes that Direct Connect will be a primary means for users to discover brand pages
Oleg Moskalensky is excited at the ability to have pages for topics or interests. He's also impressed by their ease in setting up. One key feature he's like to see is a "choose your identity" drop-down when posting.
I discuss Robert Scoble's criticism of the new brand pages. Scoble noted in an article that brand pages tied to an individual rather than a team are cumbersome.
The $873 Million Dollar Man
Adam Guerbuez discusses what it was like to be sued by Facebook for873 million and lose, landing him in the Guinness Book of World Records. He is probably the only person in the world who has been banned for life from Facebook by a Superior Court Judge.
Hacking hangouts and captcha
Adam Guerbuez discusses a clever way to join a hangout as a brand by modifying the default urls
Allen Firstenberg and Anthony Clauser don't think it is a malicious hack at all
Adam Guerbuez also discusses a way to bypass Google+ captcha
Mark Schaub and Gary Levin are planning on trying out the new pages feature.
David Chaney set up a page for a company he works for and is surprised at the lack of verification requirements.
Allen Firstenberg likes that no one claim exclusivity of a name.
Adam Guerbuez is getting ready to set up a page for a spy gadget company he is consulting for. He also shows us a controversial GPS vehicle tracking device and explains how it works.
Steve Jobs by Walter Isaacson
Oleg Moskalensky, Robert Anderson, Anthony Clauser and I have a lengthy spirited review and discussion of Apple co-founder Steve Jobs.
Mark Schaub notes that brand pages are still in their infancy
George Sepich notes the discussion about sharing content without attribution
David Chaney has found Google to be a major driver of traffic to his business and is looking forward to see the impact of social integration into all of Google's services
Oleg Moskalensky welcomes the arrival of brand pages
Adam Guerbuez is looking forward to the new tools and options coming as Google+ evolves.
Allen Firstenberg still thinks Google+ isn't compelling enough yet to widely attract mainstream users. He and I duke it out.
D. Booey makes a rare and (as usual) hysterical appearance.
Related
Popular in the Community