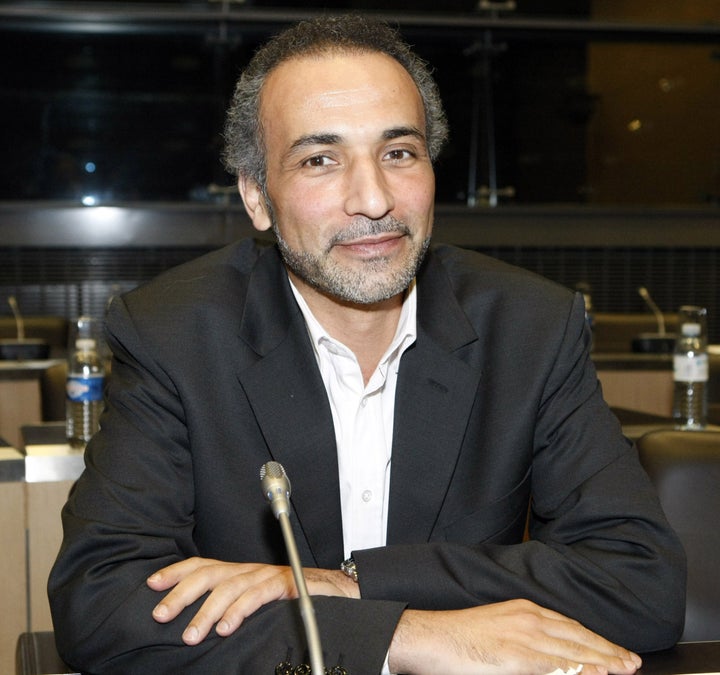 A lightning rod in discussions of Muslim identity in both Europe and the United States, Swiss-born scholar Tariq Ramadan has returned to the United States for a series of lectures. His visa was formerly revoked by the State Department in February of 2004.
Ramadan says he was kept out because of "The fact that I was very critical about the US's foreign policy." Critics claimed he donated to a Hamas-linked charity, and those were the grounds the Bush State Department banned him under, though the charity wasn't officially associated with terror by the US until after Ramadan donated to it. Now, under a new administration, Hillary Clinton has formally lifted the ban on Ramadan's travel to the United States.
"I just had to wait for one hour," at customs, Ramadan said during in a phone interview after he landed yesterday. "Nothing special."
But the years-long debate over Ramadan's exclusion -- and, for his vociferous critics, Ramadan himself -- has been extraordinary. His speech tonight at Cooper Union in New York City, sponsored by the ACLU, the PEN American Center and others who fought to bring him here, promises to reignite the controversy. So does a new book by writer Paul Berman out this month that takes aim against Ramadan for allegedly refusing to condemn the stoning of women, and supposed anti-Semitism, among other charges.
Ramadan is descended from a line of religious thinkers and activists with extensive credentials: his grandfather founded the Muslim Brotherhood in Egypt in 1928, and his father was exiled from the country by Nasser. Out of Egypt his father went to Switzerland, where Tariq Ramadan was born in Geneva in 1962. A Swiss citizen with strong Muslim beliefs, Ramadan has very publicly sought to reconcile both backgrounds.
About recent developments in his homeland, Ramadan evinces some distress. The November 2009 referendum banning minaret construction there was "a betrayal" of European values.
For some people in Switzerland, France, and the Netherlands, he says, "the only accepted Muslim seems to be the invisible Muslim," and the problem will in the short term get worse. "The situation is quite bad for the time being."
The gloomy prophets of a coming "Eurabia," he says, are obsessed with the idea that Muslims "could be a threat to our secular society -- while forgetting the very essence of secular society," freedom of expression and religion.
"The Muslims in all western countries are abiding by the law. At the end of the day we're seeing that the Muslims aren't the ones changing the laws" -- it's people who have passed the minaret ban, and who want to pass a burqa ban in France.
After earning a PhD from the University of Geneva (his dissertation was on Nietzsche) Ramadan traveled to Cairo, where he studied Islam at the hallowed Al Azhar University. Since then he has held himself out as a voice of reformist Islam, a man seeking to create a bridge between Europe and Muslims, especially Muslims in Europe.
For another visitor to Cairo seeking to ease cultural divides -- President Obama, who gave a major speech there last year -- Ramadan seems to feel guarded optimism.
"I just think that this government is coming back to some of the values that they're advocating, nothing more, nothing less," Ramadan says.
Of the recent flaps between the White House and Israeli Prime Minister Netanyahu, Ramadan asks, "Are these tensions leading towards new policies for Israel, and for Israel to change its policy? This is not happening, not yet. And to tell you, I'm not expecting for anything under this first [Obama term]."
In the wake of the Fort Hood shootings and the thwarted plot to bomb New York City subways, some say Obama should be concerned with the potential rise in 'homegrown' terrorism. Ramadan believes that, "the great majority of the people are already are already integrated, so we should not look at tiny groups at the margin as a symbol that people are failing to integrate."
Ramadan's critics, from the nationalist right to the feminist left in both Europe and the US, claim that his brand of integration is far from sufficient. Bernard-Henri Lévy has argued that Ramadan is an anti-Semite for writing a condemnation of French Jewish intellectuals' support of the Iraq War (at least one of the intellectuals Ramadan condemned isn't actually Jewish). Journalist Ian Buruma, on the other hand, says BHL's pique was "vastly overblown," and Ramadan has frequently and explicitly repudiated anti-Semitism.
Perhaps most famously, in 2003 Nicolas Sarkozy angrily charged that Ramadan excused the stoning of adulterous women in Muslim majority countries.
Ramadan countered that he had called for a "moratorium" on the practice -- and all capital punishment -- as the first step towards further debate within the Muslim community.
This is far from satisfying for his detractors, including the formidable writer Paul Berman. In a lengthy 2007 piece for the New Republic, Berman expressed his disdain for a man who refuses to "unambiguously condemn the stoning to death of Muslim women."
Berman has adapted that article into a new book out this month about Ramadan and his supporters, called The Flight of the Intellectuals. It is guaranteed not to reach a positive assessment. But even Berman supports Ramadan's new visa, though somewhat grudgingly.
As he told Tablet: "It's a good move for the U.S. to encourage freedom of speech and open debate. It's a mistake, however, to imagine that he has positive contributions to make."
For his part, Ramadan seems characteristically unruffled by the attention. He rejects the notion that Berman's book is anything new.
"Paul Berman, I've never met him, but when I read what he wrote, it seemed that he was copying what was already written in Europe," Ramadan says, referring to the several polemics against him already published there.
And, about that much-noted debate with Sarkozy over stoning, Ramadan finds a significant irony in where the two sparring partners are seven years later. It likely won't impress Berman, but for his foil it's telling.
Ramadan is "on the ground," fighting for his death penalty moratorium around the world, and according to him "banned from six Muslim majority countries because of this." Sarkozy is the president of France, which maintains good relations with Saudi Arabia -- a kingdom where Ramadan is not welcome, and where women are still threatened with stoning.
Popular in the Community