Old Dominion University issued multiple statements and circulated two YouTube videos over the weekend after a group of students put up three banners decried as offensive and an example of rape culture.
Three banners were displayed at a private, off-campus house in Norfolk, Virginia, reading "Freshman Daughter Drop Off," with an arrow pointing at the front door, "Go Ahead And Drop Off Mom Too ..." and "Rowdy And Fun, Hope Your Baby Girl Is Ready For A Good Time ..." The students removed the banners after the university contacted them, school officials said.
ODU President John R. Broderick said Sunday in a statement that he was "outraged about the offensive message directed toward women," noting that multiple students also shared his disgust on social media.
A Virginia man posted the photos Friday afternoon on Facebook. A screengrab captured by The Huffington Post is displayed below: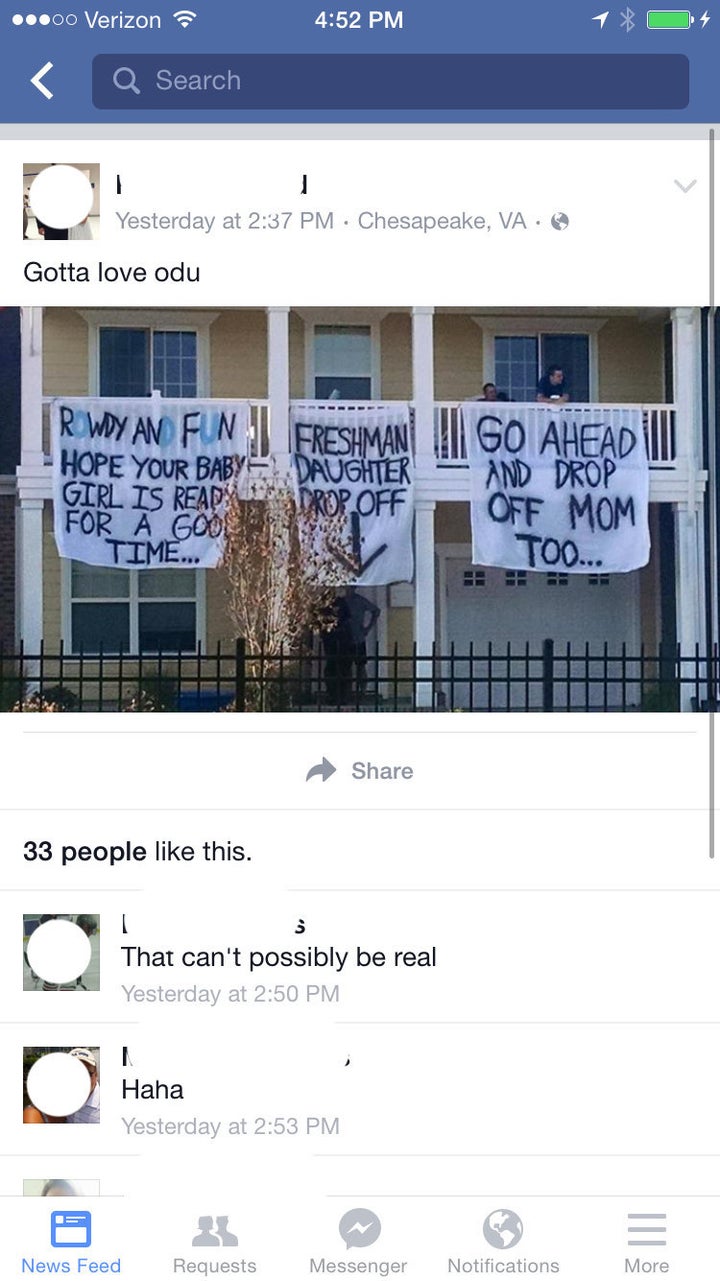 The image began to be circulated by alumni Friday and into Saturday, largely on Facebook. The person who originally posted the photo has since deleted it and changed his display name on Facebook. He did not respond to multiple messages from HuffPost.
In response, Old Dominion University started posting multiple statements on social media denouncing the banners.
"Messages like the ones displayed yesterday by a few students on the balcony of their private residence are not and will not be tolerated," ODU said in a statement to HuffPost. "The moment University staff became aware of these banners, they worked to have them removed. At ODU, we foster a community of respect and dignity and these messages sickened us. They are not representative of our 3,000 faculty and staff, 25,000 students and our 130,000 alumni."
The university's Student Government Association added its own statement Saturday, saying, "Not only do these actions taken by a few individuals undermine the countless efforts at Old Dominion University to prevent sexual assault, they are also unwelcoming, offensive, and unacceptable."
Related
Popular in the Community