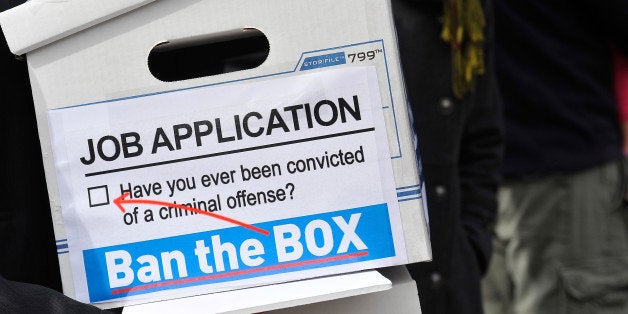 Ninety years ago, F. Scott Fitzgerald wrote in The Great Gatsby that, "Life starts all over again when it gets crisp in the fall." Though fall officially began more than a month ago, President Barack Obama just took a step to provide more Americans the chance to start their lives over again.
On Nov. 2, he issued a directive instructing federal employers to delay asking about a job applicant's criminal history until later in the application process, embracing an initiative that promotes the hiring of people with records. In doing so, the president has recognized the winds sweeping the nation's political and moral weather, as progressives and conservatives alike now acknowledge the injustice of holding people hostage to the indiscretions of their pasts.
In the last year alone, governors in Georgia, Vermont and Virginia have taken executive action to remove a conviction history check box on public-sector job applications; and in the private sector, Koch Industries announced, in April, it was "banning the box," joining companies like Bed Bath & Beyond, Home Depot, Target and Walmart.
The fact that more and more of our nation's major employers -- including a company like Koch Industries that is synonymous with conservative politics -- are choosing to embrace fair-chance hiring policies shows that this is an idea with broad appeal whose time has come.
While "banning the box" does not fully remove employment barriers for people with a criminal history, it does enable job applicants who have a record to be evaluated first on their qualifications, skills and strengths, and not automatically dismissed at the outset because of a conviction.
Of course, people with records may still face discrimination when their background becomes known after an interview or even after an employment offer is extended. Nevertheless, "banning the box" improves their chances, and the movement's growing popularity indicates a shift in the country's collective consciousness.
Many have recognized that embracing this issue is embracing deeper verity: When human beings recognize in each other our shared fallibility, the blunders of our histories are not paralyzing but liberating. For people have shown time and again that historical failures often make way for historical possibilities.
Roughly one in three Americans has a criminal record, according to the Department of Labor. It would be easy to see this statistic as reflecting our collective capacity for error, but more accurately, it merely reveals the fraction of Americans who have been caught for crimes once committed.
Those without a criminal record have, at some point, transgressed, but never faced the predicament of a legal proceeding -- a reality President Obama recognized when he visited a federal prison this summer and said the inmates were "people who made mistakes that aren't that different from the ones that I made."
It is no surprise that America, the world's leader in incarceration, has a lot of people with criminal records. Harsh punishments for non-violent crimes, particularly drug offenses, are largely responsible. Not only are they unfair, and contribute to the mass incarceration we suffer from, they exacerbate a disparity in the culture. As the Pew Research Center has found, African Americans are incarcerated at six times the rate of whites.
Even before Richard Nixon declared the "war on drugs" in June 1971, the problem of records was recognized in Title VII of the Civil Rights Act of 1964, which prohibits employers from excluding applicants on the basis of race, color, religion, sex or nationality.
As the Equal Employment Opportunity Commission, the enforcement agency of the Civil Rights Act, clarified in 2012, Title VII forbids blanket discrimination against people with criminal records and requires employers to consider factors like the nature and gravity of the offense in question, the time passed since the conviction, whether the applicant has demonstrated rehabilitation and whether the offense has any relevance to the position being sought.
The link being that because low-income communities of color are so disproportionately convicted of crimes, any hiring policy that discriminates against candidates with a conviction would, by extension, discriminate against minority candidates.
There is an irony to considering the historical source of these guidelines. The Civil Rights Act marked a shift in the character of life for the nation; it transcended a painful past and reshaped its meaning, reaffirming the most precious of national ideals: To be familiar with American history, after all, is to be familiar with a narrative of self-correction. The Civil Rights Act did for the nation what one in three Americans hope to do through gaining employment.

As President Obama himself demonstrated with astonishing eloquence when he entered the national stage in 2004, there is great resonance in merging the country's story with one's own personal story.
As the campaign to "ban the box" and enact other fair-chance hiring practices gains more momentum (the next thing Obama should do is extend this policy so that it covers federal contractors and not just federal agencies), we should remember that the substance of this effort is rooted in something deeply American. It advocates for equity and justice -- giving qualified job seekers a fair opportunity to compete for work. But it also suggests that the foibles of our pasts don't impair the promises of our lives.
Popular in the Community