In a chilling speech on Saturday, former White House chief strategist Steve Bannon urged a conference of France's far-right National Front party to wear charges of racism as a "badge of honor."
Footage of Bannon's remarks shows him predicting "victory after victory" for the far right over the "globalists." The term is one extreme-right groups often use as an anti-Semitic slur, referring to what they see as Jewish control of financial institutions and media around the world. U.S. Donald Trump referred to his outgoing chief economic adviser, Gary Cohn, who is Jewish, as "seriously a globalist" this week.
Bannon roused National Front members in Lille, France, to their feet, telling them: "History is on our side. And the biggest reason: The globalists have no answers to freedom. Let them call you racist. Let them call you xenophobes. Let them call you nativist. Wear it as a badge of honor. Because every day, we get stronger, and they get weaker."
He said party members are "part of a worldwide movement that is bigger than France, bigger than Italy, bigger than Hungary — bigger than all of it ... The tide of history is with us, and it will compel us to victory after victory after victory," France 24 reported.
Bannon said he was there as an "observer," not a "teacher," because of the deep far-right roots in Europe. "Our populist nationalist movement in the United States is maybe 10 or 15 years old," Bannon said. "We are here to learn from you."
He predictably disparaged the media and "the central governments, the central banks, the central crony capitalist technology companies that control you."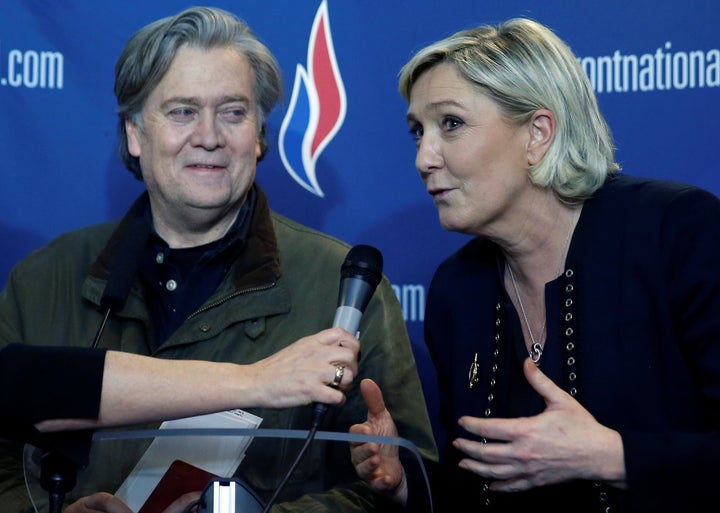 French leaders condemned Bannon's appearance at the conference.
Bannon is currently on tour in Europe to help promote a "global" populist movement, according to an interview published Friday in The New York Times. He said he had a "fascinating" meeting earlier in the week with leaders of Germany's far-right Alternative for Germany party.
Popular in the Community