This article comes to us courtesy of InternationalLiving.com, the world's leading authority on how to live, work, invest, travel, and retire better overseas.
She's a wanton woman with a feather beneath her skirt, cause for her constant state of libidinous arousal. Men and women alike are smitten with her overpowering beauty and limitless energy. But she has a temper, this one. When her flirtations are not returned, her anger boils and she quite literally blows her top like nothing you've ever seen.
So goes the Quechua legend of "Mama" Tungurahua, the hot and bothered volcano that regally rises from lushly-forested terrain about a three-hour' drive south from Ecuador's capital city of Quito.
Perched just five miles from Mama's summit on her northern side is the town of Baños (population about 20,000). As the lore goes, Baños is Mama's love child, and she protects it. She's certainly passed on an inheritance, for--thanks to Tungurahua's hot temper--Baños is blessed with an abundance of thermal waters. Those waters, and the stunning natural setting, have made Baños a popular spa and outdoor-sports town, as well as home to a small community of expats.
The town's full name is Baños de Agua Santa: the holy water Baths. (And note, Baños does not mean "bathrooms." It means "baths," like the kind you soak luxuriantly in.) The name gives tribute not to Mama, of course, but rather to the town's other famous patron, the Virgin Mary.
Nuestra Señora de Agua Santa--our Lady of the holy water--is said to have appeared at nearby waterfalls from time to time, and it's believed she protects those who invoke her name during times of crisis. "Our lady watches over us," a local man said in a television interview, speaking of the Virgin after Mama's most recent pyroclastic fit.
The neo-Gothic Basilica Reina Del Rosario De Agua Santa--built to honor the Virgin--is a local pilgrimage site, and is decorated with graphic artwork of the many miracles she's credited with. Appropriately enough, the Basilica, which sits in the heart of Baños, is constructed of volcanic rock from Tungurahua.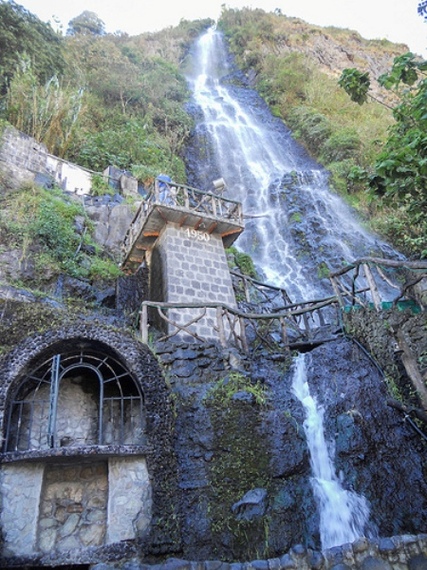 For many visitors, though, Baños's thermal baths are miracle enough. You'll find several places to soak away to your heart's content here, in pools of varying degrees of delicious heat. The most popular public baths are right in town at the base of the 260-foot waterfall called Cascada de la Virgen, where Nuestra Señora allegedly once appeared. A shrine there is dedicated to her and her healing waters.
For certain, water is plentiful in this part of Ecuador. More than 60 waterfalls cascade into the surrounding countryside from the slopes of the volcano. The entire province, called Tungurahua in honor of you-know-who, is fully and self-sufficiently powered, thanks to the Tungurahua hydroelectric facility located just outside Baños.
The surrounding landscape is crisscrossed with steep bluffs, deep river gorges, and expansive plateaus. With all this natural beauty, it's no wonder that Baños, cupped in a small valley at about 5,900 feet above sea level, is a thriving tourist town, equally popular with both Ecuadorian and international visitors. And with more than 100 hotels and hostels and a nearly continuous round of parades, festivals, and special events throughout the year, the mood in Baños is always festive and
upbeat.
You'll find just about any outdoor activity that exists: hiking, canyoning and rappelling, bungee jumping, zip-lining...how about a breathtaking ride in a tarabita (cable car) that swings from a mile-long cable across 500-foot-deep gorges? You can go mountain biking, horseback riding, rent an ATV or dirt bike, or just kick back in one of the many spas offering massages, facials, and more.
Water sports are popular, too, of course. Kayaking, white-water rafting, and more can all be enjoyed within just a few miles of Baños. The town, considered one of the safest in Ecuador, is also known as the "Gateway to the Amazon." Just 30 miles downhill from Baños is the town of Puyo, the country's largest jungle town. Puyo sits on the banks of the Puyo River, which eventually dumps into the vast Amazon River.
Still, for all its near-perfect, year-round weather (temperatures average 55 F at night up to about 80 F during the day) and wealth of activities and attractions, Baños is not high on the radar for expats looking for retirement destinations.
There is, though, a small and fairly active group of Canadian, European, and U.S. residents in Baños. Mountain-biking enthusiasts Jim and Marshia Redd had traveled to the area many times from their home in Chicago before they decided to purchase La Posada del Arte in 2004.
The hotel has been a successful venture for them, they say. A couple of years ago they bought an adjacent property and expanded to double the hotel capacity. "This has been a fantastic investment," Jim says. "It pays for itself every two years."
Additionally, Marshia is president of Fundación Arte del Mundo, a non-profit foundation that operates an after-school library and theater for local children. They've opened the Stray Dog Brewpub with their son, Jason.
Likewise, Canadians Rob Tiessen and Robyn Moulyn had traveled all over Ecuador before finding themselves in Baños six years ago with their then-teenaged children. An artist who specializes in wildlife, Robyn fell in love with the natural surroundings and awe-inspiring vistas. (See her website here.) She recently finished the illustrations for a book and is making her own art paper from abundant local banana stalks.
Rob still works in the oil industry in Canada. Even with traveling back and forth for assignments, they say that by living in Ecuador, they spend less money and enjoy life more.
"What I find fascinating about Baños," Robyn says, "is that, for being such a small town, it's very much aware of its international appeal and caters to that with its friendliness and care of the tourists. And did I mention the variety of foods available? From vegetarian to French cooking. We have it all."
All the attributes, in fact, that make Ecuador an attractive retirement destination can be found in Baños. The cost of living is low...a couple can live comfortably just about anywhere in Ecuador on $1,500 to $2,000 a month. The average furnished rental costs $300 to $500 a month.
A local mercado (farmers' market) just two blocks from the basilica is open every day. There you can find all the fresh local produce you might want, and at a fraction of the price you'll pay in the States, where it's all imported, of course.
Health care in Baños is adequate, as you might expect in a town that caters to adventure tourism. And a new hospital is being built. For now, though, for anything of a serious nature, you'll need to travel an hour away to the larger city of Ambato, or to Quito.
Certainly, don't go to Baños expecting to find a mature real estate market. While there are certainly properties for sale, there is only one official real estate company. You'll need good Spanish chops to communicate with the proprietor and his staff. The website listed on the business card they gave me doesn't work, making it hard to get a handle on area prices.
But with a bit of digging, we found one 1,400-square-foot, three-bedroom, one-bath house in a typical local neighborhood selling for just $47,000. It's perfectly habitable but will certainly require some upgrading to make it something I'd personally appreciate.
Another more likely candidate is near the Río Pastaza. A red-brick house of 2,600 square feet with a red-tile roof, it has four bedrooms and five baths and is selling for $90,000. Two nearby lots that border the river, each 1,700 square feet in size, are listed for $8,000 each.
And on a quarter-acre lot with a view of Mama Tungurahua herself, a 3,550-square-foot house, with four bedrooms, four bathrooms, and even a small pool, is selling for $120,000. It's lovely inside, with tile floors and cantilevered wooden ceilings, and will require little, if any, improvements.

A Quick Guide for Taking the Cure in Baños
How to Get There: Catch a bus to Baños from Quito's Quitumbe Station for $3.60, or via a door-to-door shared van for $20 per person plus $5 for a large bag. To reserve, call 022-082-165 / 099-048-9374 / 098-752-9599. A private taxi from Quito will cost $70 to $80.
Where to Stay: You won't have trouble finding accommodation in all price ranges in Baños. We'd recommend La Floresta at $58 for a double or La Posada del Arte at $65 to $70 for a double. Both include breakfast. For upscale accommodation in hotels with private thermal pools and up-close views of Tungurahua, check out Luna Runtun or Hotel Sangay.
Where to Eat: There are many excellent restaurants in Baños. Popular Café Hood is owned by U.S. expat and longtime Baños resident Ray Hood. (Not to be confused with Casa Hood, also good.) We also had a most enjoyable meal at the antique-filled Café Mariane.
Popular in the Community