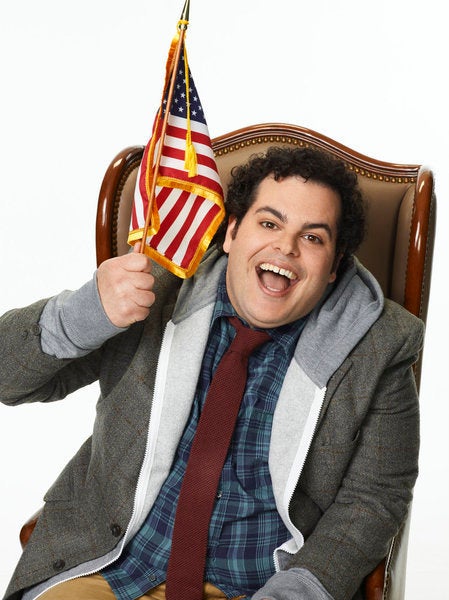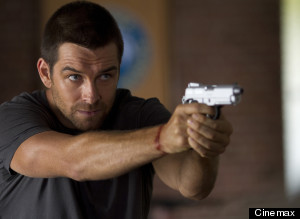 "1600 Penn" and "Banshee" could not be more different; one's a broad NBC comedy about the first family and the other is a action-thriller with naked bods and criminals on the run.
But, thanks to time pressures, I wanted to keep my reviews of both short, so they're cohabitating in this post. Play nicely, you two!
"1600 Penn"
Thursdays at 9:30 p.m. EST on NBC
America deserves a reliable Josh Gad delivery system. This great nation may have made some mistakes here and there, but we've earned the right to regularly spend time with this hilarious actor, who energizes the screen every time he tumbles on to it in "1600 Penn," where he plays the president's delightfully doofy son. There are a couple of problems with the comedy, though, both of which make me think it might not be able to someday morph into an amped-up "Parks and Recreation," which also started out in an awkward place but grew into a show able to wring maximum laughs (and sincere gratitude) from the idea of public service.
Problem 1: I'm not sure what show Bill Pullman is in, but it's not the same show Gad is in. Gad brings a zesty spontaneity and vulnerability to Skip Gilchrist and is entirely at home in the sitcom's version of "The West Wing"; Pullman is a little too believable as a powerful, driven man who gets angry easily. His performance has little of Gad's comic deftness and their tones just don't mesh. Don't get me wrong, Pullman's a fine actor and able to bring a lighter touch to dramatic fare, but here, his Commander in Chief comes off as a bit of a stiff killjoy.
This may not entirely be Pullman's fault, because his role is also part of ...
Problem 2: Can wacky family shenanigans and national politics ever be combined in a smooth and pleasing manner? Judging by the first three episodes of "1600 Penn," those two things mix about as well as Republicans and Democrats on Capitol Hill. To create believable stakes for President Gilchrist, he has to seem like a real politician whose reputation could take a hit from his family's antics. But most family comedies -- and this one is no exception -- require the dad to be a clueless, frustrated figure of fun a reasonable percentage of the time. The "1600 Penn" premise requires that he retain the dignity of his office and yet be continually mocked, and that's not a tension the show is able to resolve in a comedically winning way all that often. NBC wants broader comedies, but this one may too broad to finesse that divide.
All in all, Skip, an unkempt ball of puppyish energy to whom the writers feed a wealth of good material, is by far the best thing about this show. Jenna Elfman is all right as first lady and the rest of the cast hovers around the edges not making much of an impression. I'm not sure this is the vehicle that will ensure Gad will visit my television for years to come, but if this show does get voted off the air, I fervently hope we see him in another network comedy very soon.
"Banshee"
Premieres Friday, January 11 at 10 p.m. EST on Cinemax
Cinemax has debuted three original series in the past year or two -- "Strike Back," "Hunted" and now "Banshee" -- and they've all had certain things in common: Their scope isn't large, they don't feature "name" actors and they're not necessarily thematically ambitious, but they're taut, sexy slices of escapism that inject a bit of B-movie energy into recognizable genres. "Strike Back" covers the international adventure front, "Hunted" is the network's entry into the post-"Bourne" sweepstakes, and "Banshee" is an action drama with a tone that lands somewhere between pulp and noir. I liked it for the same reason I enjoy the other Cinemax shows: It does what it sets out to do reasonably well without breaking my brain in the process. No existential dread or The Way We Live Now commentary here (thank God), just a man with a past trying to reinvent his life even as he frequently displays his fists of fury to the residents of the small town of Banshee.
It's a taut, propulsive series with a distinctive atmosphere, and "Banshee" does a good job of letting the mood and visuals tell the story while keeping the plot moving briskly. ("House" director Greg Yaitanes is one of the executive producers, along with "True Blood's" Alan Ball). Because of the Ball connection (and due to my admittedly cursory glance at the show's press materials), I mistakenly expected there to be a supernatural element in play. With a name like "Banshee," a limited budget, a moderately hot guy as the lead and a slot on a less prominent network, there had to be a werewolf or a vamp in there somewhere, right?
Nope. Nobody displays fur or fangs in this show, but it is a story about attempts at transformation that are destined to run into trouble. I'll admit that "Banshee" is very far from reinventing any wheels, but it gets a lot of basics right and it has a few distinctive touches: The cool, vicious villain of the piece comes from the Pennsylvania Dutch community that surrounds Banshee, the show efficiently sets up various rivalries, relationships and combustible dynamics, and there are nicely restrained performances from lead Anthony Starr and supporting actors Matt Servitto ("The Sopranos"), Frankie Faison ("The Wire") and Hoon Lee as Job, a stylish hacker.
There are things that clunk (another criminal who assumes a new identity is named Carrie Hopewell? Really?) and as critic James Poniewozik notes, "Banshee" is absolutely a collection of cable-TV tropes we've all seen many times before. But if you crave a solid slice of sex, sin and action on Friday night, Cinemax has got you covered.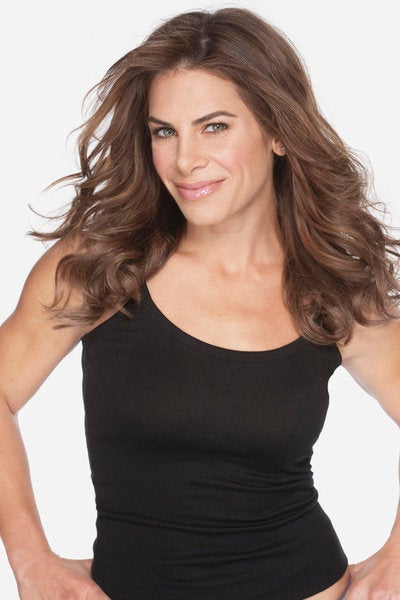 Midseason 2012-2013
Popular in the Community