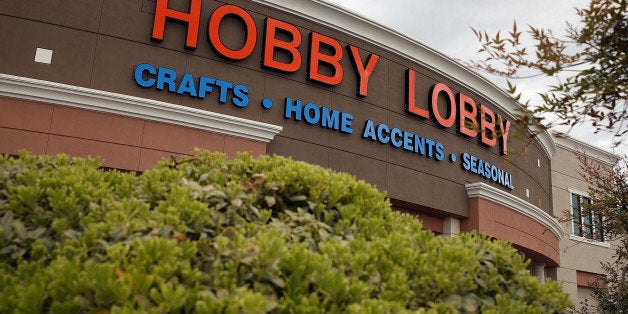 While the long-term consequences of yesterday's Supreme Court ruling in favor of Hobby Lobby are unclear, it was no victory for religious liberty as the concept has been understood for hundreds of years. Rather, the decision was another radical expansion of corporate power by the Roberts court, and a permission slip for CEOs to use religion as a pretext to refuse coverage of birth control.
The implications are vast. In an act reminiscent of Citizens United (which affirmed the free speech rights of corporations) the court now extends religious freedom protections to the commercial, profit-making world. Even though the ruling applies specifically to "closely held" corporations rather than publicly traded ones, 90 percent of American businesses are classified as closely held.
These corporations don't have souls. They are legal entities created by humankind, not living beings created in the image of God. Endowing these artificial institutions with the same religious freedom that you and I have is both theologically troubling and legally dangerous.
While the ruling itself addressed only contraception coverage and explicitly was not applied to related issues such as vaccination coverage and LGBT discrimination, it could set a legal and cultural precedent for assertion of a corporation's "religious" right to discriminate or to deny coverage of crucial healthcare services.
The Hobby Lobby decision is also a threat to the health of women workers, and a blow to pro-life and pro-choice Americans who share a common-ground commitment to reducing abortion. I've read well-reasoned analysis predicting that the ruling will not jeopardize access to contraception, but there is no guarantee of that outcome. In fact, shortly after the ruling was announced, a federal court of appeals granted an injunction against the contraception-coverage mandate for a television network. Keep in mind that the IUD contraception methods Hobby Lobby specifically objected to are the most effective means to prevent unintended pregnancy, have been shown to significantly reduce the abortion rate, and can be prohibitively expensive for working women. As unintended pregnancies increase, so do abortions.

Yesterday's Supreme Court ruling is part of a pattern of decisions that threaten families, workers and democracy. As the court expands corporations' power to buy elections, control their employees' healthcare and undermine unions, working people's voice in government and ability to provide for their families is diminished. Religious freedom, a cornerstone of democracy and a human right, has been pressed into service of an ideological agenda that flouts religious values like family, justice, and compassion. We can't sit idly and let this happen.
Calling all HuffPost superfans!
Sign up for membership to become a founding member and help shape HuffPost's next chapter