On May 29, 2016, Bapu Surat Singh Khalsa's hunger strike to free Sikh political prisoners in India will reach 500 days. Having been subjected to force feeding and abuse by the authorities for more than half that time, Bapu Surat Singh Khalsa remains steadfast in his resolve.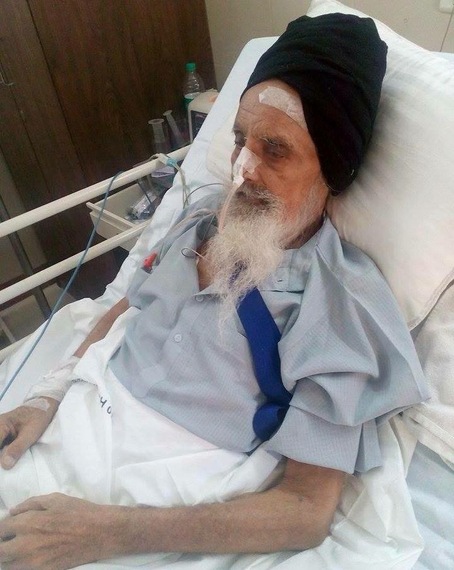 Bapu Surat Singh Khalsa being force-fed at a hospital in Punjab, India.
Last month, videos and photos were published of his force feeding at Dayanand Medical College and Hospital (DMCH) on social media. The footage shows hospital personnel and police holding Bapu Surat Singh Khalsa down while a female staff member quickly inserts a feeding tube up his nostril. The video is graphic, difficult to watch and even more disturbing for the fact that it is happening to an 83-year-old man. Some of the photos even show police and hospital personnel unable to watch while the tube is inserted in his nose.
Individuals who have been subjected to force feeding and medical experts agree that it is a form of torture:
"The procedure is, in a word, barbaric. And that's when we are trying to be nice...it is important to realize that force feeding inflicts two very different pains on a prisoner. One is the physical misery induced by the tube placement, which is nearly intolerable...the other pain is inflicted by doctors who willfully violate the wishes of a patient. That is a deeper and surely much more brutalizing pain..." (Sepkowitz, 2013).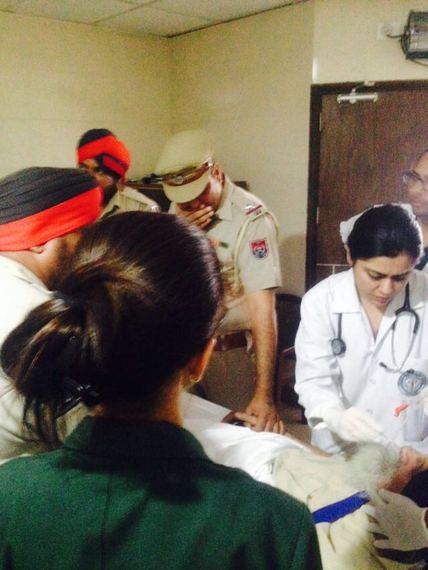 DMCH personnel inserting a feeding tube into Bapu Surat Singh Khalsa's nose (April 2016).
During the course of his hunger strike, Bapu Surat Singh Khalsa has inspired thousands worldwide. Supporters remain in awe of the lifelong activist who, despite the mental and physical torture inflicted upon on him and his family, including the unsolved murder of his son-in-law Satwinder Singh and his son, Ravinderjeet Singh, and family being unable to return to the U.S., refuses to end his strike until the prisoners are permanently released.
This inspiration has led to awareness campaigns around the world, including protests, rallies, blood donation drives, and more recently, a series of art exhibitions showcasing artwork from artists and supporters.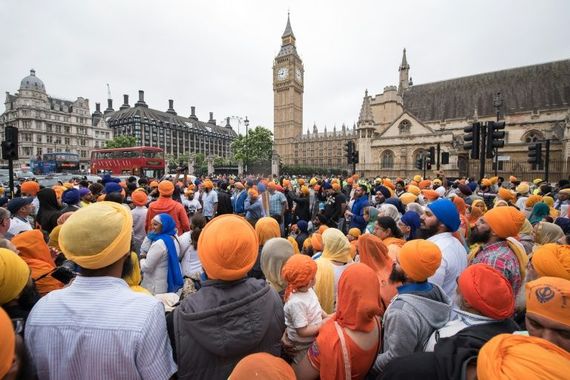 Sikhs in the U.K. protested in front of the Houses of Parliament in central London on July 15, 2015 to raise awareness for Bapu Surat Singh Khalsa and Sikh political prisoners (photo courtesy of Yahoo! News)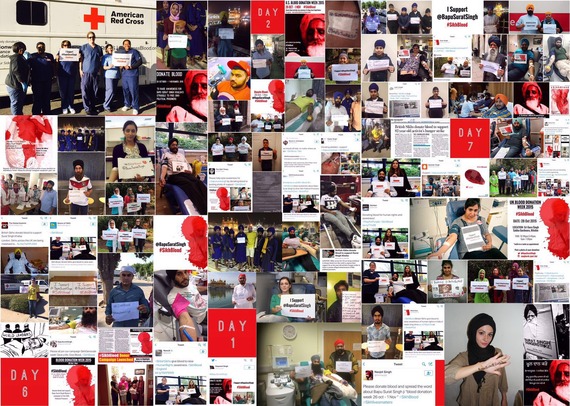 A worldwide #SikhBlood blood donation event took place in October-November 2015.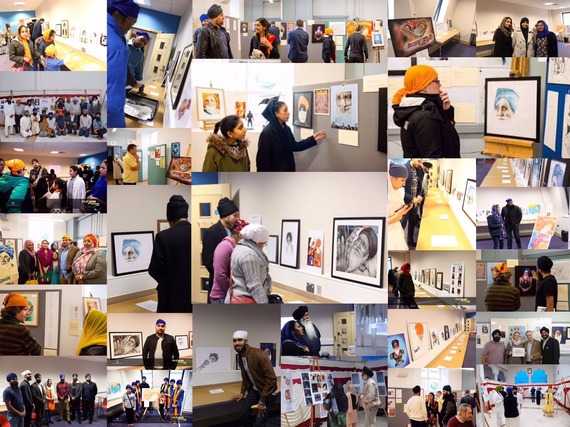 Originating in the U.K. and now touring in the U.S., the #Art4Justice art exhibitions have brought together work from artists all over the world (photos courtesy of Hawk-Eye Photography and Punjab2000.com).
Bapu Surat Singh Khalsa's struggle has resulted in several significant achievements. Since June 2015, his hunger strike has secured the permanent release of nine political prisoners and the transfer and parole of prisoners who have served more than twenty years in jail.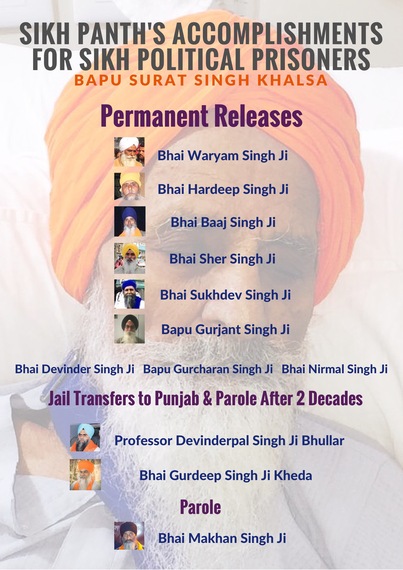 Achievements of Bapu Surat Singh Khalsa's hunger strike since January 16, 2015.
Currently, Bapu Surat Singh Khalsa remains detained at DMCH, serving his longest forced detention to date. Adamant in his demand, Bapu Surat Singh Khalsa expresses his hunger strike will continue until the political prisoners are permanently released.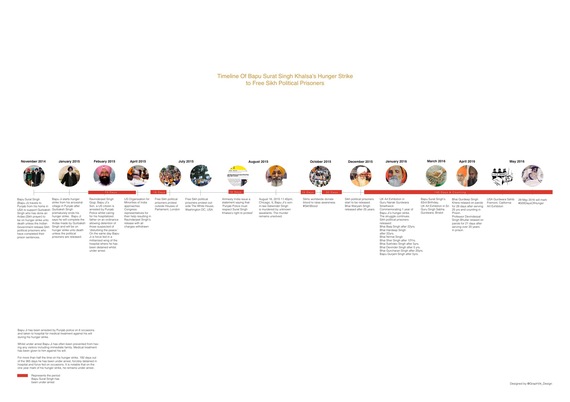 A detailed timeline of Bapu Surat Singh Khalsa's hunger strike made by graphic designer Vikram Singh (https://twitter.com/GraphVik_Design).
A Twitter event has been organized on Sunday May 29, 2016 (UK 8pm) for the 500th day, to help raise awareness for his continued struggle (@bapusuratsingh; hashtag #500DaysOfHunger).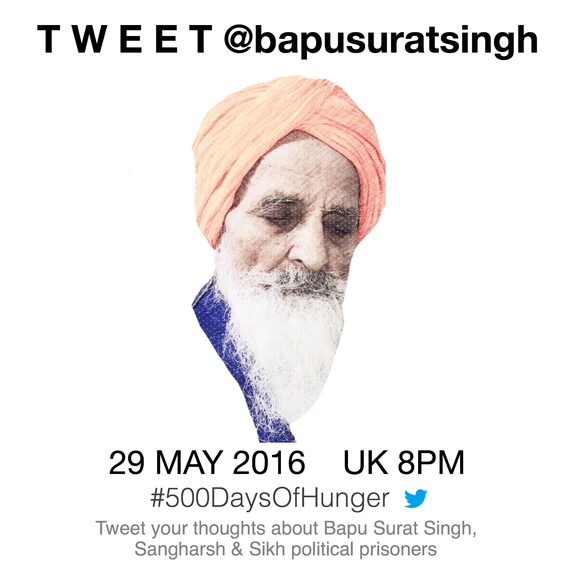 For more information about Bapu Surat Singh Khalsa's hunger strike: http://www.huffingtonpost.com/damanvir-kaur/indias-modern-day-freedom-fighter-bapu-surat-singh_b_8875350.html
References
Sepkowitz, Kent. (2 May, 2013). The Writhing, Miserable Reality of Force Feeding at Guantánamo Bay. The Daily Beast. Retrieved from http://www.thedailybeast.com/articles/2013/05/02/the-writhing-miserable-reality-of-force-feeding-at-guant-namo-bay.html
REAL LIFE. REAL NEWS. REAL VOICES.
Help us tell more of the stories that matter from voices that too often remain unheard.