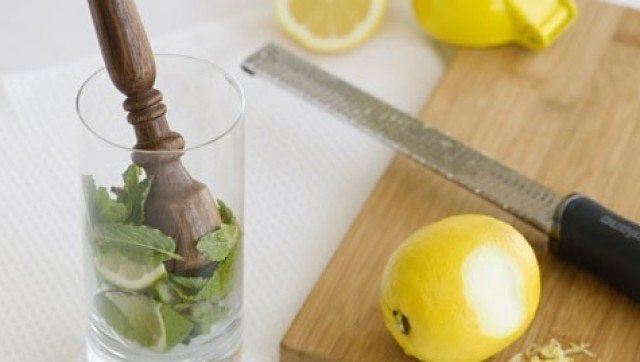 Proper accessories complete a well-stocked bar. These tools of the trade will have you mixing in style and ever ready for your next Pop-Up Party. My favorite kind of social activity.
1. Ice bucket/ice tongs
Ice is by far the most important ingredient to have on hand for successful, delicious cocktails. Because it will be front and center, choose an ice bucket that is both attractive and manageable in size.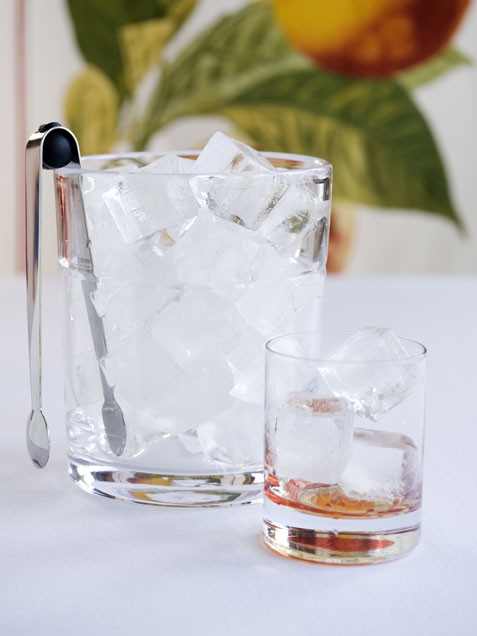 2. Cocktail shaker/Strainer
The key to cold, well-mixed drinks is a shaker. Most shakers come with built in strainers, but a hand held strainer over a mixing glass works just as well. For big parties have a few on hand to mix in multiples. Just be sure the top fits tightly to shake it like you mean it..
3. Pitcher/Drinks Dispenser
Clear glass or plastic pitchers look stylish and are perfect vessels for juices and mixers, resulting in a clean, chic bar top. A drinks dispenser showcasing your signature cocktail sets a festive tone, while showing off your individual style. The best part? It's self-serve, allowing your guests to fill up and you to enjoy your party.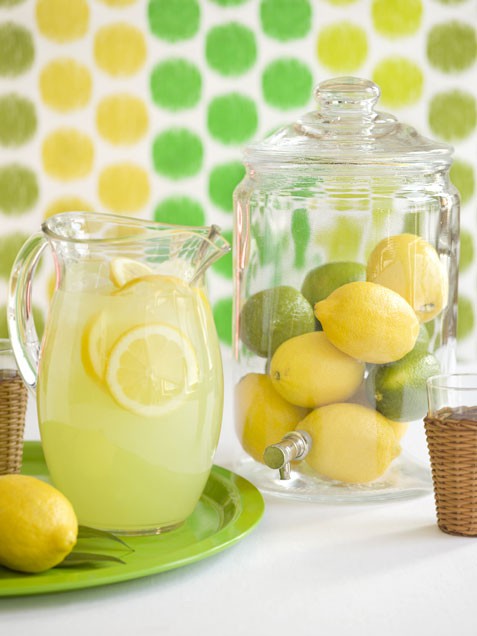 4. Bottle openers/Wine openers
The most practical bar tool. Openers run the gamut, from simple to big elaborate set-ups. Choose something simple that will cut the foil on wine bottles, work the cork, and open bottles without fuss in record time.
5. Paring Knife /Cutting Board
A sharp knife is essential for slicing, cutting and peeling fresh garnishes. To keeps things neat and protect surfaces, lay a bar towel underneath the board to keep it steady and soak up spills. Speaking of which, grab a stack or two for a clean and tidy bar.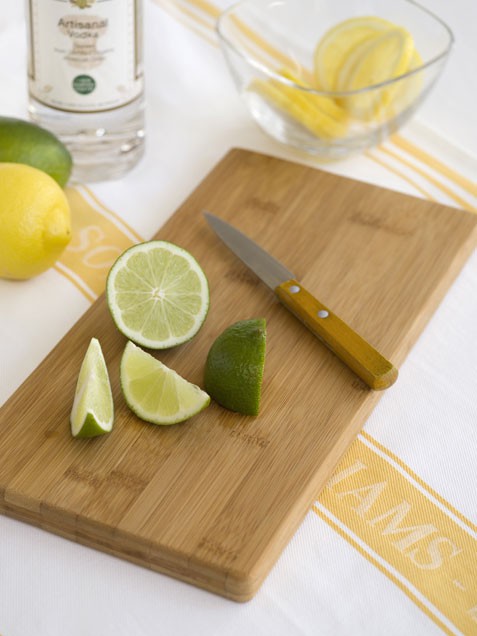 6. Muddler/Citrus Zester/ Citrus Juicer
Muddlers extract essential oils from mint and other herbs; crush fruits and sugars. It is a must have for preparing cocktails of the moment like mojitos or caprihanas. A zester brings a burst of fresh citrus to any drink, infusing it with tangy flavor and delightful aromas. The perfect squeeze! Hand juicers are easy to work yielding fresh citrus juices ready for mixing.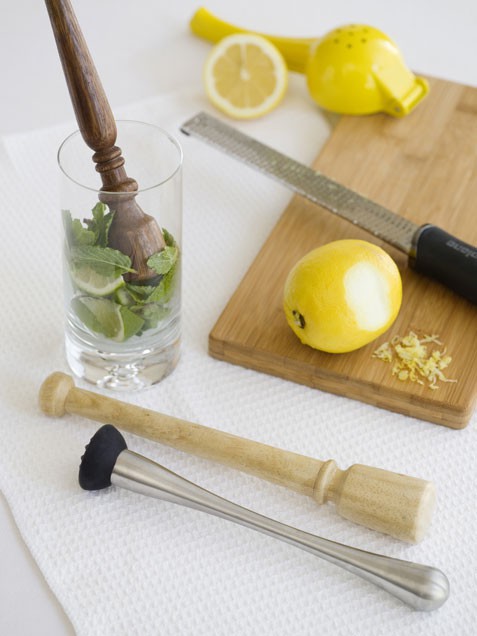 7. Jiggers, stirrers, straws, spoons
Cocktail mixing is a little like science, a perfect measure equals a perfect pour. Jiggers assure cocktail perfection. Stirrers and spoons are decorative and useful when mixing fruit filled drinks. Straws add fun, keep a bunch in bright colors on hand for those blender drinks or party punches.

8. Bar Glasses
Every home bar should have a variety of glassware. To get started, stock up on basic styles that are suited for an assortment of drinks. Be creative and mix and match glasses if you don't have a full set. The key is to have your basics covered, and let your individuality cover the rest.
Here's a sampling from left to right: short rocks glass, hurricane, highball or Collins glass, white wine goblet, champagne flute, martini glass, and beer or sling glass.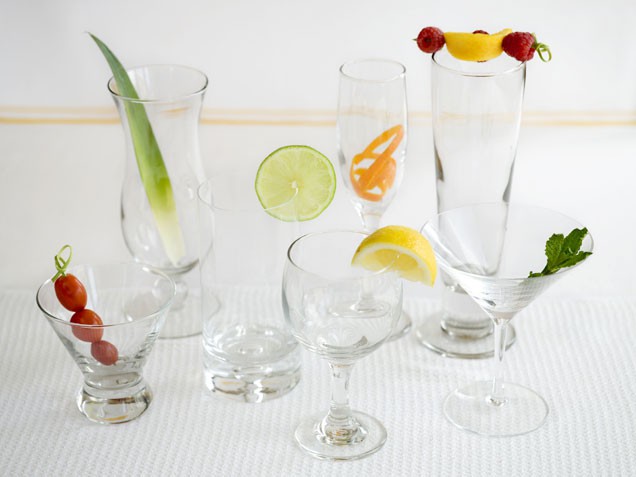 10.Mixers
Mixers are the cocktails better half, with one part spirit, and usually one part mixer. For more elaborate cocktails, there could be mixers, a juice, and a topper of some sort.
Mixer must-haves can be stored in the pantry so you'll always be party ready, they are: tonic water, seltzer, cola, and diet cola and lemon-lime soda. Sparkling water makers are very trendy and widely available for those who wish to make their own bubbles.
Nectars, such as mango, passion fruit, and pear, are great mixed with a spirit for a delightful cocktail, seltzer for a mocktail, or champagne.
11.Juices
Fresh juice is a must for any cocktail. The difference in taste is amazing. If juicing puts you over the top, pick them up at local specialty stores and gourmet markets. Besides the basic trio of lime, lemon, and orange, break out a bit, I like tangerine, grapefruit, and green apple. Mix it up for trendy flavor infused cocktails. You can't go wrong.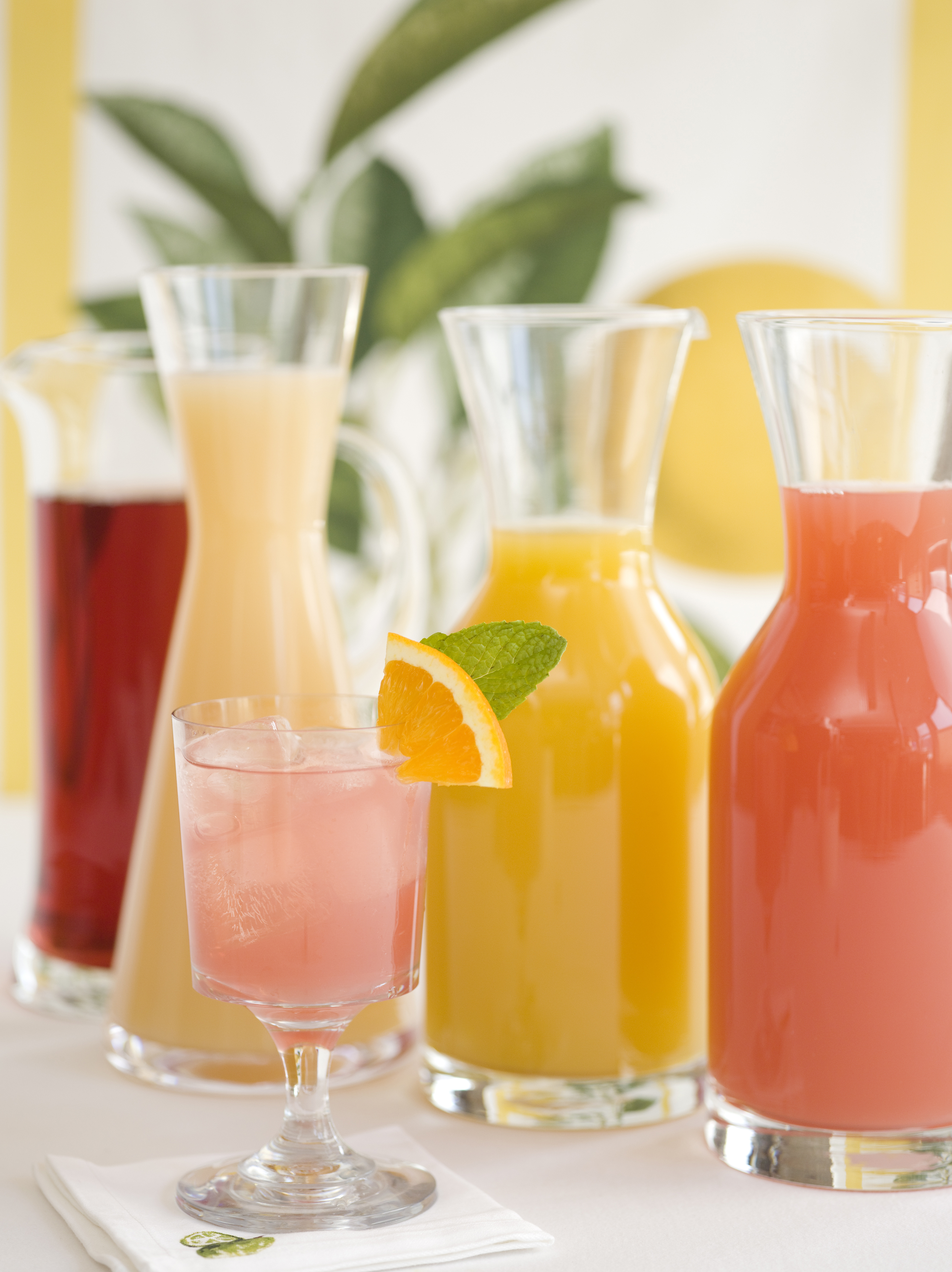 12. Spirits
Spirits are the start of the cocktail. Your home bar basics are:
Vodka, Gin, Rum, and Tequila. For a secondary tier, to expand your mix-master wisdom, scotch, dry and sweet vermouth, and Grand Marnier. Think of your bar as a collection, and add to it as you wish over time.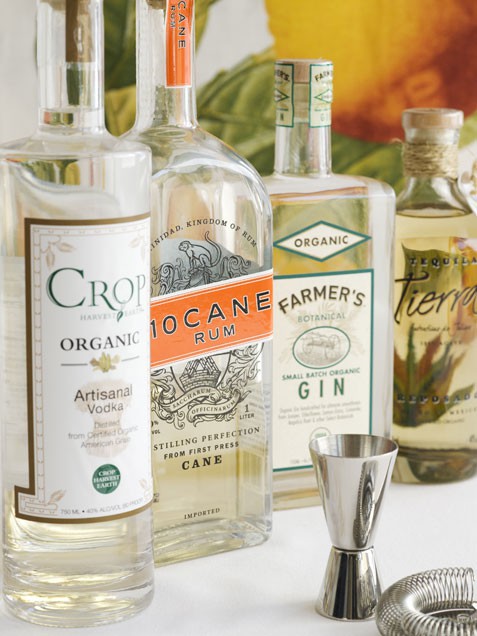 13. Wine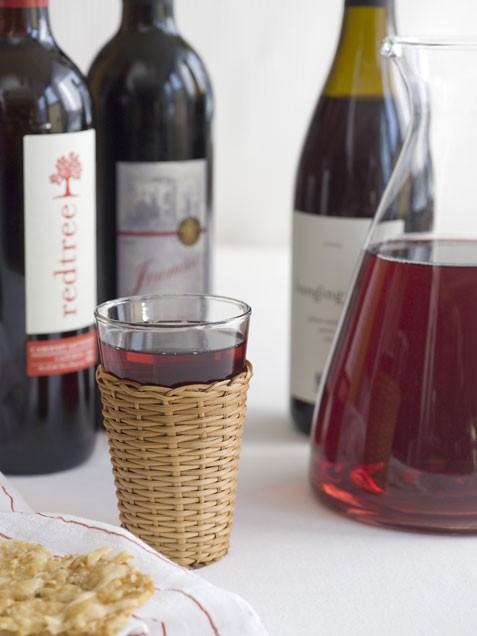 A rich and boundless topic, with endless possibilities. Here is a crash course for an A in entertaining:
White Wine
Chardonnay ranges in style from crisp and fruity to full-bodied with oak and buttery notes. California regions (Napa, Sonoma, Central Coast) offer a vast selection.
Pinot Grigio is light with fruit notes, and very easy to drink. Some regions to look for: Italian and Australian.
Sauvignon Blanc tends to be crisp and refreshing, with hints of fruit and herbs. Some regions to look for: New Zealand and South African.
Reds
Cabernet Sauvignon tend to be lush and full with touches of blackberry and black currant. A few regions of note: California (Napa) and Italy (Tuscany).
Merlot with it's popularity on the rise, is rich with plum and berry accents. A few regions to look for: France (Bordeaux) and Italy (Tuscany).
Pinot Noir is silky smooth with berry accents, also a popular crowd pleaser. A few regions to look for: Oregon and Chile.
14. Beer
Thanks to microbreweries popping up everywhere, the selection is vast. There are two types of beer, lagers which are pale, dry, light and refreshing; and ales which are robust, full of flavor and have a higher alcohol content than lagers. Stock a variety of pilsners and ales for everyone's taste.
15. Champagne/ Prosecco
Champagne is making quite a comeback on couture cocktail menus all around. Considered the gold standard for celebrating, every home bar should include a bottle; you never know when you might need it. Sparkling wines have become a popular choice, delivering wonderful results while keeping the budget in check. Prosecco, one of my favorites, is delightful on its own, or mixed with a splash of nectar for a fine cocktail.
16. Aperitifs/Brandy
Always right for the perfect finishing touch, these are worth the investment to have on hand. Port, Sambuca, Brandy, and Baileys are all crowd pleasers. Serve them on a tray with dessert and coffee, your friends will think you are the master of entertaining.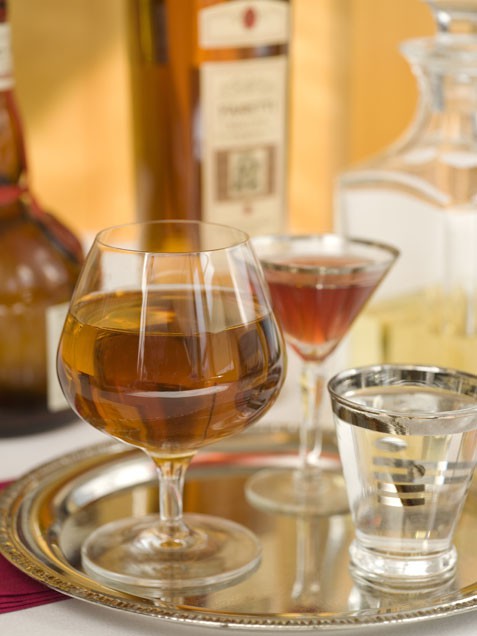 17. Garnishes
Like a good outfit needs an accessory, so does a cocktail. Garnishes should never overwhelm a cocktail, but add just the touch. A few to follow:
Twists: the peel of a lemon or lime, is a classic and simplest of garnishes.
Squeezes or Wedges: lime, lemon, or citrus fruit. Place wedge on the rim of the glass or squeeze and drop in.
Wheels: more decorative than not, they add a bit of flair to a cocktail without adding much fruit.
Green olives: skewer a few for on the rocks or martinis
Maraschino cherries: for tropical drinks or Shirley Temple mocktials.
Mint sprigs: to muddle in all those trendy drinks
Fresh fruit: blueberries, raspberries, pineapple chunks, mango slices, etc. Any fresh fruit is perfect to muddle, toss in the blender, or prop on top of a cocktail.
Just make sure your garnish is in keeping with the cocktail. And have fun with them!
18. Napkins, Coasters, Candles
Paper napkins are the simplest way to jazz up your gathering, they are inexpensive and add instant color and panache. Stock up, this assures you'll always have some on hand.
Coasters are more durable, and can be used time and time again, so are worth the investment when outfitting your home bar. Brightly colored coasters like these with felt backing protect surfaces while adding pop to your party.
Turn the lights down and set your drinks party aglow with candles. Votives and tea lights like these in gem-tones add just the right light.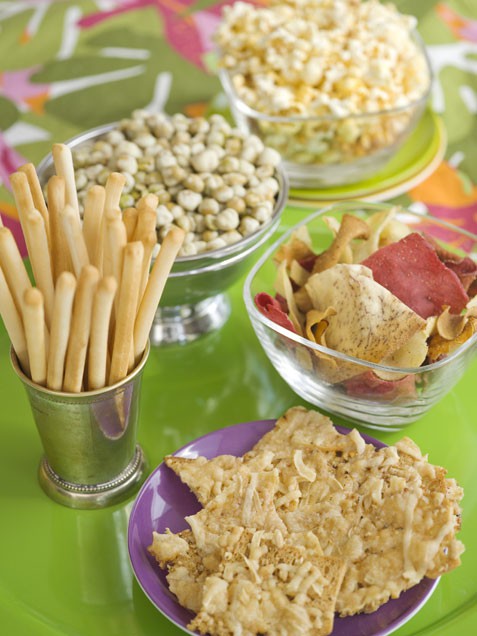 19. Pantry Panache
Snacks are a must with cocktails. They don't have to be elaborate either; anything looks good in a silver bowl. I love to put out an assortment of fancy chips. Popcorn sprinkled with cheese gets an instant makeover when served in a small bowls. Cheese sticks in dressy cups are perfect for placing about. Other favorites include olives, almonds, cashews, dried apricots, and mini pretzels. For a cocktail party that might go on a bit longer, Pick-up a couple of fancy frozen h'orsderve assortments or order-in!
Popular in the Community