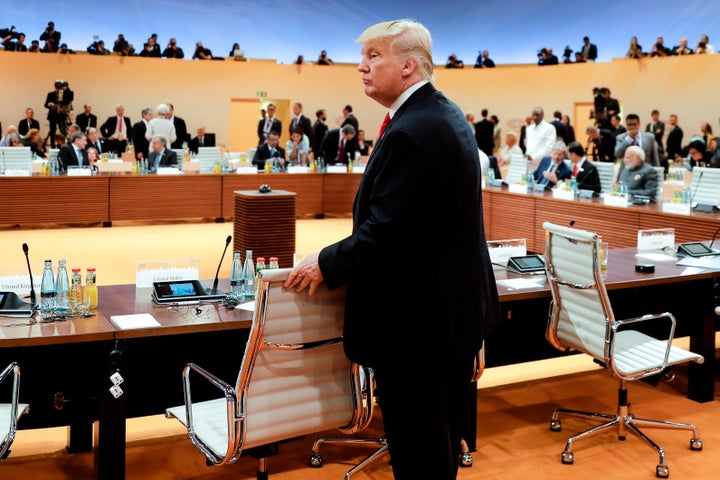 As Donald Trump approaches his 6-month anniversary in the White House, he has proven that he can create jobs: He is generating a boom for lawyers suing him for his administration's assault on the biosphere.
Nearly 400,000 hits appeared when I googled on "environmentalists sue Trump." Many were duplicates, of course, but it clearly is a great time to be an environmental lawyer. Green groups have sued Trump over his approval of the Keystone XL pipeline, his decision to open offshore areas to oil and gas drilling, insufficient protection of Dusky Sharks, his alleged ties to the coal industry, his attempt to delay or reverse President Obama's environmental rules, his order that agencies repeal two federal rules for every one they create, and the EPA's reversal of an Obama ban on a pesticide linked to brain damage in children.
Trump's team has also done things that are not illegal, but should be. For example, making federal climate websites disappear is the modern equivalent of book burning, as if the American people should not be exposed to facts that their president does not like. A generation from now, Trump will be among the leaders who could have done something about global warming but didn't, and who will be judged guilty in retrospect for crimes against humanity. If that sounds like overreach, just pay attention as global warming worsens.
At one time, Republicans from Teddy Roosevelt to Richard Nixon and Gerald Ford had a proud tradition of conservation and environmental stewardship. Trump is their antithesis. He does not understand or does not care that as the quality of biosphere goes down, so does America's quality of life. He appears atrophied in the obsolete idea that we cannot grow our economy without spending our kids' environmental inheritance and that resource gluttony, while not exactly guaranteed by the Constitution, is embedded in our country's DNA.
But back to the courts. Environmental organizations are especially litigious when it comes to unregulated fossil energy production and the prospect of irreversible global climate disruption, two sides of the same coin. They are answering Trump's policy of "drill baby drill" with a legal strategy of "sue baby sue". The United Nations is encouraging climate litigation, saying it "has arguably never been a more important tool to push policymakers and market participants" to fight global warming. Court rulings that survive the judicial chain of command are as good as the laws we are not getting from Congress.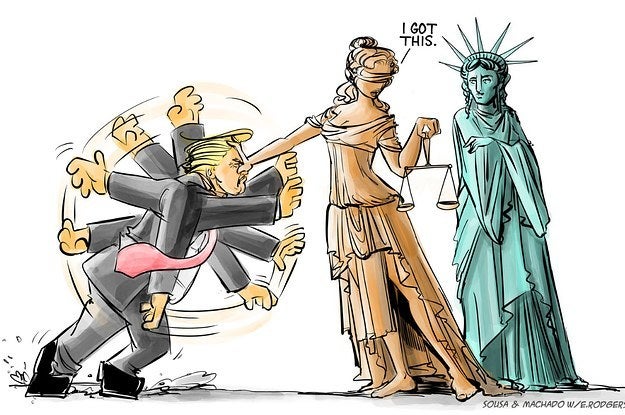 As if it were not bad enough to undo what Obama did on climate change, Trump is promoting the United States as the world's dominant carbon merchant, like a cartel boss feeding a worldwide addiction. There is still a difference between what nations promised in the Paris accord and what they are actually doing. Trump wants the United States to feed the status quo.
For example, the G-20 nations that met last week in Germany allocate nearly four times more public finance to fossil fuels than to clean energy, according to an analysis by Oil Change International, the Sierra Club and Friends of the Earth. They report "(T)he same governments that have signed on to the Paris Agreement on climate change...continue to provide sweetheart loans, guarantees, and other forms of preferential financing to fossil fuel projects that could cause the world to blow past those (Paris) climate targets."
At the urging of Barack Obama, G-20 leaders pledged in September 2009 to phase out fossil fuel subsidies "over the medium term". Nevertheless, the Overseas Development Institute found in 2014 that G-20 governments were spending $88 billion every year to subsidize exploration for coal, oil and natural gas, while scientists were warning that most of the world's proved reserves should not be burned. Even during Obama's presidency, the United States provided $6 billion annually between 2013 and 2015 in public finance for fossil fuels, the three groups found.
Last week, eight years after their original resolution to end fossil energy, the G-20's declaration found it necessary again to "urgently call for the removal of market-distorting subsidies and other types of support by governments and related entities."
On the plus side, 19 of the world's most advanced countries showed last week that they do not intend to follow Trump's exit from the Paris accord. Instead, they reaffirmed their commitment to and the irreversibility of the agreement. But perhaps because they did not want to be pummeled by a Trump tweet-storm, they allowed the President to insert that, "The United States of America states it will endeavor to work closely with other countries to help them access and use fossil fuels more cleanly and efficiently." Of course, Trump's assault on environmental rules like the one limiting methane emissions from new oil and gas operations indicates that clean does not apply to fossil energy production in the U.S.
So, the antagonists in this battle between the old and new energy eras go to court. Climate litigation worldwide has tripled since 2014, according to a new study by the Columbia Law School's Sabin Center for Climate Change Law and the United Nations Environment Programme.
The lawsuits involve several different attacks. Some would force governments to keep their existing commitments to mitigate climate change. Others would underscore that citizens have a right to a healthy climate, an extension of the existing guarantees for healthy environments in 177 countries. Lawsuits that would require national governments to keep their climate commitments have been successful in the Netherlands, Pakistan, Colombia, and Nigeria. In the United States, a landmark lawsuit by young people makes a persuasive case that by enabling the production of fossil fuels, the federal government is violating the constitutional rights of current and future generations.
In the U.S. alone, the Sabin Center counts more than 700 legal actions, some resolved and some underway. There is three times more climate litigation in the U.S. than in all other countries combined. More than 30 legal actions have been filed since President Trump took office.
Whether the cases involve constitutional rights or individual government actions, there is urgency in their resolution. The latest science indicates that global carbon emissions must peak and start a steep decline within three years to keep climate change at relatively safe levels. And while states, localities and corporations in the U.S. have shown impressive willingness to take over leadership of Obama's commitments in Paris, I will argue in an upcoming post that there are questions about whether our "sub-nationals" have the political will and ability to do so. Federal leadership remains important.
But as we know, the wheels of justice turn slowly. Environmental plaintiffs find themselves facing more powerful, high powered, and better financed opponents. Further, as federal judges retire from their lifetime appointments, President Trump will have the opportunity to tilt the federal judiciary toward his misguided views.
What's evident is that the individuals and organizations taking the Trump Administration to court need substantial support from the rest of us, whether it's pro-bono legal assistance or cold hard cash. And as foundations and philanthropists wonder about the best place to invest in the fight against climate change at the federal level right now, this is it.
Author's Note: For those who want to follow legal and regulatory developments in climate litigation, the Sabin Center tracks legal actions and climate deregulation; the Harvard Law School tracks relevant cases in the electricity markets; Advanced Energy Economy has a subscription service called PowerSuite that tracks energy actions at the state level; and the Natural Resources Defense Council has Trump Watch, which monitors the Trump Administration's environmental activity.
Related
Popular in the Community