A photo of Wisconsin high school students appearing to give a Nazi salute went viral over the weekend, prompting the school district and local police to investigate.
The photo appears to show dozens of male students from Baraboo High School, about 40 miles northwest of Madison, performing the Sieg Heil, a gesture used as a greeting in Nazi Germany.
The photo, reportedly taken before the school's junior prom earlier this year, drew controversy Sunday after it resurfaced on Twitter. Carly Sidey, a former student in Baraboo, tweeted a screenshot of the photo shared to a private Twitter account, @GoBaraboo. 
"This post has since been deleted, but i just want [Baraboo School District] to be aware of the disturbing actions that are represented in this photograph," Sidey tweeted Sunday. "This is BEYOND sickening."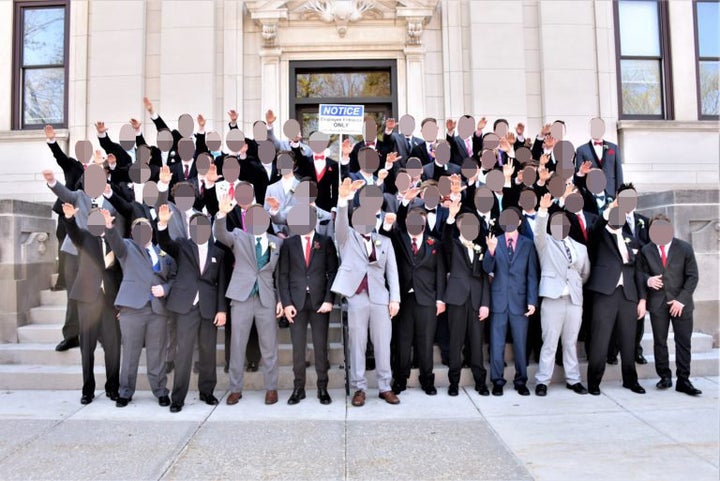 Baraboo School District administrator Lori Mueller condemned the photo in a tweet on Monday.
The photo "is not reflective of the education values and beliefs of the School District of Baraboo," Mueller wrote. "The District will pursue any and all available and appropriate actions, including legal, to address."
The school district sent a letter to parents on Monday morning stating that the photo was not taken on school property or at a school-sponsored event and announcing an investigation into the matter.
"We want to be very clear," the district said in a related press release, "[T]he Baraboo School District is a hate-free environment where all people, regardless of race, color, religion, creed, sex, sexual orientation, gender identity, national origin or ancestry, are respected and celebrated."
Mueller did not immediately respond to HuffPost's request for comment about whether school officials had been present when the photo was taken or if they were aware that the photo existed prior to Sunday.
The Baraboo Police Department is "actively investigating" the case with the school district, police Capt. Rob Sinden told HuffPost on Monday.
"It's brand-new to us," Sinden said. "At this point, I really can't comment too much because it's an active case."
"I've been here quite a while and I can't recall ever having something like this happen in Baraboo," he added.
One student in the photo, at the top far right, appeared to refrain from joining his classmates in the gesture. The student, Jordan Blue, gave a statement about the incident to Suzdaltsev.
"The photo was taken during our Junior Prom Photos," Blue wrote. "I clearly am uncomfortable, with what was happening. I couldn't leave the photo as it was taken within 5 seconds. The photographer took the photos telling us to make the sign, I knew what my morals were and it was not to salute something I firmly didn't believe in."
Blue did not immediately respond to HuffPost's request for comment.
CORRECTION: An earlier version of this story misstated the location of Baraboo relative to Madison. It is to the northwest of Madison, not the northeast.
Calling all HuffPost superfans!
Sign up for membership to become a founding member and help shape HuffPost's next chapter