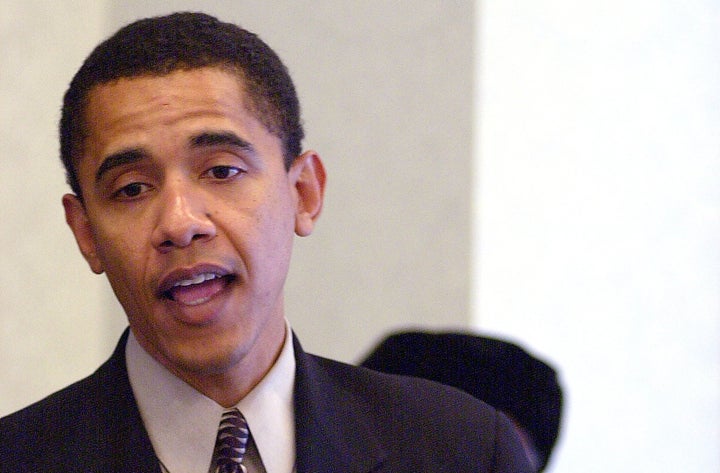 President Barack Obama's political career took off on a rocket ship at the 2004 Democratic National Convention, when his keynote address made him a household name.
But things were very different in 2000, when he actually had trouble getting into the convention after-parties.
Obama recently reminded us of this when he sat down with former senior adviser David Axelrod for Axelrod's podcast, "The Axe Files," to reflect on his career and his legacy as president. Acquainted with Obama since the 1990s, Axelrod began consulting with the young politician in the early 2000s before joining his presidential campaign and following him to the White House.
Axelrod recalled Obama's trip to the 2000 Democratic National Convention, just a few months after the then-state senator had lost the Democratic primary to represent Illinois' first congressional district in the U.S. House of Representatives by around 30 percentage points.
Obama said a friend of his told him he needed to "get back on the horse," and arranged for him to attend the convention with just a hall pass.
"I fly out there on whatever connecting flight that was the cheapest and get to the rent-a-car place and present my credit card and the credit card's rejected," Obama remembered. "No more money."
His hall pass only allowed him to explore the hallways and perimeter of the auditorium. He couldn't see anything.
"My friend would try to get me into some of the after-parties after the convention and bouncers would be standing there saying, 'Who's this guy?' And 'He doesn't have the right credentials.'"
"I felt as if I was a third wheel in this whole thing, so I ended up leaving early," Obama continued. "That was a stage when I was really questioning whether I should continue in politics."
Fast-forward to 2002, and Obama was calling Axelrod to say he had "one race" left in him. He was weighing a U.S. Senate run at the time.
"I do always think about the fact that in the 2000 convention, I couldn't basically get in the hall or ... on the floor and nobody knew my name. Four years later, I'm doing the keynote speech," Obama said. "And it wasn't as if I was so much smarter four years later than I had been in 2000. It speaks a little bit to the randomness of politics."
Calling all HuffPost superfans!
Sign up for membership to become a founding member and help shape HuffPost's next chapter
BEFORE YOU GO
PHOTO GALLERY
Best Photos From The Democratic National Convention