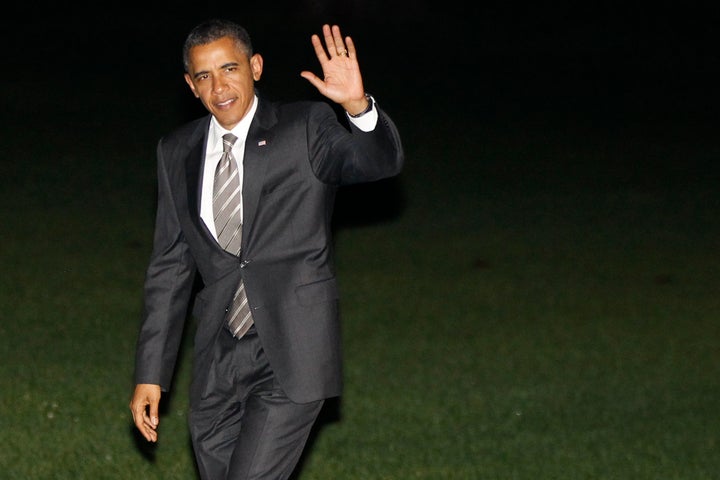 WASHINGTON -- The conservative super PAC American Crossroads debuted a new web ad on Tuesday that attacks President Barack Obama for a litany of wasteful, government-funded projects. The script doesn't exactly break new ground, putting a spotlight on traditional Republican boogeymen, including the bankruptcy of government-backed solar panel maker Solyndra and the economic stimulus. It was the last narrated line that offered a telling wrinkle.
"Failed investment strategies. Jobs eliminated. Millions lost," the spot goes. "Public Equity President Obama played Wall Street games with our money."
Whether government loan guarantees to a solar energy company is analogous with Wall Street's controversial practices is debatable. For conservatives looking for a sharp attack line, it's also secondary.
Attempts to portray the president as a creature of Wall Street have accelerated in recent weeks, even as reports surface that relations between Wall Street bankers and Obama are bad and growing worse. And it is groups that are funded in part by heavy hitters from the financial services industry making the charge.
In late February, the conservative American Future Fund ran a Web ad campaign accusing the president of hiring Wall Street executives to serve in high government posts, supporting the Wall Street bailout, and taking Wall Street campaign money.

"Obama won't admit to supporting Wall Street," went the spot, which got a mostly false rating from Politifact, "but Wall Street sure supports President Obama."
As of Tuesday, the video had been viewed more than 5.4 million times on YouTube. The ad from American Crossroads, the group founded by Karl Rove, is likely to get pared down from one minute to 30 seconds, readying it for television. Whether the Wall Street line will make the final cut isn't yet known. Jonathan Collegio, a spokesman for the group, said it wasn't meant to be the "overriding theme." But he added it was useful in damaging the president's brand.
"The Wall Street thing has some legs because the president, in 2008, took more money than any candidate in history," Collegio said. "It is a liability for the president."
Few institutions are held in worse repute than Wall Street. Several years after it led world economic collapse, the financial services industry has recovered. But on a visceral level, voters still want a pound of flesh.
Obama has, in some instances, stood in the way. His Justice Department has yet to put a prominent Wall Street official behind bars. His economic team resisted calls to nationalize banks. He signed off on watered-down regulatory reform, out of hope that it would serve as the first step and not the end game.
None of that has been enough to convince Wall Street to back Obama like it did in 2008. According to the Center for Responsive Politics, sources with the securities and investment industry have given $8.5 million through April to presumptive Republican nominee Mitt Romney and only $3 million to the president.
In addition to filling Romney's coffers, sources in the securities and investment industry have also written checks to the institutions accusing Obama of being a Wall Street stooge. Ken Griffin, CEO of Citadel Investment Group, has donated $1 million to American Crossroads this cycle, while the Geier Group, a financial services firm, has spent another million.
The American Future Fund is a 501c4 group, which does not have to disclose donors. On Tuesday, the Los Angeles Times reported that one of the group's funders in 2010 was the Center to Protect Patient Rights, an obscure outfit with ties to the Koch brothers, the billionaire advocates of deregulation.
"It is the height of irony that secret donors trying to elect Mitt Romney, who would repeal Wall Street reform and green-light risky financial transactions that put our entire economy at risk, would try to paint the president as someone who opposed reform -- enough to inspire another Alanis Morissette song," Obama campaign press secretary Ben LaBolt said in a statement.
Ironic or not, the attacks serve multiple purposes. As former Republican National Comittee chairman Michael Steele explained, a simple goal is to portray Obama as speaking "out of both sides of his mouth when it comes to Wall Street" -- railing against hedge funds even as he takes their checks. The primary objective, both Steele and others have admitted, is to turn a relative campaign strength for the president into more of a wash or even a weakness.
With the GOP running a former private equity CEO as its general election candidate, it helps to blur the lines between which politician truly is a creature of finance. "If you really want throw mud on Romney about Bain, Wall Street, etc., then you are guaranteed to get some of it on Obama," explained Steele.
Added Collegio: "If Obama is going to get all hateful on private equity, we can do the same with public equity."
Full Disclosure: My wife has done oversight work within the Obama administration on several legal matters, including Solyndra.
REAL LIFE. REAL NEWS. REAL VOICES.
Help us tell more of the stories that matter from voices that too often remain unheard.
BEFORE YOU GO