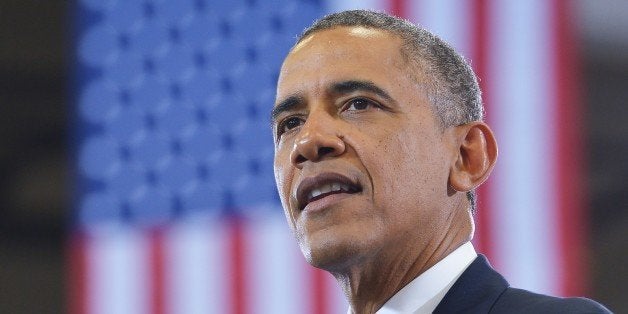 At 19-years-old, I never believed that it was appropriate to use this platform as an expression of my opinions or to persuade others to think as I do. I speak from what I know. What I want to do is tell stories because only through them can we relate to one another. It's powerful. And with that, I'll advance.
A lot of people have never understood this, but for the first time in my life, I saw someone who looked like me; someone who was doing something actually incredible. While my father has been an incredibly strong force of inspiration in my life, Barack Obama was doing what I always dreamed to do, which was become an inspiration for others.
Now, although you may not be able to relate to me personally, you must understand that -- other than those in the entertainment industry -- there's a lack of individuals who I'm able to relate to. Barack Obama was one of the first. When I speak to my friends of other ethnicities, they're often confused on why his running was such an amazement. Aside from his politics and racial makeup, he was no longer personified by a political fraction or even a person. What he became was an idea. He represented the possibility that you can truly become whoever you wanted to become, no matter who you are.
To some this may be reductive, but for me, it's a necessity. I don't know if anyone's ever said this so candidly for the world to understand.
Barack Obama opened my eyes to the power of inspiration that is necessary in the world. But near the end of 2010, I fully got the lesson that President Obama's presence was teaching the world after reading Jay Z's memoir. Before then, I always believed that not having an inspiration to identify with was a deficiency of being African-American, but soon realized that this was such a gift.
We are all responsible for becoming the inspirations that we want to see in the world. And the lack of them should only strengthen the longing to become one for others.
You see, I've always marveled at the lives of the tech entrepreneur, but I never thought that I could become one because of reasons that I've explained above. So, when I came up with an idea for an iPhone application, I never thought that I could do it myself. So instead, I reached out to over 100 college professors from around the world to help me create it. There was no way that I would ever be able to create it because I'd never studied computer programming a day in my life -- I had thought. But when every single professor that I had emailed told me that I was in over my head, I just decided in that moment that I never needed them to begin with. What I decided was that I should do it myself.
So I went to the bookstore, took an overnight Stanford course on app development, and taught myself computer programming in three days. In the very next week, I had created my app.
What I didn't know at the time was that by fighting against the body politic, something greater would come. What happened was my story garnered enough attention to blog for the Huffington Post and my app gave others the identification to someone of color who was in the tech industry. I still can't believe it.
While somewhat accidental, the pattern seems to be that when you stay on the path to your own dreams, you reaffirm those of others. This has truly become the greatest lesson of my young life.
But, in all honesty, I feel so lucky to be a college student in America at this time because my story certainly couldn't have happened anywhere else in the world. This is the place where wildest dreams come true. Although my writing may seem like something out of 2008 fare, I wasn't the determined person then that I am now. I was just 14. But today, there seems to be much more of a youthful renaissance of ambition that I'm apart of.
So as I'm walking out of my lecture hall at George Washington University on this Northeastern winter day, I'm putting the finishing touches on this article.
I've just actually decided to take a stroll to Farragut Square to see that little constant reminder of possibility that's just three blocks from my dormitory. And although I don't have political aspirations at the moment, I often envision the man living inside that white house looking back at me, inspiring me everyday and representing all that is possible in this lifetime. Because the truth is, anything is.
Calling all HuffPost superfans!
Sign up for membership to become a founding member and help shape HuffPost's next chapter