Barack Obama attended today's college basketball matchup between No. 7 Georgetown and No. 8 Duke. Among his companions were Joe Biden, David Axelrod, Robert Gibbs and Reggie Love.
The president also offered commentary during part of the CBS broadcast of the game. He said that he typically does not have time to watch entire college basketball games, but stays up to date by watching SportsCenter. He'll make an exception for the Final Four and watch all of the games.
The home team prevailed, as Georgetown beat Duke, 89-77. Scroll down for video and photos, and to read the pool reports from the game.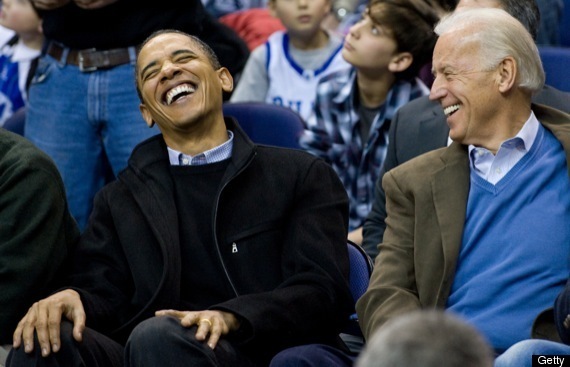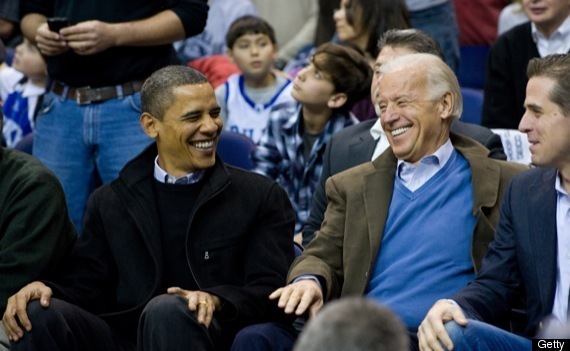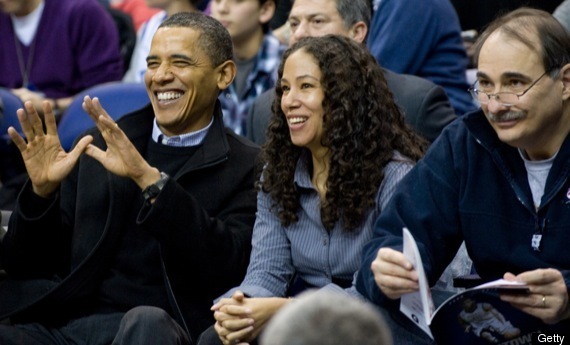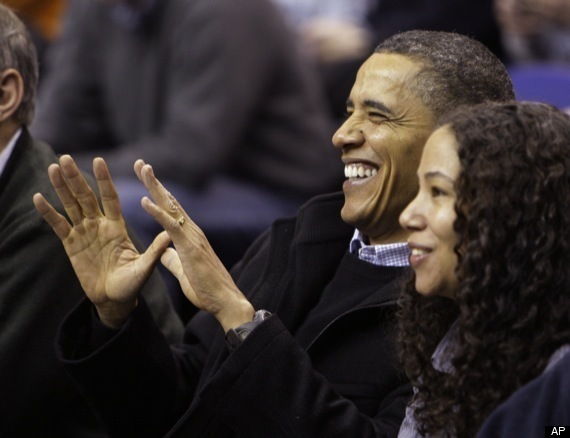 Charles Hurt of the New York Post filed two pool reports:
POTUS attends a basketball game at the Verizon Center between Georgetown University and Duke University.
Seated in a cushioned folding chair mere feet from the basketball court, POTUS studiously remained dispassionate and impartial even as fans of the Georgetown University team all around him went absolutely berserk. Just to his left was a line of shirtless students smeared with gray and blue body paint, some wearing frenzied blue wigs and screaming like they were possessed.
In response to a call that was apparently unfavorable to the Georgetown University team, one of the shirtless fans tried starting a cheer unfit for a family newspaper. But just as it started to get off the ground, a second shirtless student -- no doubt a nerd -- scolded, "Dude, the President of the United States is right there!"
Which effectively killed that cheer.
Anyway, POTUS did not appear to have noticed the offending cheer. He remain hunched forward, elbows on his knees, watching intently but carefully avoiding any hint about which team he might wish to see prevail.
POTUS perked up for the first time a few minutes into the contest during some kind of break in play when the Georgetown University Women's Rowing Team was introduced, standing on the big blue "G" painted in the middle of the court. At least they got a polite applause from POTUS.
During another break in play as both basketball teams huddled about something, a referee sauntered beneath the basket nearest POTUS. Holding the ball in one hand, he shouted toward POTUS, "Sir. Sir!"
When POTUS looked up, the referee nodded his head toward the ball in his hand and then the basket, gesturing POTUS might want to take a shot.
POTUS smiled broadly and then both men laughed heartily.
Apparently, it was also bring-your-son-to-the-office-outing day.
Both Robert Gibbs and Rahm Emanuel showed up with their sons.
Shortly after kick-off, VPOTUS appeared from behind the stands. He strode right up to the court and sat beside POTUS. He wore the collar of his sports coat up, giving him a decidedly European look. His son, Hunter, was also in tow.
Also seated with POTUS was David Axelrod. Reggie Love was in attendance but not sitting with POTUS.
At halftime, POTUS got up from his seat and shook hands with some of the fans seated around him and VPOTUS posed for pictures.
During second half of the basketball game, POTUS moved halfway down the court to sit with the announcers for a little commentary on the game.
He was welcomed and asked about his love of the game. POTUS lamented that with all his other duties, he "can't watch a full game, unfortunately." During the playoffs, however, he watches all the games.
Asked his opinion of the contest between Georgetown University and Duke University, POTUS remained studiously impartial.
"Obviously, two great teams," he said.
The guards from Georgetown were particularly noteworthy, he said, especially during the first half. In the second half, he said, the guards were getting a bit "sloppy" and the Duke team was "picking up its 'D'."
Then they started talking about some other basketball teams when POTUS seemed to take a shot at East Coast liberal elitism.
"If the Buckeyes are bragging about beating an Ivy League team, then that tells you something," he said.
Asked if he wanted to call a play, POTUS looked up in time to see a player running down the court, jumping up right as he approached the basket and throwing the ball up.
"This was a turnaround and he didn't get any spinback," POTUS said.
This analysis was admired by the professional announcers, who said POTUS could have a career in announcing if, you know, things didn't work out. Realizing they had really stepped in it, they backed up and said that, of course, POTUS has a job and will for as long as he wishes.
Exhibiting his trademark modesty, POTUS acknowledged he could easily do their jobs and joked that he would be coming after them as soon as he wrapped up his current gig.
"You have either three more years or seven," clearly suggesting he might CHOOSE not to pursue a second term.
On a roll, one of the announcers decided to talk a little more politics.
"You are obviously a left hander," he said to POTUS. "Any problem going to the right?"
Unclear what exactly that meant. But POTUS replied that just yesterday he went to Baltimore to speak to Republicans at their annual retreat. And then he said indeed he is stronger on the left.
Before signing off, POTUS said people's thoughts should be with the troops in the field and with those helping victims of the earthquake in Haiti.
Related
Popular in the Community