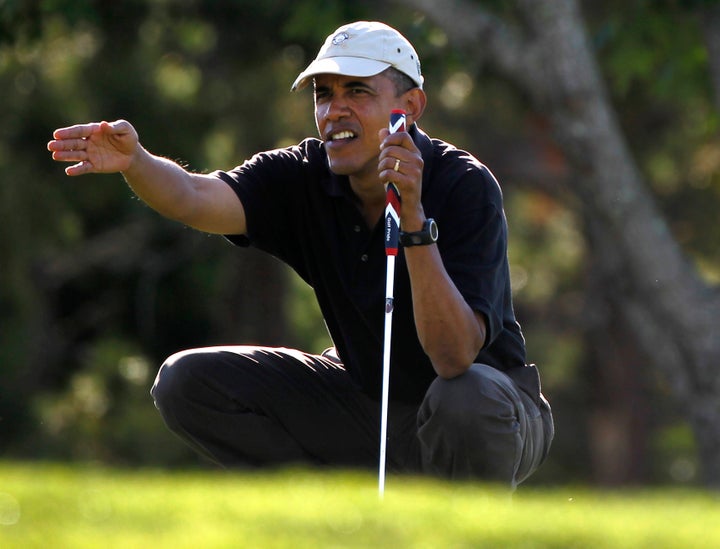 WASHINGTON -- President Barack Obama personally believes that the Augusta National Golf Club, site of the top annual golf tournament in America, should break with tradition and admit female members.
With the Masters Tournament set to begin on Thursday, White House Press Secretary Jay Carney was asked the perennial political question surrounding the tourney: should the private club stop discriminating on grounds of gender?
"He believes, his personal opinion is, that women should be admitted," Carney responded. "We are kind of long past the time when women should be excluded from anything."
Membership at Augusta has been all male since its opening in 1933. While women were allowed to play as guests of members, their formal exclusion from the club led to a hot-button political debate that has continued over the past few decades. Martha Burk, former chair of the National Council of Women's Organizations, led a high-profile protest of Augusta in 2002, prompting a seemingly annual return to the topic of the legal rights of private institutions to determine their membership guidelines.
This year's discussion has two notable wrinkles. IBM, which sponsors the Masters and whose top official has routinely been given membership, is now led by a female CEO, Virginia Rometty. Secondly, the White House will host a summit on Friday geared toward women in the workplace.
The president, an avid golfer, is set to appear at Friday's event.
UPDATE: 3:20 p.m. -- Former Massachusetts Gov. Mitt Romney has joined Obama in calling on Augusta to allow women to become members. According to CNN's Peter Hamby: "Romney just told reporters on the ropeline that women should be admitted to Augusta National."
"Of course. I am not a member of Augusta. I don't know if I would qualify," Romney said, according to Hamby. "Certainly if I were a member, if I could run Augusta, which isn't likely to happen, of course I'd have women into Augusta."
UPDATE: 5:00 p.m. -- On Twitter, former House Speaker Newt Gingrich joined in, saying that he would like to see his wife admitted into Augusta: "I think callista would be a great member #Augusta -maybe she would let me come and play."
Popular in the Community