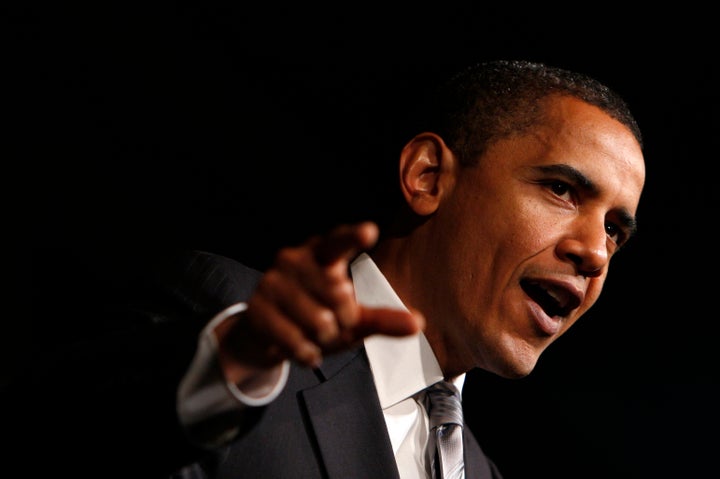 For aides to President Barack Obama, the first hint that his biography was the subject of conspiracy theories arrived well before Donald Trump or Hillary Clinton, and even before Obama considered a presidential bid. It came in the weeks after he delivered his famous "Red America, Blue America" speech at the Democratic convention in 2004. And the theories had nothing to do with his place of birth ― they had to do with his religion.
In the summer of 2004, the conservative website Free Republic picked up a press release alleging that the up-and-coming state senator from Illinois was secretly Muslim. Obama's office was aware of the post's existence. But as Tommy Vietor, Obama's aide at the time, noted, they treated it as a "subterranean issue," the type that sparked more eye-rolls than intrigue. The assumption was that few would take it seriously.
Twelve years later, those assumptions seem quaint. Conspiracy theories about Obama's biography have morphed and persisted. And with Trump's ascendance in the Republican Party and his years of unwillingness to firmly disavow the myth that Obama was not born in America, it's clear to these same aides that the smears they tried to dismiss in 2004 and kill thereafter will likely never fully die.
"I never imagined it would go this far and be taken seriously by credible people ― if you consider Donald Trump to be a credible person," said Ben LaBolt, an aide in the 2008 campaign and the press secretary in 2012. "It is like Glenn Close in 'Fatal Attraction.' You think it is gone, but it keeps popping up in the craziest places." 
It is like Glenn Close in 'Fatal Attraction.' You think it is gone, but it keeps popping up in the craziest places.

Obama aide Ben LaBolt on the birther theories.
The story of birtherism is not a story about Obama, since birtherism is a lie. It is a story about the difficult, often futile attempts to dispel a myth in an online age when there are more means and incentives to spread it.
For those who have worked with the president, it is a nagging, demoralizing and often-shifting battle defined by its racist undertones. Birtherism began not as Trump asserts ― as an effort by Clinton's 2008 campaign to delegitimize Obama ― but by those on the conservative fringe who were taken aback by the speed of Obama's political trajectory.
The setting was, initially, the 2004 Senate race. And the person doing the peddling was Andy Martin, a lawyer and occasional candidate known for feeling a bit more comfortable than most in the fever swamps of Illinois politics. 
Martin himself doesn't deny the role he played.
"When Obama gave the speech about the red states and blue states, there was something about him that didn't ring true," he recalled in an interview with The Huffington Post. "I had my old investigator's hat on. I said, 'I'm going to look into this guy.' I picked up the phone and called my operation in London and said, 'Do what you can to find dirt on Obama.'"
But Martin stresses that he wasn't questioning ― then or now ― Obama's Hawaiian birth. Instead, he said, his goal was to pick apart other elements of Obama's biography, including his father's story and his religious upbringing.
Obama's aides were aware of it all. But those in the 2004 campaign were hardly distracted by the smears. Obama won in a landslide, one of the few Democratic bright spots that cycle.
The real noise came three years later, as then-Sen. Obama launched his White House bid. This time, the rumors weren't just about Obama's religion (though a "Fox & Friends" segment alleging that he attended a madrasa remains a searing memory for veterans of that campaign) ― but about his origins, too.
Martin, once again, was a catalyst. In 2007, he says, he wrote stories suggesting that Obama may have been born with Kenyan and American citizenship. He and others began calling for documentation of Obama's origins.
"Even though you know somebody was born somewhere, there may be something on a birth certificate," Martin said.
The conspiracy spread. Campaign staffers recall being forwarded email exchanges asserting their boss' Kenyan birth. They were informal threads, the type passed along to relatives or within church groups. But it was enough to set off alarms, since the very instrument that had proved beneficial to the campaign ― the ability to galvanize people online ― was becoming a source of poison.
Eventually, birtherism began showing up as a voter concern in the campaign's internal polling. 
"I remember one morning ... we were talking it through in the meeting, that we had to go hard at it with every piece of pushback we have," said Vietor.
The campaign set up a website called "Fight The Smears," which furnished information people could send back in response to the birther threads. It dispatched its research director, Shauna Daly, to compile a dossier of evidence to use for pushback against birthers. Eventually, the site posted Obama's birth certificate online.
But Martin, along with others, didn't relent. He appeared alongside Sean Hannity (an appearance that would later play a pivotal role in the campaign) and filed a lawsuit in Honolulu to get a judge to release Obama's birth certificate. But the percentage of people questioning Obama's birthplace gradually diminished. In November, Obama was elected president and the world largely moved on.
"It faded to the background when we got to the White House," recalled Dan Pfeiffer, Obama's former communications director. "The president was sued by Orly Taitz [another prominent birther] over this issue and I had to go to some meetings where [White House counsel] Bob Bauer would brief us on it. But it was not a real thing."
And then, Trump made it a thing again.
The first step Trump took into that particular nether region came during a speech to the Conservative Political Action Conference on Feb. 10, 2011. Openly flirting with a presidential run, he declared that none of Obama's former schoolmates could actually recall him as a classmate. The crowd loved it.
A month later, Trump went on "The View." "Why doesn't he show his birth certificate?" he asked. Then, on the "Today Show": "His grandmother in Kenya said he was born in Kenya and she was there and witnessed the birth." On CNN, Trump announced that he was sending investigators to Hawaii. Later, he teased forthcoming revelations.
Inside the White House, the news cycle went from comical to alarming to suffocating.
"I remember that period very well, because there was a lot of real serious shit happening in the world, a European financial crisis, and the economy was in a bad place," said Pfeiffer. "But Donald Trump kept going on TV and he would make these claims, and it was treated as: 'Well, Trump says this.' It wasn't with great scrutiny. He was being given a bullhorn to shout racist shit without being called on it." 
As it happened, Obama was at his home in Chicago during this period, staying overnight after a fundraiser. The president went through some boxes and found what he thought was his long-form birth certificate. It was a souvenir copy ― the type given out by hospitals ― and not an official document. But when he was back in Washington, he instructed Bauer to request the original version in "whatever quiet way a president could," as Pfeiffer put it.
Before the document arrived from Hawaii, Obama huddled in the Oval Office with his top aide, David Plouffe, along with Bauer and Pfeiffer, to plot out how to present the document. He wanted to make a statement. But it had to be to the full press corps, and they needed to keep it secret out of fear that cable news would start a countdown clock for a big reveal.
They decided to make the announcement in the Brady briefing room and hand out photocopies of the long-form birth certificate beforehand. The appearance was originally planned for a Thursday, but events got in the way, Pfeiffer said. So they settled on Friday.
"I know that there's going to be a segment of people for which, no matter what we put out, this issue will not be put to rest," Obama told the frantically gathered reporters. "But I'm speaking to the vast majority of the American people, as well as to the press. We do not have time for this kind of silliness.  We've got better stuff to do. I've got better stuff to do."
Later that day, Trump landed his helicopter in Portsmouth, New Hampshire, still considering a White House run. He took credit for getting the long-form certificate made public.
What the real estate mogul likely didn't know then was the extent of the humiliation in store for him for spreading this conspiracy theory. Days earlier, Obama's speechwriters had finished writing the remarks for the upcoming White House Correspondents' Association dinner. It contained an extended roast of Trump and his persistent birtherism.
Since Obama had already put out his long-form birth certificate, the writers worried that they'd have to ditch the concept. Instead, they revised a part the speech that involved a scene from "The Lion King" and refined a riff on "Celebrity Apprentice" that was written with the help of director Judd Apatow and blessed by Obama himself.
Days later, Obama delivered the speech.
The moment is now a part of political lore: A sardonic twisting of the knife, Trump sitting stoically during the roast, a slight grimace on his face. It was exactly what White House aides designed it to be: A public humiliation of Trump in a room full of people whose admiration he craved.
"I was hoping he got annoyed," said Jon Favreau, one of Obama's speechwriters, who had the luxury of watching it play out from a table right behind Trump's. "Because we were all annoyed with Trump. He had done this entire birther thing and made it an issue. We thought he was a fucking goofball."
The White House Correspondents' Dinner of 2011 stunted birtherism's resurgence. It would come up here and there on the campaign trail, with former GOP presidential nominee Mitt Romney even attempting a painfully forced joke. But having dismissed the conspiracy theory with a heavy dose of ridicule, Obama felt comfortable enough to co-opt it as well. His team sold coffee mugs with a copy of his birth certificate on it.
"It became a rallying cry for our supporters to say, 'This is how crazy the Republican Party has gotten,'" said LaBolt.
Like most conspiracy theories, however, birtherism didn't fully die. Nor, in that moment, did Obama effectively cast off Trump as a loony rumor monger. In fact, Trump's associate, Roger Stone, said the 2011 dinner convinced him to run for office in 2016. The real estate mogul talked about his birther theories less frequently. But they continued to populate his Twitter feed and public statements, feeding fantasies and paranoia. It distinguished him in a crowded Republican primary in 2016, which he won, and followed him into the general election.
One week ago, Trump finally stated his belief that Obama was born in America, without ever actually apologizing for perpetuating the myth ― only to later admit that he was merely trying to move the conversation to more friendly topics. The relentless fact-checking, the primary documents, and the dismissive, sarcastic put-downs had muted him. But it had not killed the conspiracy itself.  
"It's so funny," said Favreau. "I've told the story of the correspondents' dinner speech for many years afterwards, and before this election, I would always say, 'And we never heard from Donald Trump again.' That, clearly, proved not to be true."
Calling all HuffPost superfans!
Sign up for membership to become a founding member and help shape HuffPost's next chapter