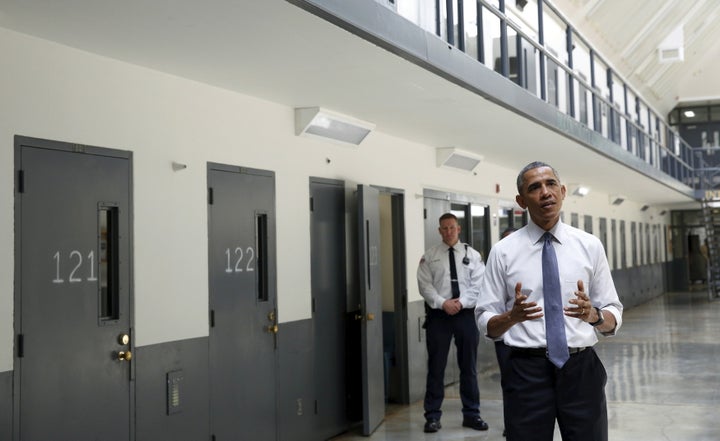 WASHINGTON ― President Barack Obama on Friday granted commutations to 72 additional federal prisoners who had been given long sentences for drug charges. More than a dozen had previously been sentenced to life in prison, meaning they were expecting to die behind bars.
Obama has now granted clemency to 944 people over the course of his presidency, including 324 people who had life sentences. Experts believe there are roughly 1,500 federal prisoners who met the criteria that the Obama administration laid out as part of a clemency initiative meant to reduce lengthy federal drug sentences. 
White House Counsel Neil Eggleston said Friday that Obama's actions were "unprecedented in the modern era" and showed he was "committed to reinvigorating the clemency authority, demonstrating that our nation is a nation of second chances, where mistakes from the past will not deprive deserving individuals of the opportunity to rejoin society and contribute to their families and communities."
Under Obama's announcement on Friday, several of the prisoners will now be released in 2017 and 2018, while others still have many years left behind bars before their prison terms expire.
While the number of commutations granted during the Obama administration are historic, many advocates had hoped that thousands of individuals would be granted clemency under the initiative, which is aimed at shortening lengthy drug sentences that were often a result of federal mandatory minimums. Former Attorney General Eric Holder has said he expected as many as 10,000 prisoners to be granted clemency. Rachel Barkow, a New York University professor, told The Huffington Post that around 1,500 federal prisoners met the criteria that the Obama administration laid out for the initiative. 
But the development is certainly welcome to the 72 people who had their sentences shortened on Friday, especially those who were expected to die behind bars. HuffPost reported on how some of them reacted to learning they would regain their freedom:
Jason Hernandez, whose life sentence was commuted in 2013, told HuffPost that he'd been worried he'd find out a family member had died when he was summoned to the warden's office. Instead, he was told the good news.

"I started crying right there, I started shaking," Hernandez said. "I still couldn't believe it. I asked, could you show me on the computer where it says this, because maybe somebody is playing a hoax on us, on you? I said, I don't think this is true. The lady looked it up, and it said I had 20 years. I had a release date."

But Hernandez had expected the moment to be more joyful. He had imagined jumping, hollering, dancing and singing. In reality, his heart raced. He had trouble breathing. Guilt sank in.

"There's more inmates like me, probably more deserving than me, who didn't believe that such things could happen," Hernandez said. "When I received my reduction, I couldn't even look at the guys no more, I just felt bad for them. I couldn't look at them in the eyes. I told them that, look, when I get out there, I'm not going to stop fighting, I'm going to continue doing what I'm doing."

When they're released, former prisoners have to adjust to a world that looks very different from the one they left.

Stephanie George, who was sentenced to life in prison in a drug case, said she was so confused by Facebook that she set up five different accounts, not realizing that she was creating an entirely new page each time and not just signing in. Norman Brown, whose life sentence was commuted last summer, joked that he was used to cellphones "as big as computers" when he was first arrested.

Reynolds Wintersmith, who was sentenced to life in prison on a crack charge when he was still a teenager, said he was amazed to see how many people were staring at their smartphones on the street. "You know how much you missing?" he asked.
Cynthia W. Roseberry, project manager for Clemency Project 2014, an independent effort to sort through and prioritize clemency petitions, said staffers' "hearts fill with joy" for those whose sentences had been commuted.
"The Obama administration has said it was committed to ever more grants, and it seems quite clear that the President's actions are matching his words," she said in a release. "None of the work of Clemency Project 2014 to provide pro bono attorneys to thousands of prisoners would be possible without the overwhelming commitment of the bar to step up and volunteer to help these worthy applicants."
REAL LIFE. REAL NEWS. REAL VOICES.
Help us tell more of the stories that matter from voices that too often remain unheard.