Republicans backing away from GOP presidential nominee Donald Trump still share the blame for stoking "the swamp of crazy" that fueled Trump's rise to the top of their party's ticket, President Barack Obama said Thursday in Ohio.
"Don't act like this started with Donald Trump," Obama told state Democrats at their annual dinner. "He did take it to a whole new level, I've got to give him credit. But he didn't come out of nowhere."
Obama aimed most of his criticisms past the GOP nominee and at Republicans who allowed conspiracy theories and the anger of the party's base to grow to the point that Trump was able to commandeer it. That includes those who un-endorsed Trump, as Sen. Rob Portman (R-Ohio) did on Saturday, after a 2005 video revealed Trump bragging about using his fame to assault women.
"They don't get credit for, at the very last minute, when finally the guy that they nominated and they endorsed and they supported is caught on tape saying things that no decent person would even think, much less say, much less brag about, much less laugh about or joke about, much less act on," Obama said at the dinner.
"You can't wait until that finally happens and then say, 'Oh, that's too much, that's enough,' and think that somehow you are showing any kind of leadership and deserve to be elected to the United States Senate," he continued. "You don't get points for that. In fact, I'm more forgiving of the people who actually believe it than the people who know better and stood silently by out of political expediency."
Portman announced that he will no longer support Trump for the presidency and will vote for the Republican vice presidential nominee, Indiana Gov. Mike Pence, instead. The senator is seeking re-election against former Democratic Gov. Ted Strickland, whom Obama praised at the event. Portman leads Strickland in polls by 13 percentage points, according to a HuffPost Pollster average of surveys.
"If Trump was running around saying I wasn't born here, they were okay with that as long as it helped them with votes."
Obama questioned the Republican message: "You claim the mantle of the party of family values and this is the guy you nominate?"
He accused Republicans of laying the groundwork for Trump by "feeding their base all kinds of crazy for years, primarily for political expedience."
One example was Trump's long-running lie that Obama wasn't born in the U.S. ― an attack on the first black president that most Republicans declined to condemn. Trump took until last month ― well after the GOP nominated him ― to acknowledge he believes Obama was born in the U.S.
"If Trump was running around saying I wasn't born here, they were okay with that as long as it helped them with votes," Obama said. "If some of these folks on talk radio started talking about how I was the antichrist, 'Well, you know, it's just politics.' You think I'm joking."
Obama also criticized Texas Republican Sen. Ted Cruz and Gov. Greg Abbott for fueling a conspiracy theory that the president was attempting to launch martial law in Texas, pretending they didn't know about a military training exercise.
"What do you mean, you don't know? What does that mean? Really? You think that like, the entire Pentagon said, 'Oh, really, you know, you want to declare martial law and take over Texas? Let's do it under the guise of routine training missions,'" Obama said. "They took it seriously. This is in the swamp of crazy that has been fed over and over and over and over again."
Obama said that's why the Republican Party is where it is today.
"They stood by while this happened," he said. "And Donald Trump, as he's prone to do, he didn't build the building himself, but he just slapped his name on it and took credit for it."
Before You Go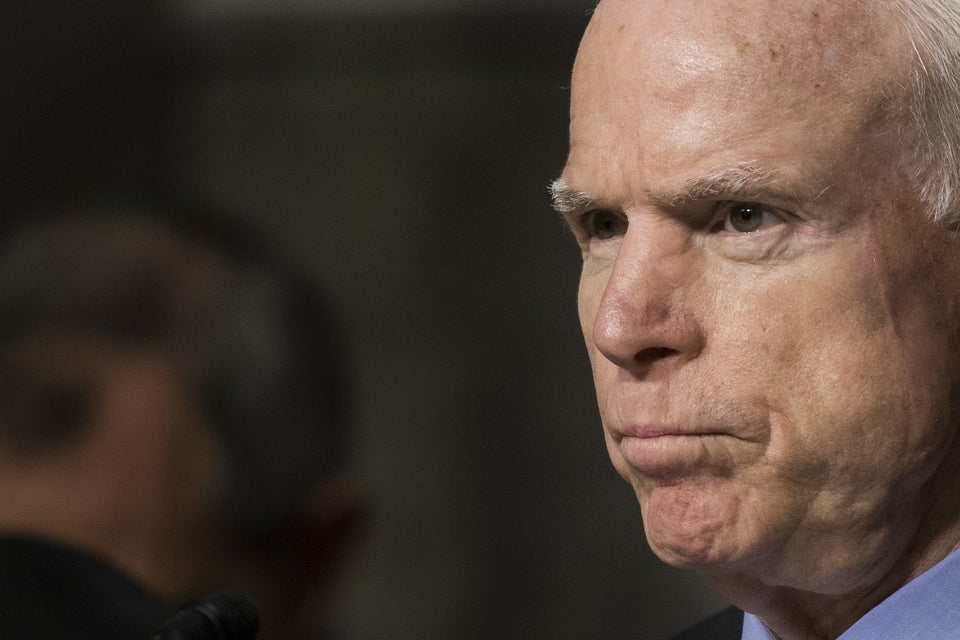 Republicans Who Have Withdrawn Their Support For Donald Trump
Popular in the Community