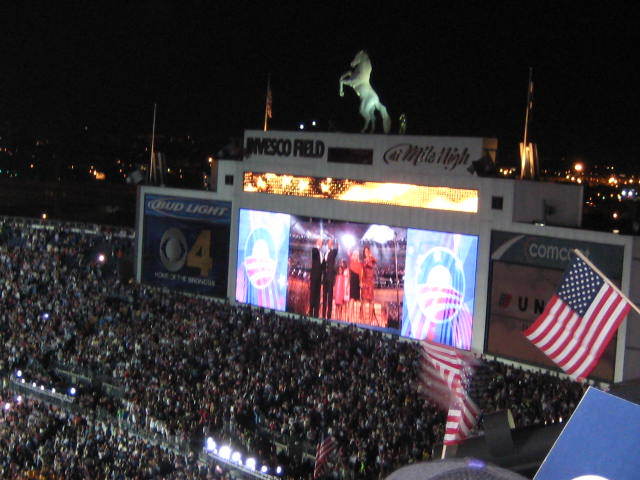 "It was a genuinely outstanding speech. It was magnificent. It is the finest - and I saw Cuomo's speech, I saw Kennedy in '80, I even saw Douglas MacArthur, I saw Martin Luther King - this is the greatest convention speech, and probably the most important because unlike Cuomo and the others this is an acceptance speech. This came out of the heart of America and he went right at the heart of America..." - Patrick J. Buchanan
There has been no other political event in U.S. history to match what Barack Obama achieved last night. He now stands alone.
At Invesco Field, Mile High Stadium, Barack Obama met Martin Luther King, Jr. in soaring rhetoric, promise of tomorrow, but with a different mandate. King had a dream. Barack Obama has realized it, being just one more step away from the presidency.
Soaring rhetoric met specific ideas and goals, coupled with a slashing critique of his opponent that we have not heard to date. Barack Obama transformed his famous rhetoric into a lethal blade that not only eviscerated the Republican policies that have brought this country to the edge of financial ruin, but also has made the U.S. less safe in a world made more dangerous by diplomatic neglect, ruinous hubris, and misguided arrogance. He elevated his candidacy above where it's been before. Masculinity taking charge over the agility of the artistic delivery.
An African American man next to me just shook his head, saying "Lord have mercy. After all these years..." Then his voice trailed off.
I had the pleasure of not just seeing the convention and covering it. But being in the stands, compliments of volunteer "angel" that must remain anonymous, who made it possible. So when the fireworks went off I saw it, not just as someone working, but with my fellow citizens who came simply dreaming about a better America and hoping the man they came to see tonight would start us on that road.
Barack Obama reached for the stars and by all estimations he succeeded.
The Republicans are in rewrite.
Taylor Marsh is a political analyst who's been seen on CNN and MSNBC, talk radio personality, and author. Twittering the convention all week.
Popular in the Community