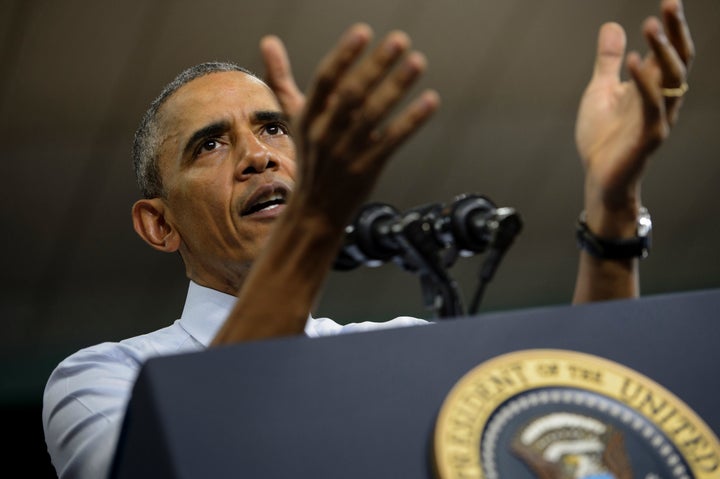 WASHINGTON -- Marking a stark reversal from his past position, President Barack Obama said Wednesday the U.S. ought to increase Social Security retirement benefits.
"It's time we finally made Social Security more generous and increased its benefits so that today's retirees and future generations get the dignified retirement that they've earned," Obama said during a speech in Elkhart, Indiana.
"And we can start paying for it by asking the wealthiest Americans to contribute a little bit more," Obama said. "They can afford it. I can afford it."
The announcement represents a major evolution in the president's public position on Social Security and a coup for the progressive wing of the Democratic Party, which increasingly views benefits expansion as a core element of its agenda.
Obama has previously supported cuts to Social Security retirement benefits as part of an elusive legislative "Grand Bargain," which he sought in negotiations with congressional Republicans during key moments of budgetary brinksmanship. The proposed deals would have supposedly paired the cuts with revenue increases favored by liberals.
The cut Obama came closest to passing would have come from changes to the formula used to calculate annual cost-of-living adjustments that help benefits keep pace with inflation. The White House repeatedly offered it to congressional Republican leaders during fiscal cliff talks at the end of 2012, despite the objections of then-Senate Majority Leader Harry Reid (D-Nev.).
During his re-election campaign, Obama even downplayed the difference between his position on the program and that of his Republican challenger, former Massachusetts Gov. Mitt Romney.
Obama's suggestion on Wednesday that the wealthy should pay for higher Social Security benefits fits with recent proposals by liberal Democrats in Congress, as well as Democratic presidential candidate Sen. Bernie Sanders (I-Vt.) and Democratic presidential front-runner Hillary Clinton. While Sanders supports across-the-board expansion of benefits, Clinton has come out in favor of targeted increases.
Sanders, campaigning in California, issued a statement praising Obama's announcement and urging Clinton to support his Senate legislation that would broaden benefits. "I applaud President Obama for making it clear that it is time to expand Social Security benefits," Sanders said.
Support for increasing Social Security benefits for vulnerable groups has sometimes been part of broader proposals to reform the program -- proposals that also include cuts. In response to pressure from Sanders and progressive groups, Clinton clarified in February that she both supports increases and would not agree to cuts elsewhere in the program.
It is not clear whether Obama's Wednesday speech means he would likewise rule out cuts in all circumstances.
Obama did not address specific changes to the program, but his remarks about the wealthy indicate he might support lifting the cap on earnings taxable for Social Security.
Currently, only the first $118,500 of payroll income is taxed for Social Security benefits. Although the cap rises annually to keep pace with average wage growth, proposals by liberal Democrats have focused on lifting the cap so that it captures a greater share of income, because the percentage of earnings subject to the tax has declined in recent decades.
Obama expressed support for lifting the cap as part of a solution to the program's long-term funding shortfall during a Democratic presidential debate in September 2007, but not in the context of increasing benefits.
Richard Fiesta, the executive director of the Alliance for Retired Americans, a group of union retirees, praised the president's speech Wednesday.
"The Alliance advocated the expansion of Social Security benefits for years and we are pleased that the President agrees with us," Fiesta said in a statement. "It's time for Congress to pass one of the many bills that has already been introduced to make a more secure retirement for current and future retirees."
This article has been updated to include Sanders' statement.
Support HuffPost
The Stakes Have Never Been Higher
Popular in the Community