JACKSONVILLE, Fla. – If President Barack Obama is hoping to persuade unenthusiastic African-American voters to turn out for Hillary Clinton in the remaining days, Jakori Duffy knows just the people he should be talking to.
The biology major at historically black Edward Waters College here said a number of his classmates could use some convincing. "A lot of people I talk to are saying that they don't trust her. But they don't trust Trump, so they're not voting at all," he said.
In his continuing tour of key swing states Thursday, Obama brought his warning against that sort of attitude to Florida's Duval County, home to a large African-American community whose solid support helped him win the state twice.
"I know that a lot of you may feel cynical. There's a lot in this election that can make you feel discouraged," he told a packed basketball arena at the University of North Florida, singling out the younger voters in particular. "Right now, young people, you have this opportunity that doesn't come around all the time. Where history can move. You can bend the arc of history in a better direction."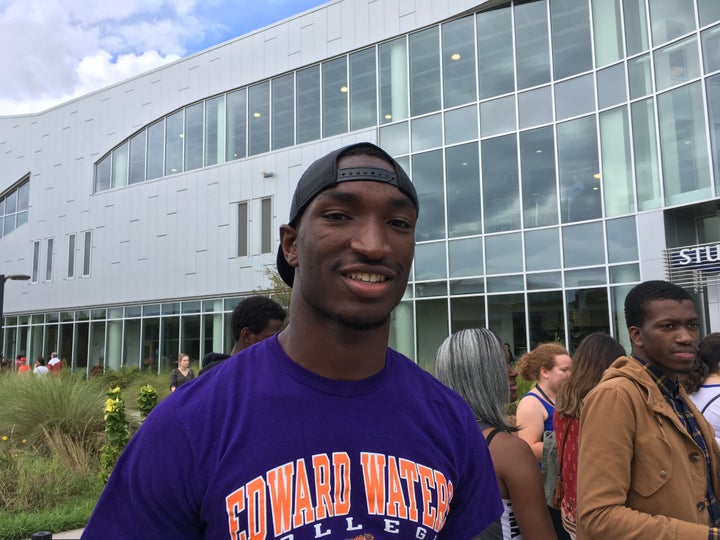 Obama's personal popularity here is not in question. The arena can hold 6,000, but at least three times that many had hoped to get in, some waiting since dawn in a line that snaked more than a half mile down the road.
Deborah Fields arrived at the UNF campus at 9 a.m. to win a spot near the head of the line, and by noon still had another three hours to go before Obama was scheduled to start.
"It is worth it," said Fields, who is 71 and retired after 48 years in the mortgage industry. She added that she intended to go vote on her way home from the rally. "I've voted since I came of age. And I'll vote until the day I die."
And that vote this year, Fields said, would be for Clinton. "Because the president is supporting her, and because I think she'll be a great president," she said.
The question in the remaining days before votes are counted Tuesday is whether there are enough voters like Fields whose good will for Obama will translate into an actual ballot for the Democratic nominee and would-be successor.
Early voting tallies show that African-American voters to date have not matched their numbers to the same point in 2012, when their turnout exceeded their share of the overall population.
But Steve Schale, who worked on both that 2012 effort as well as Obama's 2008 Florida win, said that comparison doesn't really make sense. He said it was unrealistic to think that Clinton could ever win the sort of black support that the nation's first black president could. What's more, he said, it's not critical for her do so.
Schale said that for Clinton to win Florida, she had to make sure that by election day, the black share of the vote was about equal to the black share of the population, and that the overall electorate was more racially diverse than it was in 2012. He said that because of the growth of the Latino population over the past few years, the latter is definitely happening, and that the former is looking like it will happen, too – particularly with Sunday's post-church services "souls to the polls" event still to come.
Schale allowed, though, that black turnout so far in Duval County has only been about 25 percent of those registered, compared to about 30 percent statewide so far. "Hopefully this will help," he said of Obama's visit.
In his 38 minutes on stage, Obama went through his accomplishments while in office, including: bringing the economy back from the brink of depression, scaling back wars, implementing marriage equality and increasing use of solar and wind power.
He said all of those were at risk if the nation votes for GOP nominee Donald Trump, whom he again described as patently unqualified and unfit for the office.
"If you have one person who you know is not qualified, and one person you know is eminently qualified, the only thing left to do is vote," Obama said, promising that Clinton would build on his progress. "You've got to get your friends to vote. You've got to get your family to vote."
In that regard, John Bentley has his work cut out for him. The 70-year-old said he had already voted for Clinton, but is having trouble persuading one family member to do the same: his 24-year-old son, who he said does not trust Clinton because of the controversy over her use of a private email server while she was secretary of state and because of the repeated release of stolen email correspondence by Wikileaks. "Can you believe it?" Bentley asked.