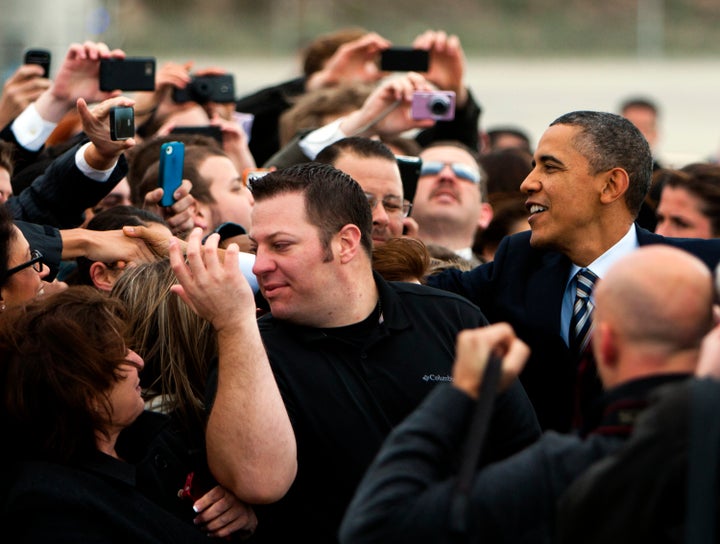 President Barack Obama's rock 'n' roll fundraiser on Tuesday night was an appeal to Generation X Angelenos to remembering the good old days -- back when supporting someone named "Barack Hussein Obama" was rare, edgy and maybe a little dangerous.
Proving adept at hipster logic, the president took a potshot at himself when describing how cool it used to be to declare yourself an Obama supporter.
"It's not quite as cool to be on the Obama bandwagon. Back in 2008, it was the new thing," he explained, according to a pool report from the event. "Everybody had their poster, and you'd be talking to your co-workers, oh, have you heard about Obama? Yeah! Oh, no, you haven't? Let me tell you about him."
Now, he admitted, "everybody can pronounce my name." It's just that "they don't always pronounce it nicely ..." he joked, trailing off.
Earlier in the speech -- which was delivered without notes or a teleprompter, the pool reporter notes -- Obama had hit on subjects near and dear to younger Americans: student loan reforms, the end of "Don't Ask, Don't Tell," the end of the Iraq War and healthcare reform.
He shared credit for his administration's success with the 1,000 supporters gathered on the lawn and implored them not to be discouraged. "Because of you, because of your commitment, because of your determination and your vision, we began to see change happening all across the country," Obama said. "And when you think about change that we can believe in, as hard as these last three years have been, don't underestimate the changes we've made."
The President's speech was preceded by a 4-song set by the Foo Fighters (the band performed "Learn to Fly," "Hero," "Walk," and "Everlong) and short speeches by actors Rashida Jones and Jack Black.
After thanking the band for its performance, Obama quipped that the Foo Fighters "were tired of winning so many awards, so they said, 'let's do something else tonight,'" in reference to their four Grammy wins on Sunday.
Concertgoer Jen Tharley tweeted from the mansion: "Just saw 2 @foofighters, now in line for them and @BarackObama yeeee." She later described the event as "an amazing, inspiring day.
"DodgerManny58," also on Twitter, was similarly swept away by the evening. "it was Awesome. The foo fighters Rocked. Jack Black was there, Rashida Jones...it was a great event," he tweeted after the concert.
Obama spoke in front of a crowd of 1,000 Angelenos on the lawn of soap opera producer Bradley Bell and his wife Colleen, who had hosted both the concert reception and the dinner fundraiser afterward.
Caroline Roman, The Daily Truffle editor (and HuffPost blogger), has a picture on her blog showing the concert set-up at the Bells' yard, as well as the locations of the stage and the VIP tent.
According to Roman, faces in the VIP section included actors Mila Kunis, Don Cheadle and Paul Reiser and celebrity chef Wolfgang Puck.
After the concert and speeches were over, Obama was led inside the Bell home for a $35,800/plate fundraising dinner. Guests at this more intimate event included actors George Clooney and Jim Belushi, mayors Antonio Villaraigosa of Los Angeles and Anthony Fox of Charlotte and administration figures Valerie Jarrett and Nicole Avant.
While Will Ferrell had been listed as a co-host for the dinner, he was not there that evening because of a filming commitment in New Orleans, according to ABC News.
Staying true to remarks he had made earlier about his gray hair, the rock 'n' roll evening ended early for the 50-year-old President; pool reports note that Obama was safe and snug at the Beverly Hilton by 9:21 p.m.
Tickets for the Foo Fighters fundraising event started at $250. Obama had hosted a similarly priced fundraiser at the West Hollywood House of Blues in September 2011. The last time the president hosted a free event in Los Angeles was in October 2010, at a rally on USC's campus.
Check out photos from inside the fundraiser and President Obama's touch down in Los Angeles.
PHOTO GALLERY
Barack Obama Foo Fighters
Calling all HuffPost superfans!
Sign up for membership to become a founding member and help shape HuffPost's next chapter