 WASHINGTON -- It seems a distant memory when discussion of Barack Obama's fundraising revolved around the imminent possibility that the president, the record holder for money hauled in by a single candidate's campaign committee, would raise more than $1 billion for his reelection campaign. That isn't going to happen, as Obama campaign manager Jim Messina so elegantly admitted this past December. In fact, it's highly unlikely that Obama or his Republican opponent, Mitt Romney, will meet or exceed Obama's 2008 record of $750 million.
It isn't for want of trying. Obama's reelection effort is actually much closer to raising the same amount of money as his first campaign did than political reporters or his fundraising appeals would have you believe.
A review of reports filed with the Federal Election Commission shows that the president has brought in $307 million for his campaign committee, known as Obama for America, through the end of June. That isn't far off the $339 million he raised over the same period of time in 2008.
Despite this slight disparity, the media, Republicans and the Obama campaign itself have issued harsh assessments of the president's fundraising throughout the course of the 2012 cycle.
A recent Newsweek article discussed Obama's "money worries," claiming the campaign will "have to overcome a number of hurdles" including the president's lack of interest in the ego-stroking required to raise political money -- this despite the president remaining the most successful fundraiser in modern history. CBS News called Obama's fundraising "lackluster" this past September.
The myriad reports on Obama's supposedly poor fundraising come with a similarly varied list of reasons: He won't cater to the egos of big donors and offer them perks, Wall Street won't give to him because he has been mean, he just doesn't like fundraising and isn't very good at it, and -- the ever-present complaint -- enthusiasm is low and his much-vaunted small-donor machine isn't working quite like it did in 2008.
The $30 million disparity between the record-setting Obama campaign of 2008 and that of 2012 appears to rest on two fairly mundane reasons.
First, the reelection campaign's weakest fundraising months, in comparison to 2008, came in January and February, when the campaign raised $11.8 million and $21.3 million, respectively. That was way off the $36 million and $55 million that Obama raised in January and February 2008. The main reason for this disparity was the lack of a contested primary to focus donor giving this year. In 2008, Obama's victory in the Iowa caucus and subsequent loss to Hillary Clinton in the New Hampshire primary fueled massive fundraising drives.
Second is a factor perhaps too basic and boring to capture the attention of most of those analyzing the president's fundraising. The reelection campaign launched in April 2011, two months later than the comparable 2007 date when Obama took to a Springfield, Ill., stage to announce his presidential bid. In those two months in 2007, Obama raised $25 million.
Romney, on the other hand, is nowhere close to challenging Obama's 2008 record. The presumptive Republican nominee has raised $156 million through the end of June for his campaign committee, Romney for President.
Recent media reports have said that Romney has caught up with the president in fundraising, but they involve a slightly different comparison -- between all the political committees raising money for each presidential candidate. In Romney's case, that means also counting checks to the Republican National Committee and a joint fundraising vehicle, Romney Victory, that will send millions of dollars to a host of state-level party committees. Romney's official campaign committee has never beaten Obama's in fundraising for any period of time in the 2012 election cycle.
Both campaigns combine their own fundraising with the amounts raised by their respective party committee and joint fundraising vehicles in their press releases announcing monthly totals. This gives the impression of much larger war chests than the official campaign committees actually have.
It is true that, for all intents and purposes, money sent to the Republican and Democratic national committees will be spent to elect their respective nominees. And Romney and the RNC are currently outraising Obama's team. This was noted in a Tuesday email from Obama to his supporters: "Over the past two months, we have been outraised by our opponents." In a Monday email solicitation, Vice President Joe Biden raised the same worry in stark terms: "If we don't win this election, it will be because we didn't close the spending gap when we could."
But federal rules that limit how the parties can spend their money, particularly on television ads, force the candidate committees to raise huge sums for themselves.
The Republican National Committee and the Democratic National Committee are allowed to spend $21.7 million of the money they raise on so-called coordinated communications, which tend to be ads or other broadcast statements made under the direction of the presidential candidate's campaign. If a party wants to spend more than that advocating for the election of its candidate, it is required to create a "independent" committee to make independent expenditures.
The RNC spent more than $50 million on independent expenditures in 2008 to help Sen. John McCain (R-Ariz.) and has already launched an independent committee for 2012. It's headed by Jim Murphy, a Republican strategist who consulted for Romney's 2002 gubernatorial campaign in Massachusetts. Technically, this independent committee can spend the party's money, but cannot discuss strategy with anyone within the RNC privy to discussions with the Romney campaign.
The Republican Party's independent committee has already made $13.1 million in independent expenditures, more than four times what its counterpart had spent at this point in 2008.
The last time around, the DNC spent little on independent expenditures as the record-setting Obama campaign went up against the less well-funded McCain. This year, the Democrats' independent committee is expected to spend big in support of Obama and has even refused to transfer cash to the congressional party committees.
Of course, comparing Obama's fundraising to Romney's, or the DNC's money haul to the RNC's, does not tell the whole story this year. Spending by independent groups, not officially affiliated with any candidate or party, will likely top $1 billion or more by Nov. 6.
Before You Go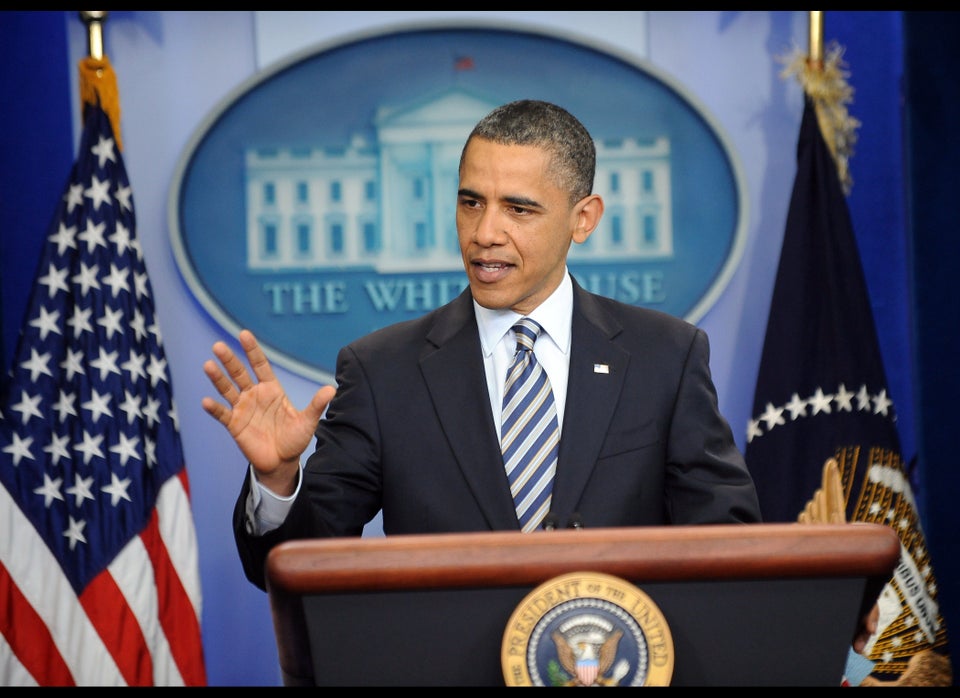 Barack Obama's Greatest Hits
Popular in the Community