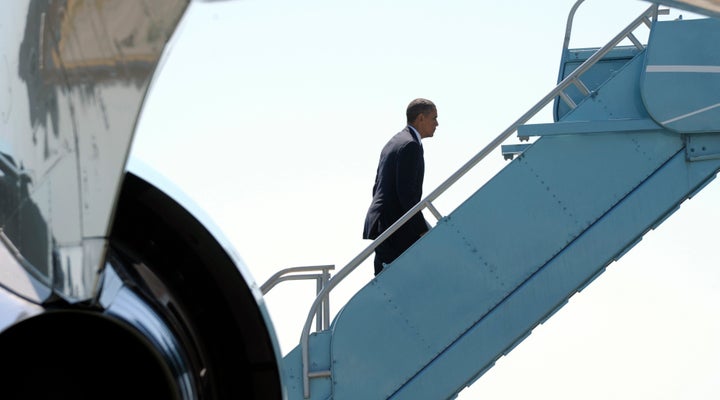 WASHINGTON -- In the midst of his first run for national office in 1999, then-state Senator Barack Obama held a rally at the Park Manor Christian Church to draw attention to the epidemic of gun violence in his home city of Chicago.
At the time, Obama was launching a primary election challenge against Congressman Bobby Rush and it was something of a professional prerequisite that he have a hard line on guns. He chose the church because, as he noted, an 84-year-old woman had recently been killed nearby when young men invaded her home believing she had won the lottery.
"Community residents throughout the 1st Congressional District are tired of violence and death," Obama told the Chicago Independent Bulletin at the time.
Among the prescriptions Obama put forward that day, according to a Dec. 13, 1999 Chicago Defender article, were increasing penalties for the interstate transportation of firearms, increasing the federal tax on the sale of firearms, requiring federally licensed gun dealers to sell firearms in their storefront, restricting gun purchases to one a month, increasing school funding for anger management programs, banning the sale of firearms at gun shows except for "antiques," and increasing licensing fees.
It was a comprehensive platform. But it was also one that Toni Preckwinkle, the current Cook County Board pesident and former alderman who was with Obama on that day, called "typical" for a Chicago pol. "I think the violence ebbs and flows, but the concern about the abundance of handguns and now larger weapons in our community remains," Preckwinkle told The Huffington Post.
It would prove to be the high-water mark for Obama's advocacy on gun control.
Obama lost that primary. But as he won later elections and moved up the national political ranks, gun policy would become less of a focus. Part of it was a byproduct of the offices he occupied: being the young, rising politician requires deference to elder statesmen.
But gun control advocates tell another story as well. The president has shied away from the gun debate, they said, out of political expedience. The Obama who spoke at that church rally isn't the same politician who chose soft-touch responses to the mass shootings in Tucson, Ariz., and, most recently, in Aurora, Colo.
"There is no question he's softened on the issue," said Ed Rendell, the former Pennsylvania governor who focused on the unwillingness of Democrats to take on the gun lobby in his new book, "A Nation of Wusses." "But in fairness to the president, you don't see many other Democrats rushing to the floor saying we need to have legislation."
The first sign of distance between Obama and gun control advocates would come less than a month after that Park Manor Christian Church event. Illinois Gov. George Ryan had pushed for a vote on a bill that would treat the unlawful use of weapons as a felony, despite a large contingent of state lawmakers arguing that it should be a misdemeanor for some first-time offenders. When it came time to take a tally, three state senators allied with Ryan were missing. One was Obama.
In the statehouse, eyebrows were raised. Obama relayed that his daughter Malia had grown sick during his family vacation to his home state of Hawaii. He chose to stay with her rather than make the vote.
"As those of you who are familiar with my record know, I have consistently made gun control one of my top priorities," he wrote in the Hyde Park Herald on Jan. 12, 2000. "It's absolutely critical that we pass strong gun control at the federal as well as the state level. As the congressman, I will work for increased penalties for the use of guns, a one gun per month law for buyers, money for violence prevention and tougher laws stopping sales of firearms at gun shows."
A forceful call for stronger gun laws would remain the president's position through his loss to Rush and up to his run for the Senate in 2004. On May 8 of that year, months before the federal assault weapons ban would expire, Obama would tell Chicago Daily Herald: "Assault weapons are not for hunting. They are the weapons of choice for gang-bangers, drug dealers and terrorists."
"I think it is a scandal that this president did not authorize a renewal of the assault weapons ban," he declared after the assault weapons bill expired.
By then, Obama was an increasingly well-known Democratic candidate for the U.S. Senate, having gotten a prime time speaking slot at the national convention. And while his support for gun control legislation was still clear (here's video of him discussing the issue in 2004), there were nuances. In February, he had filled out a survey saying he wanted a federal law denying anyone other than former law enforcement officials the right to carry concealed weapons. By Sept. 15, 2004, The Chicago Tribune was reporting a less ambitious Obama proposal: "national legislation ... to 'prevent other states' laws from threatening the safety of Illinois residents."
Obama's election to the Senate would further soften his approach.
"I don't remember him having a profile on this issue at all," Jim Kessler, a Capital Hill veteran and former director of policy and research for Americans for Gun Safety. "He wasn't in the U.S. Senate for a very long time. And the thing about it is, when you get there ... [you are] told to stand in line. In the Senate, one of the lead gun-control advocates is [Illinois Senator] Dick Durbin. So you come there and you say, 'Well, my senior senator has a big profile on this. Maybe I should shoot for something else.'"
This dynamic would only hold true for so long. As Obama embarked on his presidential campaign in 2008, the pressures of a Democratic primary required him to appeal to voters who valued stronger gun control laws. That became complicated following his "cling to guns" statement at a private fundraiser in Pennsylvania and as he distanced himself from 1996 questionnaire in which he called for banning "the manufacture, sale and possession of handguns" (his campaign would claim an aide erroneously answered the question).
But as that primary turned into a general election, he didn't drop the issue. In fact, he gave it a memorable mention at his highest-profile address.
"The reality of gun ownership may be different for hunters in rural Ohio than they are for those plagued by gang violence in Cleveland, but don't tell me we can't uphold the Second Amendment while keeping AK-47s out of the hands of criminals," Obama declared at the Democratic National Convention in 2008.
For all the talk of unassailable logic of certain gun policies, however, the Obama presidency has seen virtually no corresponding legislative action. Part of that was because of a jam-packed legislative plate.
"He has been supportive of national policy until he took office," said Dan Gross, president of the Brady Campaign to Prevent Gun Violence. "I don't know how much it is the influence of the gun lobby directly, as it is the kind of political calculus. He had an agenda and this was not at the top of his agenda. He needed to create coalitions of support for things like health care and he didn't want to risk fragmenting that support in any way."
But as national incidents of gun violence flared with no major responses, groans have grown louder. Following the shooting of former Rep. Gabrielle Giffords, Obama's former press secretary, Robert Gibbs, stated that the administration continued to support the assault weapons ban. A White House spokesman on Monday confirmed to The Huffington Post that the ban remained the president's position after the shooting last Friday in Aurora. A request for comment from Obama campaign was not returned.
But the type of measures that Obama touted with gusto as a first-time congressional candidate are no longer there. His current press secretary, Jay Carney, conceded on Sunday night that a renewal of the assault weapons ban would be virtually impossible with the current Congress. He added that the White House would look for changes through "existing law" -- an underwhelming response for those who still value gun control as a political objective.
"I think we are at a very bad place in this country when it comes to gun control," said Preckwinkle. "I believe that the pendulum swings on these issues, on this one in particular, and hopefully we will be in a place sometime soon where we can talk about these things again."
Before You Go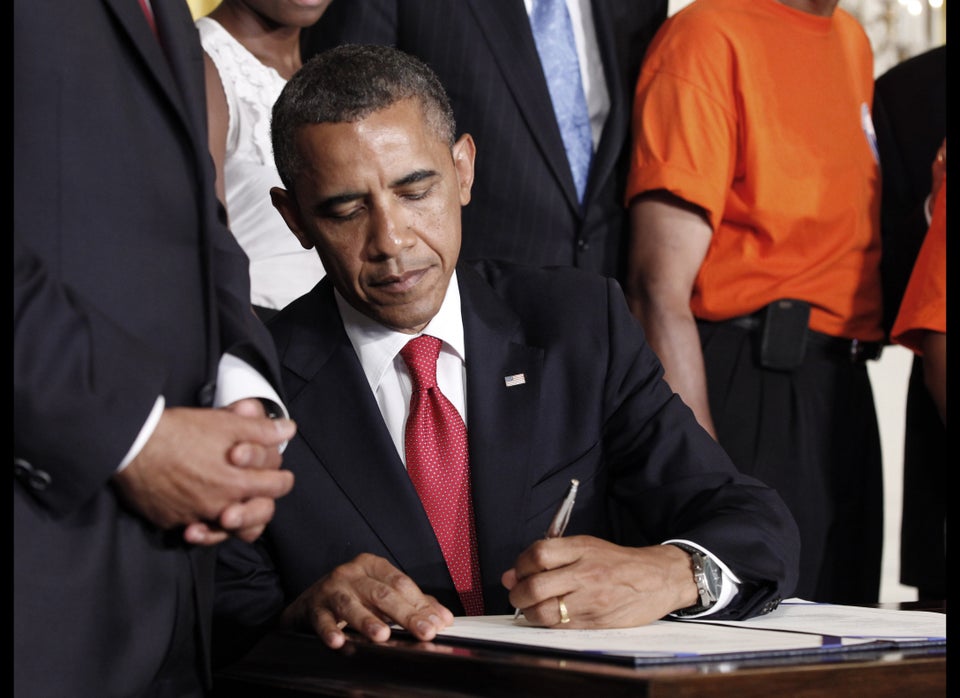 Politicians React To Colorado Shooting
Popular in the Community