WASHINGTON -- As House Republicans pursue smaller-scale immigration reform that could leave out a new path to citizenship entirely, President Barack Obama attempted on Thursday to rally the troops in support of a comprehensive approach that he says can still be passed by the end of the year.
"There are going to be moments -- there are always moments like this in big efforts at reform -- where you meet resistance and the press will declare something dead, 'It's not going to happen,' but that can be overcome," Obama said during an address to reform supporters at the White House, joined by Vice President Joe Biden.
"And I have to say, Joe, as I look out at this room, these don't look like people who are easily deterred. They don't look like folks who are going to give up," he continued. "You look fired up to make the next push, and whether you're a Republican, or a Democrat, or an Independent, I want you to keep working and I'm going to be right next to you to make sure we get immigration reform done. It's time. Let's go get it done."
Immigration reform has been stalled in the House for months during fights over government spending and the debt ceiling that left some Republicans unwilling to work with the president on the issue at all. But now, House Republicans seem to be turning back to the immigration, and Speaker John Boehner (R-Ohio) said Wednesday he still thinks "that immigration reform is an important subject that needs to be addressed" and is "hopeful" it can be done by the end of the year.
House bills so far, though, seem far away from what Obama has proposed. House GOP leaders have said they will not hold a vote on the Senate-passed comprehensive reform bill or any other measure the conference opposes, which puts them in a tight spot for passing anything to legalize the status of undocumented immigrants -- a must for Democrats. Instead, they said they will pursue piecemeal reform measures, a list that so far might include border security, enforcement, legal immigration, guest workers and young undocumented immigrants who came as children.
Obama didn't reject House proposals out of hand, and said he was willing to work with Republicans if they're willing to work with him.
"If House Republicans have new and different additional ideas for how we should move forward, then we want to hear them," he said. "I'll be listening. ... But what we can't do is just sweep the problem under the rug one more time."
Doing nothing, Obama said, would be neither smart nor fair.
"It doesn't make sense," he said. "We have kicked this particular can down the road for too long."
There is only one major GOP proposal for legalizing the status of undocumented immigrants. Rep. Darrell Issa (R-Calif.) plans to introduce a bill as early as next week to give temporary legal status to undocumented immigrants for six years while they pursue other options for staying in the country, Politico reported on Wednesday. The bill wouldn't have a path to citizenship as it's typically defined, because it might not have new ways for undocumented immigrants to become naturalized -- meaning many would be left out -- unless Congress passed other bills to create those means. Issa told Politico it was "halfway between full amnesty and simply rejecting people."
Of course, there's plenty of quibbling about the term "path to citizenship" in general, and some could argue that giving undocumented immigrants the ability to stay temporarily and pursue eventual citizenship would fit in that category. But Democrats have said such legislation wouldn't be enough. And while Obama did not mention the Issa bill in his speech, he reiterated that he wants a path to citizenship as part of immigration reform and his endorsement of the so-called gang of eight's immigration bill that passed the Senate in June. That bill, drafted by four Republicans and four Democrats, addresses a wide range of immigration issues, from border security to a path to citizenship. It won relatively broad bipartisan support, passing 68 to 32 and picking up 14 Republicans.
Obama said he thinks some Republicans have a knee-jerk opposition to anything he supports, even if it has broad support, as he said immigration reform does.
"Obviously just because something is smart and fair and good for the economy and fiscally responsible and supported by business and labor and the evangelical community and many Democrats and many Republicans, that does not mean it will actually get done," he quipped to laughter from the crowd. "This is Washington, after all. ... I know that there are some folks in this town who are primed to think, 'Well if Obama's for it, then I'm against it.'"
But he insisted the issue shouldn't be viewed through a political prism, although he added that "good policy is good politics."
"I'm not running for office again," he said. "I just believe this is the right thing to do."
This is a developing story and has been updated.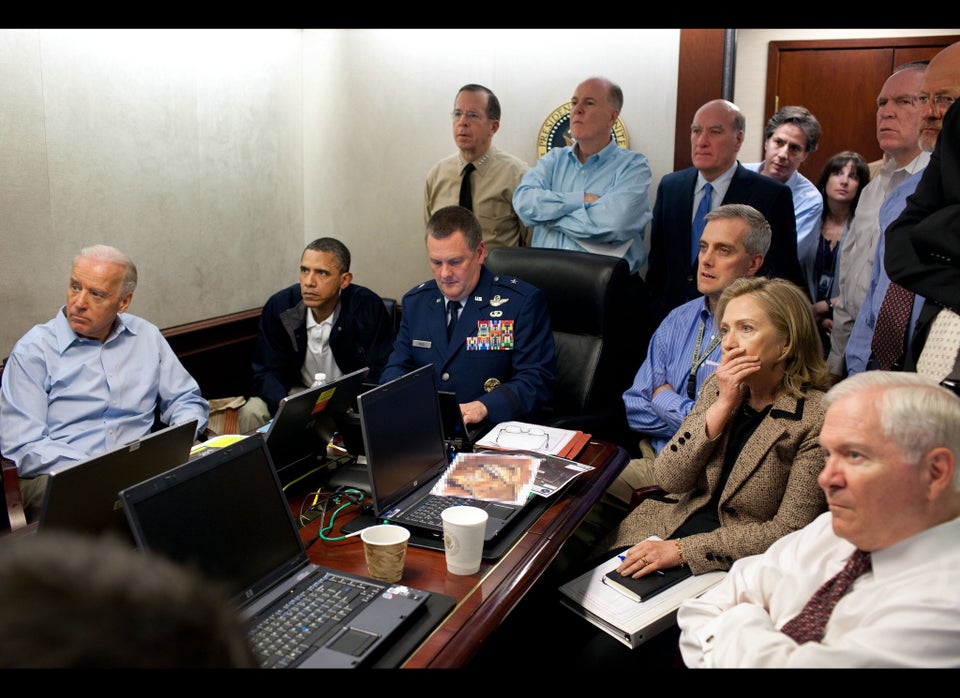 Most Iconic Photos Of Obama's First Term