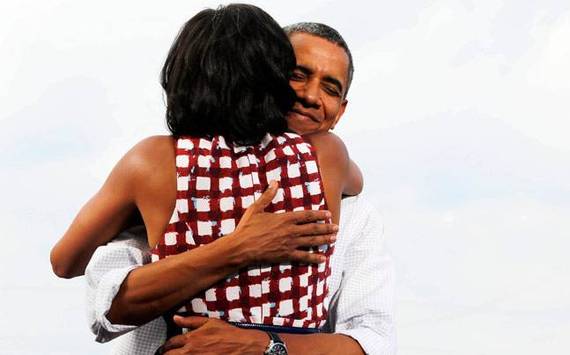 A new face for feminism paints 1,500 magnetic words. And when it's Barack Obama's face it gets global attention. The 44th American president's feminist essay for Glamour, in which he highlights his personal and political views on women's progress, is being extolled as his most important remarks on feminism to date. Published on his 55th birthday and strategically one week after the Democratic National Convention, Obama's writing calls on the public to acknowledge Hillary Clinton's groundbreaking achievement.
"This fall we enter a historic election. Two hundred and forty years after our nation's founding, and almost a century after women finally won the right to vote, for the first time ever, a woman is a major political party's presidential nominee," he writes. "No matter your political views, this is a historic moment for America. And it's just one more example of how far women have come on the long journey toward equality."
Every part of me remembers the feeling that washed over my social-medialized, Trump-induced fatigue when Hillary appeared on the DNC stage via satellite. As the graphic and sound of breaking glass followed a montage of the 44 male presidents who have held office so far, I felt a surge of reignited hope for women everywhere. I felt my female friends and colleagues spanning the globe scream and exhale in solidarity and joy.
Political views aside, if you are someone who knows what a gift it is to be a woman, or to be taken care of, nurtured, taught, trained, mentored, loved and supported by a woman, this moment is everything. And whether or not you like Hillary's personality or past (which are scrutinized relentlessly by her critics), you can't deny her unabating focus and will.
In his essay, Obama writes about the need for undoing the unconscious gender bias that pervades society.
"We need to keep changing the attitude that permits the routine harassment of women, whether they're walking down the street or daring to go online. We need to keep changing the attitude that teaches men to feel threatened by the presence and success of women."
"We need to keep changing the attitude that congratulates men for changing a diaper, stigmatizes full-time dads, and penalizes working mothers. We need to keep changing the attitude that values being confident, competitive, and ambitious in the workplace--unless you're a woman. Then you're being too bossy, and suddenly the very qualities you thought were necessary for success end up holding you back."
Obama points out a few contributions that are paving the way.
"The good news is that everywhere I go across the country, and around the world, I see people pushing back against dated assumptions about gender roles. From the young men who've joined our It's On Us campaign to end campus sexual assault, to the young women who became the first female Army Rangers in our nation's history, your generation refuses to be bound by old ways of thinking. And you're helping all of us understand that forcing people to adhere to outmoded, rigid notions of identity isn't good for anybody--men, women, gay, straight, transgender, or otherwise."
Ok, great. What about the rest of us? What can we do to mobilize others to talk the talk and walk the walk of feminism?
We can start by being inclusive in our conversations about feminism. When women say men should stay out of the conversation on women's rights, they are doing everyone on the planet a huge disservice. Without men the conversation doesn't move forward.
We can track and support gender equality commitments around the world being done though the UN's #HeforShe movement. This means more than holding up a sign that reads "I'm #HeforShe" and posting it on Instagram. This means researching and sharing resources at your school, college campus or corporation.
HeforShe's Impact 10x10x10 initiative works with leaders in governments, universities and business to address the biggest gender equality challenges they face. As part of their commitments to the campaign, involved decision makers sign the Women's Empowerment Principles and implement Principle #7, which is to 'measure and publicly report on progress to achieve gender equality.'
If you're a male or a female who wants to get your male counterparts engaged in the gender equality discussion, check out MenEnage, a global alliance that operates at the country-level and regional-level to achieve gender justice.
In some circles, the words "feminist" and "gender equality advocate" are still viewed as pejoratives. Isn't it time to stop arguing over semantics?
I'm not going to say if you're a feminist than it's your duty to vote for Hillary. What I will say is if you believe in equality than it's ok to call yourself a feminist, and not simply because Barack Obama and Justin Trudeau do. You can call yourself a feminist because every time someone demonizes the word during conversations on women's rights, our vision and planning are steered off course.
And we can't afford to get distracted any longer. The US is painfully overdue to socially, economically and politically catch up with the truth. After all, as Obama writes, "...it's never been just about the Benjamins; it's about the Tubmans too."