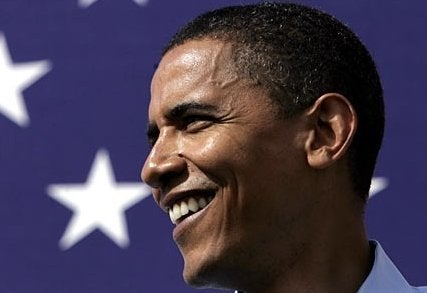 I spent Sunday morning visiting black churches here in Newark and heard so many pastors, in poignant praise, illuminate our nation's presidential choice in historical context. My own pastor spoke of years of struggle and tears, years of sacrifice and pain, years of faith amidst oceans of despair that WERE NOT IN VAIN. "Weeping may endure through the night but joy cometh in the morning."
There is joy. There is joy for black Americans and white Americans; joy for all those who believe our country is a nation conceived in perfect ideals and called to a perfect mission but that has been in an unyielding struggle to address our imperfections.
We elected Barack Obama. The achievement is not simply that he is a black man but that he was the best candidate for the job selected for that reason and not rejected for his race.
For all of us who love America, such a time of jubilation and triumph must also be a time of sober focus on the work that must still be done to make our union more perfect. The promise of America is still not real for all Americans. The pledge we have all made and that millions of schoolchildren make every day -- that we are "one nation, under God, indivisible with liberty and justice for all" -- is still one of aspiration.
Especially now -- in this time of economic crisis, in this time of insecurity and worry, in a time in America where far too many face medical bills that cannot be paid and mortgages that cannot be sustained -- we must take an honest stock as to what such a victory truly means.
Especially now -- in this time of war, when our nation hemorrhages billions of dollars per month in an ill-conceived war; when the blood of great and heroic American soldiers flows into a foreign land at a more painful rate than any treasure we have spent; and at a time when our national torch of freedom, justice and truth, a once guiding light for many nations, has been obscured in the sight of our global friends -- we must take an honest stock as to what such a victory truly means..
Especially now -- in this time when we have too many children that go to school through the 8th grade yet only receive a 5th grade education; in this time when we have too many communities where violence trumps peace, where poverty punishes dreams of prosperity, and where individual hatred undermines collective love - we must take honest stock as to what such a victory truly means.
In a time of crisis past, the great Langston Hughes swore an oath to America that he would make real the promise of this country of hope.
. . . O, let America be America again-- The land that never has been yet-- And yet must be--the land where every man is free. The land that's mine--the poor man's, Indian's, Negro's, ME-- Who made America, Whose sweat and blood, whose faith and pain, Whose hand at the foundry, whose plow in the rain, Must bring back our mighty dream again.

O, yes, I say it plain, America never was America to me, And yet I swear this oath -- America will be!

The day after Jackie Robinson stepped onto a major league baseball diamond, people in cities, towns and communities all across America rejoiced, and then went out to continue the difficult yet rewarding work of coaching and helping millions of children toward their dreams.
The day after Neil Armstrong stepped on the moon, teachers in schools across the country continued the difficult work of teaching, counseling and empowering children to learn.
On VJ Day and VE day, Americans all across the country celebrated the victory of American soldiers and the defeat of enemies who threatened the free world. But the very next day, soldiers of our democracy returned to streets, neighborhoods and courtrooms, to register blacks to vote, bring legal challenges to segregation and Jim Crow laws and to work for a richer justice for all Americans.
In church today, we prayed for Barack Obama and the team he will eventually bring with him to Washington. His is a sacred task; to lead our nation through crisis to prosperity. But beyond Obama, we must also recommit ourselves to our righteous work in cities, towns and neighborhoods all across America.
Dr. King said, "Change does not roll in on the wheels of inevitability, but comes through continuous struggle." Certainly Obama's election does not mean our nation will inevitably manifest the best of our collective ideals. It will take continuous, collective struggle and sacrifice. As Ghandi said, "You must be the change you want to see in the world." We cannot simply hope that Obama is that change.
Obama is our president and now we must go back to work, with the same interest, enthusiasm, creativity and passion we evidenced in this past election.
After my successful election as Mayor of Newark in 2006, I challenged all of the lawyers who supported my campaign to do something to continue our momentum for change. The lawyers decided to stay together and challenge others to join our mission - which was never about electing one man but about changing one city.
Together, we formed our nation's first ever fully pro bono legal service program for men and women returning from prison. We call it ReLeSe (Reentry Legal Services). We saw that the majority of ex-offenders who return to prison do so because of technical parole violations. Many, who make the tragic choice of returning to lives of crime, do so because they perceive no path through their legal and financial troubles. Our volunteer lawyers help ex-offenders disentangle the many legal and administrative challenges that impair their paths to occupational security and constructive connections with the community. Our volunteer lawyers have now empowered dozens of men and women to stay out of prison and make constructive contributions to Newark. (Please see www.njisj.org for more information.)
I am proud of how Newarkers have answered the call that I believe Stokely Carmichael first made famous: "We are the leaders we've been looking for." Any honest survey of my community and those throughout our nation evidence that there is so much more Americans can and must do to fulfill the promise of our nation. We, who wave the flag of other people's glory, we, who drink deeply from a well of freedom that we did not dig, should consider it a small measure of sacrifice to continue the campaign for change well past Obama's election. During this past election, Americans, on both sides of the political aisle, donated hundreds of millions of dollars and put forth millions of volunteer hours. I witnessed a demonstration of a collective enthusiasm for America that I have rarely seen beyond the more shallow displays on the Fourth of July or the poignant patriotism evidenced weeks following a national disaster or the grave attack on American soil seven years ago. Barack Obama is our president. Now what? Now we must continue as the call to serve our nation remains and grows more urgent.
God bless America, God bless our next President Barack Obama, and may God bless all Americans in our unyielding pursuit of our ideals.
Popular in the Community