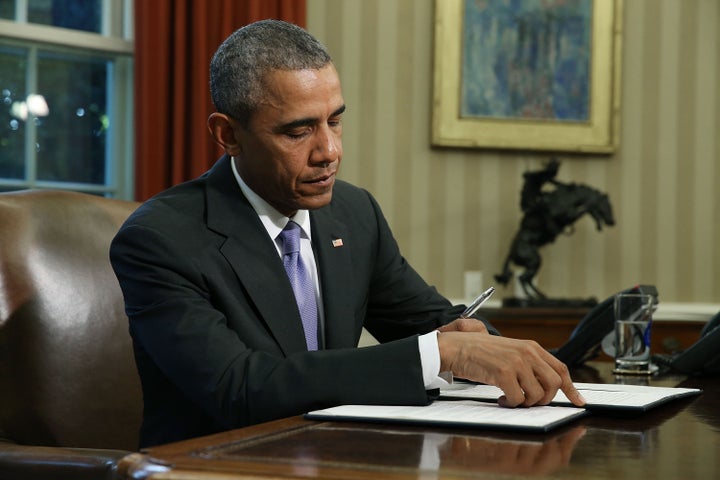 WASHINGTON ― In his latest effort to thwart a controversial bill that would allow the families of 9/11 victims to sue Saudi Arabia, President Barack Obama urged Senate Democratic leadership to stand behind his veto of the measure.
In a letter to Senate Minority Leader Harry Reid (D-Nev.), Obama said he respects 9/11 families and is committed to fighting international terror, but opposes the bill because it takes aim at the internationally accepted principle of sovereign immunity. The president believes the measure could expose American officials to countless lawsuits in foreign courts.
"JASTA sweeps much more broadly than 9/11 or Saudi Arabia, and its far-reaching implications would threaten to undermine important principles that protect the Unites States, including our U.S. Armed Forces and other officials overseas, without making us any safer," Obama wrote. "That's why I vetoed the bill and why I urge you to vote to sustain the veto."
The message mentioned that Reid and Obama had also spoken about the bill over the phone.
The president has had a difficult time rallying Democrats to his side over the issue. House Minority Leader Nancy Pelosi (D-Calif.) has already said she will vote for the bill once again.
If the upper chamber votes for the override today, the House will hold its own vote later this week. A presidential veto can be overridden by a two-thirds majority vote in both the House and the Senate.
Read Obama's full message below: 
UPDATE: 3:20 p.m. ― The president's letter seems to have had some impact. Reid was the only lawmaker to dissent in the Senate vote, which ended up overriding Obama's veto 97-1. Of course, Reid is not up for re-election in November ― or ever again.
Calling all HuffPost superfans!
Sign up for membership to become a founding member and help shape HuffPost's next chapter
BEFORE YOU GO
PHOTO GALLERY
Scenes From 114th Congress And Capitol Hill