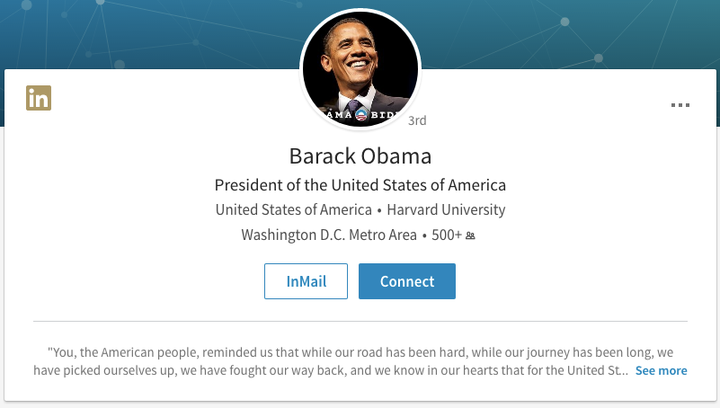 Until this weekend, Barack Obama was still the president of the United States.
This was not in an alternate reality, exactly, but on the social network LinkedIn.
Late Friday afternoon, Obama's official job title on LinkedIn switched from President of the United States of America to a more accurate ― yet depressing ― description: Former President of the United States of America. 
In this confusing world, the protocol for an exiting president is to peacefully cede power to a reality show star, go on vacations with social media-optimized photos/stories, and then update LinkedIn. For the first 100 days of President Donald Trump's administration, Obama only accomplished two of the three.
Here's a screenshot taken of the page before the switch: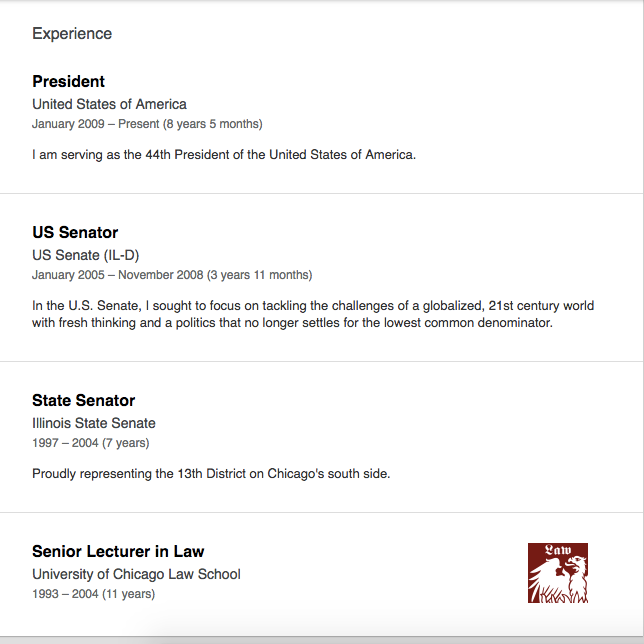 Obama's profile picture also changed from the campaign photo he had been using before. 
Here's what the current page looks like with the "Former" in his title: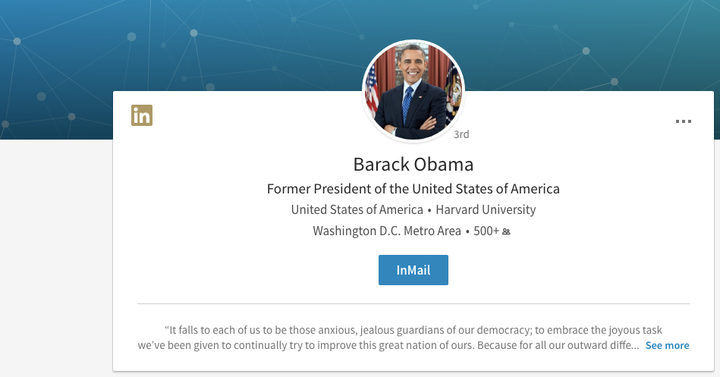 You won't be able to glean Obama's next move from the revised LinkedIn page. 
The updated "Experience" area doesn't reflect any post-presidency role: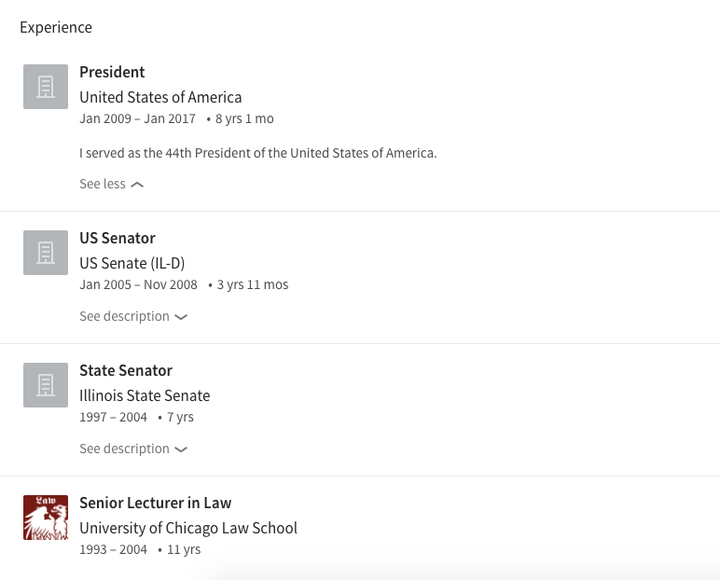 The site is designed for job seekers, but LinkedIn has admitted in the past that the majority of its users do not use the site on a monthly basis. Many users seem to create a profile and then neglect to update their page as often as they would with other social networking sites.
Despite LinkedIn's efforts to have users regularly post updates to their page, it makes sense that those happy with their current jobs wouldn't need to spend too much time tweaking their public resumes.
It's 2017, though, and Obama's job status has changed.
Now that Obama is officially out of our country's top gig, perhaps he's competing for those same open roles at fake-seeming startups that all active LinkedIn users scroll through on the "Jobs" page.
Or maybe updating LinkedIn is a relatively meaningless action and in the turmoil of exiting the White House, Obama just forgot to make the switch.
In any case, for a short blissful moment, his neglect was the wishful-thinking masses' gain. 
REAL LIFE. REAL NEWS. REAL VOICES.
Help us tell more of the stories that matter from voices that too often remain unheard.
BEFORE YOU GO