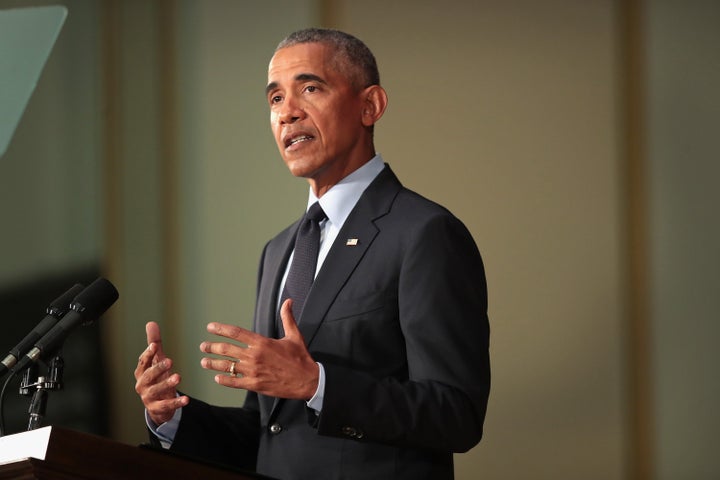 Former President Barack Obama called "Medicare for all" a "good new idea" on Friday afternoon, providing a high-profile boost to the nascent progressive movement pushing the policy.
In a speech at the University of Illinois, Obama argued that Democrats were innovating policies aimed at addressing the unique economic challenges facing young people, who in many cases do not have the same opportunities as their parents' generation.
"It's harder for young people to save for a rainy day, let alone retirement," he said. "So Democrats aren't just running on good old ideas like a higher minimum wage, they're running on good new ideas like Medicare for all, giving workers seats on corporate boards, reversing the most egregious corporate tax cuts to make sure college students graduate debt-free."
Medicare for all is what progressive activists and lawmakers call a single-payer health care system. In such a system, which has become a top priority for parts of the Democratic Party base, Americans would receive health care coverage from the same federal program.
Obama's complimentary remarks about Medicare for all, while not exactly a dramatic departure from his previous comments, represent the most significant establishment imprimatur for a policy that most mainstream elected Democrats viewed as fringe as recently as three years ago. During her presidential primary contest against Sen. Bernie Sanders (I-Vt.) in 2016, former Secretary of State Hillary Clinton, who went on to defeat Sanders and clinch the nomination, said that Medicare for all would "never, ever come to pass."
Obama, by contrast, has never dismissed the idea out of hand. While discussing the Affordable Care Act at a May 2009 town hall, Obama said, "If I were starting a system from scratch then I think that the idea of moving toward a single-payer system could very well make sense."
"That's the kind of system that you have in most industrialized countries around the world," he continued. "The only problem is that we're not starting from scratch." It's a sentiment Obama repeated as recently as January 2017.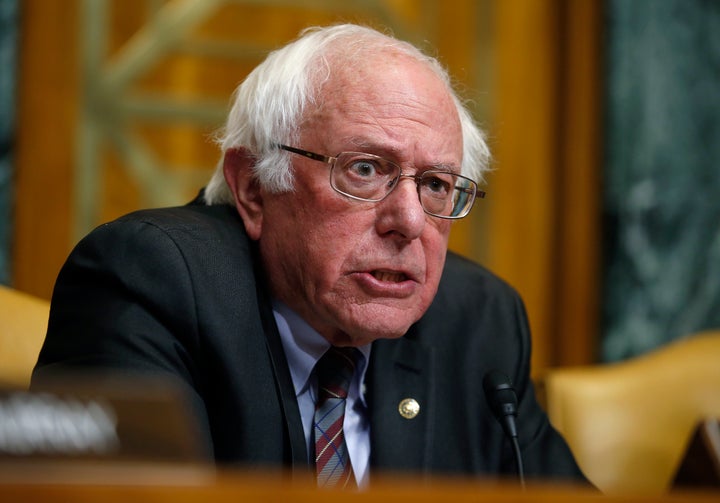 Obama's remarks were greeted with a mix of reactions from progressive activists on social media, some of whom asked why the former president had not backed the policy sooner.
"I can think of about 8 reasons why this is infuriating for people like me to hear him say now, but I sure am glad he said it," tweeted Dan Riffle, a congressional aide to Minnesota Rep. Keith Ellison, the House's lead co-sponsor of single-payer legislation.
In a follow-up interview, Riffle, who previously worked for former Rep. John Conyers (D-Mich.), a longtime champion of Medicare for all, was more effusive in his response.
"There's a very good chance that this is a watershed moment in the single-payer movement," Riffle said.
He noted that Obama's stamp of approval could win over some Democrats who reflexively oppose ideas championed by Sanders.
"It's one of the things that can go a long way to heal that rift between people in the party," he said.
Medicare for all is not technically a new idea. President Franklin Delano Roosevelt considered including some form of universal public insurance in the 1935 law creating Social Security, and promoted the idea until his death in 1945.
Present-day progressive crusaders like Sanders and Conyers pushed single-payer legislation going back to the early 1990s.
But for decades, until Sanders' presidential run, the policy was widely treated as a far-left pipe dream.
During the ACA fight, many congressional Democrats and progressive activists unsuccessfully fought for the inclusion of a "public option" in the individual insurance market exchanges the law created. In the end, then-Connecticut Sen. Joe Lieberman, an independent who caucused with the Democrats, withheld his support for the provision, preventing it from making it into the Senate bill, which became the final legislation.
Ever since, advocates of the policy have debated whether Obama and other Democratic leaders exerted enough pressure on Lieberman ― and whether that would have mattered. While Lieberman ultimately killed the policy, other moderate senators and key industry groups also made their support of the bill contingent on its exclusion.
Obama renewed his call for a public option in July 2016, joining Clinton, who ran on enacting it.
In the wake of the 2016 election, however, it's Sanders' call for a wholesale expansion of Medicare ― and improvement of the benefits the program covers ― that has captured the imagination of activists and lawmakers alike.
The Medicare for all legislation that Sanders introduced in September 2017 won the support of more than one-third of the Senate Democratic Caucus. The bill's Democratic co-sponsors include rumored presidential contenders ― Sens. Elizabeth Warren (Mass.); Cory Booker (N.J.); Kamala Harris (Calif.); and Kirsten Gillibrand (N.Y.) ― as well as Wisconsin Sen. Tammy Baldwin, an incumbent up for re-election in a state that Donald Trump won in 2016.
Backers of the policy are undoubtedly attuned to the growing support that it enjoys with the American public. A slim majority of the American public ― 53 percent ― now support single-payer health care, according to a June 2017 poll conducted by the Kaiser Family Foundation.
Obama has already endorsed a number of Democratic congressional and gubernatorial candidates who have either co-sponsored Medicare for all legislation or are publicly running on it. These candidates include California House contenders Katie Porter, Mike Levin and Ammar Campa-Najjar; New Mexico House candidate Debra Haaland; Rep. Jared Polis, who is running for governor of Colorado; Georgia gubernatorial candidate Stacey Abrams; and California gubernatorial candidate Gavin Newsom.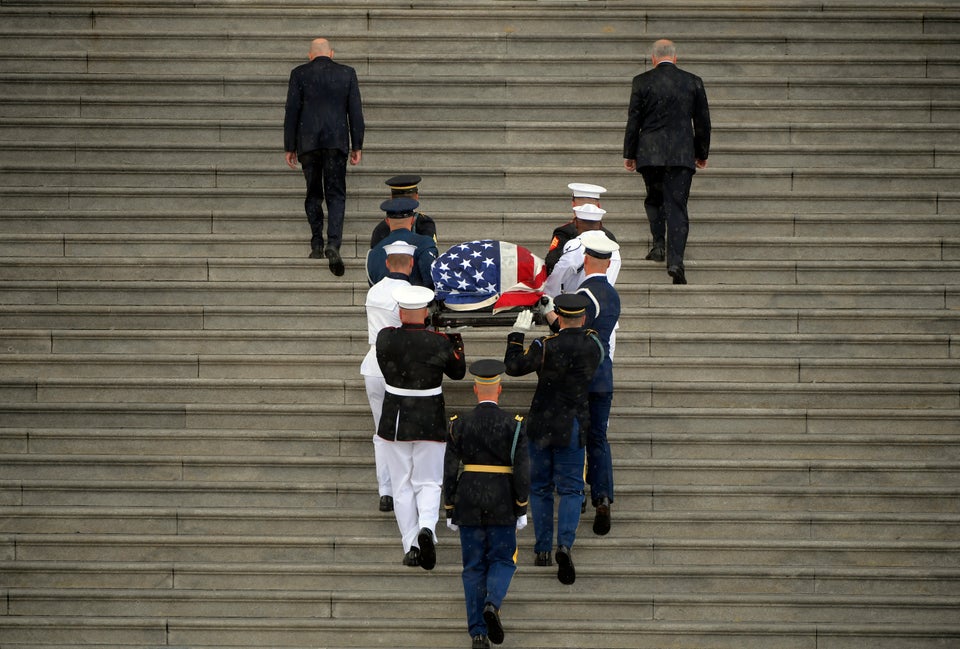 Sen. John McCain's Funeral On Capitol Hill