Former President Barack Obama urged voters to head to the polls this November in an impassioned speech in Cleveland on Thursday night, chastising his successor and Republican leadership as out of touch and indifferent to the plights of Americans.
"On November 6 we have a chance to restore some sanity to our politics," Obama, speaking at a rally for Ohio gubernatorial candidate Richard Corday and other Democrats, said. "We can tip the balance of power back to the American people. Because you are the only check on bad policy. You're the only real check on abuses of power, it's you and your vote. And that is why I'm here."
"I need you to come through. But more importantly, the country needs you to come through."
After a period of relative silence and political restraint following the election of Donald Trump to the presidency, Obama has re-engaged on the campaign trail as a prominent messenger for the Democratic Party. He recently endorsed more than 80 Democrats spanning the country. He ventured to both Illinois and California last week to stump for several candidates and lambaste Trump as a demagogue who was "capitalizing on resentments that politicians have been fanning for years."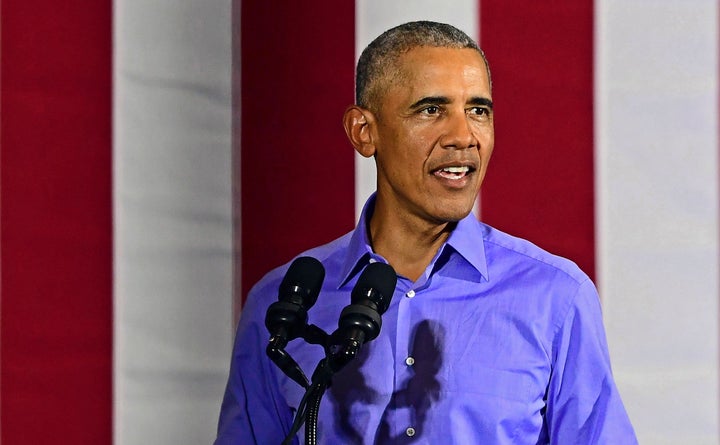 Obama also decried Republican efforts to roll back access to health care and severely restrict migration at the southern border, which resulted in a "zero tolerance" immigration policy that saw thousands of children separated from their parents, with hundreds yet to be reunited.
"I don't know what happened to our culture. … I don't know when we began to celebrate bullies instead of looking out for people who care for other people," Obama said. "When did that happen?"
He said people of both parties and those without a party affiliation "should be concerned with our current course, should be concerned about the basic institutions of our democracy, should want to see a restoration of honesty and decency and lawfulness to our government."
As he stayed on the political sidelines through the first year-and-a-half of Trump's presidency, Obama faced growing pressure from Democratic leaders to leverage his continuing popularity to rally the party's base and independents. Finally heeding the call, he's now embarked on a course rare for ex-presidents as he works to help Democrats gain momentum and potentially flip the balance of power in one or both chambers of Congress.
Trump quickly discounted one of Obama's speeches last week, saying: "I'm sorry, I watched it, but I fell asleep. I found he's very good, very good for sleeping."
Obama told his audience Thursday he was encouraged by the levels of intensity and involvement he sees among people energized to oppose Trump.
"I'm hopeful because out of this political darkness I am seeing a great awakening," he said. "The antidote to government by just a powerful few is government by the organized, by the many, by communities that get fired up and are ready to go. … One election won't fix everything that needs to be fixed, but it will be a good start, we've got to start now."
"The biggest threat to our democracy is indifference. …Let's get out there, let's get to work, let's make things better," he continued.
"Take off your bedroom slippers, put on your marching shoes."
Popular in the Community