LAS VEGAS ― Former President Barack Obama warned Nevadans on Monday that staying home during November's midterm elections "would be profoundly dangerous to our democracy," saying in a speech that these elections are "more important than any I can remember in my lifetime, and that includes when I was on the ballot."
"We have a chance to restore some sanity in our politics," Obama said at a packed rally at the University of Nevada, Las Vegas campus. "Ultimately there is only one real check on abuses of power, there's only one real check on bad policy and that is you and your vote."
"Don't boo. Don't hashtag. All that stuff is nice to do. Just vote!" he said, reprising a favorite line from his days on the presidential campaign trail.
His appearance at the rally here, in the Democratic stronghold of Clark County, followed the beginning of early voting in the state. Several key counties reported record turnout over the weekend, a sign that bodes well for Democrats and their efforts to capture an open gubernatorial seat and unseat Sen. Dean Heller (R-Nev.).
While he never called out President Donald Trump by name, Obama directly criticized some of his successor's most controversial rhetoric and policies on issues like health care, immigration and the deficit. He noted that Republicans are engaging in deception by promising to voters that they will protect pre-existing conditions after offering bills to kill those protections and lawsuits to dismantle them.
"I know you can bet on anything here in Vegas, but you don't want to bet that Republicans are actually going to protect your health care," Obama said at the event following an introduction by some Democrats on the ballot here, including Senate candidate Rep. Jacky Rosen and gubernatorial candidate Steve Sisolak.
The former president urged the audience to "remember who started" the ongoing economic recovery Republicans are touting ahead of the November elections, noting that Democrats had to deal with a recession upon his election 10 years ago when the GOP ran "things into the ground." And he poked fun at GOP deficit hawks who opposed his proposals then turned around and blew a hole in the nation's budget by passing tax cuts that disproportionately benefited wealthy Americans.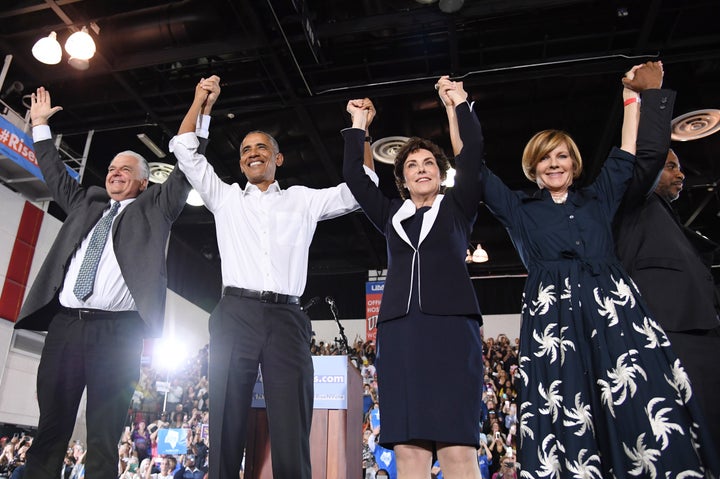 While Obama is viewed as a liability for Democrats in pure red states where Trump is overwhelmingly popular, he could help the party close the gap with young and Latino voters in a purple state like Nevada following some signs of lagging Latino enthusiasm in recent months. Democrats' chances of retaking Congress next year could suffer greatly if Hispanics fail to turn out to vote in similar numbers as seen in the 2016 elections.
At the Monday rally, though, Hispanic voters said they felt anything but disengaged. 
"The racism, the bigotry, and the hate, it really lights me up. You just feel it when you turn on the TV and watch the news," said Maria Huerta, a 39-year-old nurse practitioner in Las Vegas. 
Huerta said she had chosen to attend a political rally for the first time in her life, citing Trump's rhetoric and policies targeting minority communities. 
"I never knew if I was 100 percent Democrat before, but I feel that I know what I'm definitely not," she added.
The focus on turning out Hispanic voters was evident at the rally, which took place in a state with a rapidly growing Latino population. Democrat after Democrat on stage repeatedly urged Latinos to stay engaged to stop Trump's policies on immigration, education and health care. Organizers also brought in actress America Ferrera, musician J Balvin, and singers Salt-N-Pepa to fire up the crowd before Obama took the stage.
"If we can't find a way to activate the largest and fastest demographic in this country, there's no way we can take our country back," said Ferrera, who was born to Honduran parents.
Trump, meanwhile, tweeted on Monday without offering evidence that "criminals and unknown Middle Easterners" were part of a migrant caravan of thousands of people headed toward the United States from Central America. He has repeatedly attempted to sow fear over the caravan in an effort to drum up support for Republicans in the midterm elections, and he has blamed Democrats for allowing open borders. 
"Republicans right now are trying to say, 'Democrats don't think like you, look like you, or believe in the same things as you,'" he said. "We've seen that playbook before." He reminded people that they have the power to change Washington, adding that "one election won't fix everything. But it's a start."
Calling all HuffPost superfans!
Sign up for membership to become a founding member and help shape HuffPost's next chapter