WASHINGTON -- More Americans are optimistic than pessimistic about how President Barack Obama will handle his second term, but that hope does not translate into a positive outlook on the economy or the potential for greater cooperation in Washington.
Those finding stand out from a wide variety of public opinion polls conducted since November's election, including a new batch of results from a HuffPost/YouGov online survey of 1,000 Americans.
The HuffPost/YouGov poll finds a significantly higher percentage of Americans who think Obama will accomplish more in his second term (39 percent) than those who think he will accomplish less (22 percent) or those who think he'll do about the same (25 percent) as he did in his first term.
Those results are very similar to the findings of a McClatchy/Marist poll, conducted in early December, that asked Americans if they thought Obama's second term would be better, worse or the same as the first.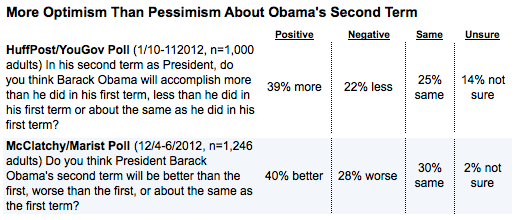 Some may read these findings as an indicator of net pessimism, given that nearly half of the HuffPost/YouGov respondents (47 percent) anticipate the president's accomplishing less or about the same as in his first term. However, the same survey shows that more than one-quarter of those who think Obama will accomplish "the same" in his second term still believe he is an above-average president.
Four other surveys conducted in November and December found that when pushed to choose, a majority of Americans (between 54 and 58 percent) are optimistic about Obama's second term rather than pessimistic (41 percent or less).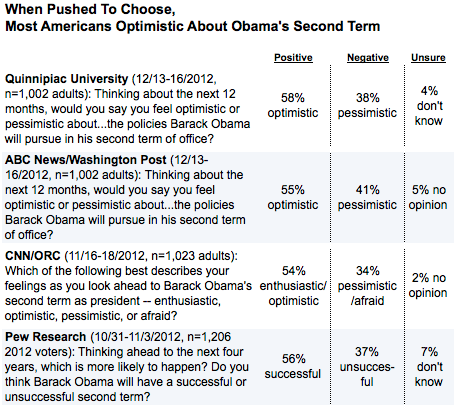 But optimism about Obama and his policies is distinct from views about the potential for robust economic growth or an improvement in the political climate on Capitol Hill. On the economy, for example, Americans are generally divided on whether the next year will be better or worse, with less optimism (as well as more variation in the results from survey to survey).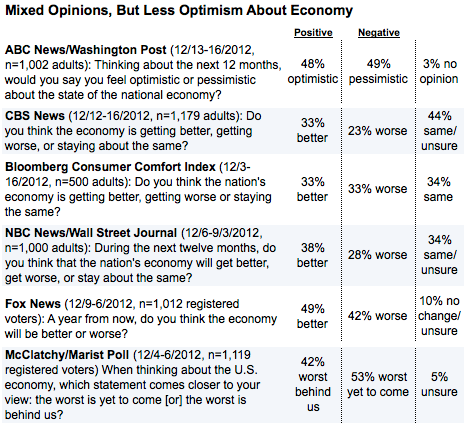 Pessimism is even more in evidence when it comes to changing the ways of Washington. Four different survey questions asked in November or December find fewer than half of Americans (between 35 and 46 percent) feeling hopeful that Obama and the Republicans will compromise or work together on important issues.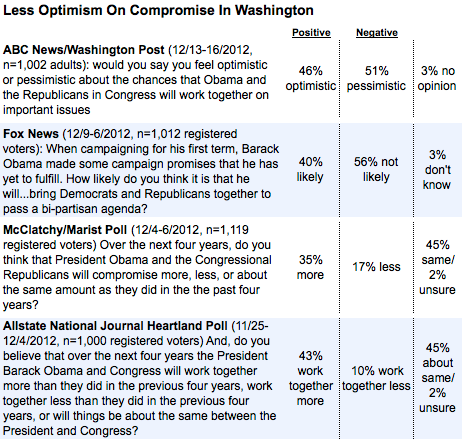 This sometimes conflicting outlook adds up to a sense of unease. More than half of Americans like Obama, and the rates of optimism or pessimism about how he'll handle a second term correspond fairly well to the percentages who view him favorably or unfavorably.
The combination of relative optimism about the president himself and negative feelings about the economy may be reflected in feelings about Obama's place in history. The HuffPost/YouGov poll finds that 37 percent of Americans think Obama's presidency will go down in history as great or above average, while 42 percent say it will go down as poor or below average.
In a Gallup poll conducted early in 2012, a comparable 38 percent said that Obama would be considered an outstanding or above-average president. The poll also asked respondents to rate the last seven president before Obama. Only two (Ronald Reagan and Bill Clinton) scored higher than Obama on being an above-average or better president, and only two (George W. Bush and Richard Nixon) scored worse than Obama on being below average or worse.
Past Gallup data also show that views of a president's place in history can change drastically in very little time. According to surveys accessed through the Roper Center's iPoll database, the percentage of Americans telling Gallup that they believed George W. Bush would go down in history as a below-average or poor president grew from 18 percent to 54 percent between June 2004 and December 2006. In Gallup's most recent poll, 47 percent said Bush would go down in history as below average or poor, a decrease from the 59 percent who said so just after the end of his presidency.
The recent HuffPost/YouGov poll was conducted Jan. 10-11 among 1,000 U.S. adults and has a margin of error of plus or minus 3.5 percentage points (though that inherent variation does not take into account other potential sources of error, including statistical bias in the sample). The poll used a sample selected from YouGov's opt-in online panel to match the demographics and other characteristics of the adult U.S. population. Factors considered include age, race, gender, education, employment, income, marital status, number of children, voter registration, time and location of Internet access, interest in politics, religion and church attendance. Additional crosstabs for the poll are available here.
The Huffington Post has teamed up with YouGov to conduct daily opinion polls. You can learn more about this project and take part in YouGov's nationally representative opinion polling.
This article is part of a series produced by The Huffington Post that closely examines the most pressing challenges facing President Obama in his second term. To read other posts in the series, click here.
Calling all HuffPost superfans!
Sign up for membership to become a founding member and help shape HuffPost's next chapter
BEFORE YOU GO
PHOTO GALLERY
Presidents On Inauguration Day