Former President Barack Obama returned to the spotlight on Monday, moderating a civic engagement panel featuring Chicago-area high school and college students and young leaders.
"So, uh, what's been going on while I've been gone?" he joked at the start of the event, held at the University of Chicago.
The panel discussion was Obama's first formal public appearance since leaving office in January. It was also a homecoming, as Obama began his political career in Chicago and taught constitutional law at the university for 12 years. He is building his presidential library just south of the campus, in Chicago's Woodlawn neighborhood, with the involvement of the university and community organizations.
Obama has said he hopes to focus his post-presidency on supporting the next generation of political leaders and community organizing. Monday's event provided a taste of what that could entail.
"I'm spending a lot of time thinking about what is the most important thing I can do for my next job, and what I'm convinced of is that, although there are all kinds of issues that I care about and all kinds of issues that I intend to work on, the single most important thing I can do is to help, in any way I can, prepare the next generation of leadership to take up the baton and to take their own crack at changing the world," Obama said.
He opened the discussion by talking about his early days as a community organizer on Chicago's South Side.
"I am the first to acknowledge that I did not set the world on fire, nor did I transform these communities in any significant way, although we did some good things," he said of his experience. "But it did change me. This community gave me a lot more than I was able to give in return, because this community taught me that ordinary people, when working together, can do extraordinary things. This community taught me that everybody has a story to tell that is important."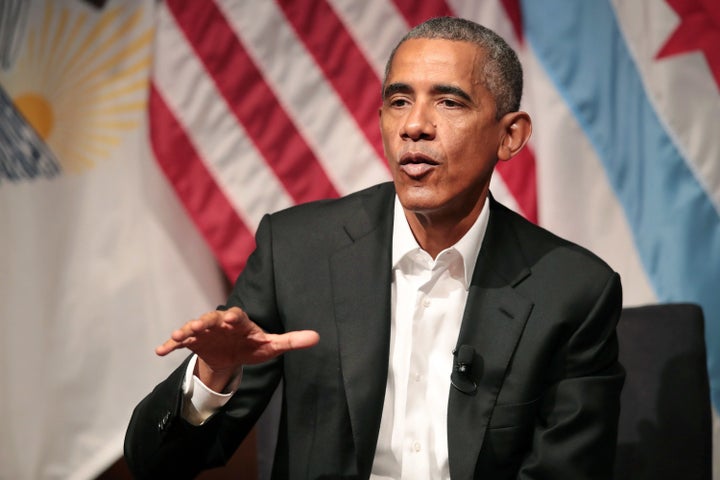 For the most part, the former president encouraged the students to discuss their experiences in politics and public service, asking them how they became involved and how they hope other young people can become more politically engaged. But sometimes, he interjected with anecdotes, multi-part follow-up questions and quips, like joking about his age compared to that of the young panelists.
Obama has largely been quiet since leaving office in January, vacationing and writing a memoir ― which he briefly mentioned Monday, describing it as a book "about my political journey." Although he criticized Donald Trump vociferously during last year's campaign, he said after the election that out of respect, he would comment on Trump's policies only if he felt it was necessary. Nine days after leaving office, Obama issued a statement in support of the nationwide protests against Trump's executive order banning travel and immigration from seven majority-Muslim countries and halting refugee resettlement. Through a spokesman, he also denied Trump's unsubstantiated allegation that he had ordered wiretapping on Trump Tower.
Obama similarly refrained from directly commenting on his successor or current political events on Monday. But in his introduction, he lamented the influence of money and special interests in politics, the polarization of politics and media, gerrymandering, and political apathy among young people.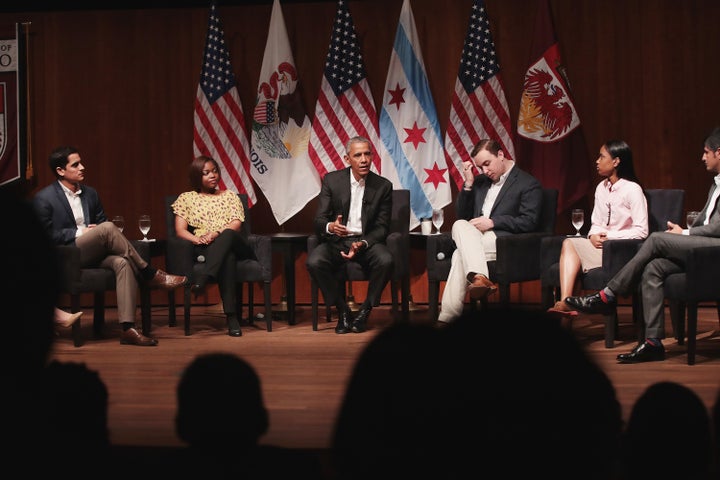 He also urged Americans to become more involved in local politics, including through community organizing, which he said "gave me the foundation for my subsequent political career and the themes that I would talk about," and through organizations like school PTAs.
"The mediating institutions — the unions, the churches, the PTA groups, the Rotary Clubs, a lot of the voluntary organizations that used to exist — those have declined," Obama said. "What that means is that people don't have the same habits of being involved in a common project that they used to. We've become more of an individualistic society."
Obama repeatedly stressed the importance of listening to other people's concerns, connecting that to his criticism of the huge divisions in political discourse and media. Young people need to be "hearing other people early on, before the lines of political division start hardening," he said.
"Your ability to create trust and relationships is the thing that makes all the difference in being able to have an impact, and that's hard to do in this current environment," he said. "But it's not impossible."
Reflecting on his own loss in a congressional primary in 2000, Obama noted that elected office is not the only way to be politically active.
"Worry less about what you want to be, and worry more about you want to do," he said.
What many University of Chicago students wanted to do on Monday was hear from the former president. A ticket to the event was the hot item on campus. Throngs of students tried simply to catch a glimpse of him. Others gathered around cellphones to watch a live stream of the event.
Atrician Lumumba, a student and president of the university's Organization of Black Students, said students have a special affinity for Obama.
"We're the Obama generation ― we grew up with him as our president," Lumumba said. "We're used to him, and we've seen how his activism in Chicago has really guided his [political] career."
Messages of optimism and engagement, common themes for any politician striving to strike an inspirational note, felt more genuine coming from Obama, according to 21-year-old student Musaab Bashir.
The fact that Obama's multiracial roots are similar to those of many students was a powerful message all on its own, some said. "It was just inspiring seeing someone like him can do all these things," Bashir said.
Lumumba said Obama's 2008 election was a turning point for some of his peers. "It drove their entire academic careers," he said, referring in particular to a number of black students in the university's public policy program.
Philip Sparks, a 26-year-old student, cited a friend's win in a local library board election as further evidence. "I think he took his inspiration from Obama's call to action," Sparks said.
While they were glad of Obama's optimism, several students said they had hoped for more specifics on how to make the changes and bridge the divides he spoke of.
"Listening not to respond, but to learn," Lumumba said. "I wish he talked about how to do that."
Kim Bellware contributed reporting from Chicago.
Support HuffPost
The Stakes Have Never Been Higher
Before You Go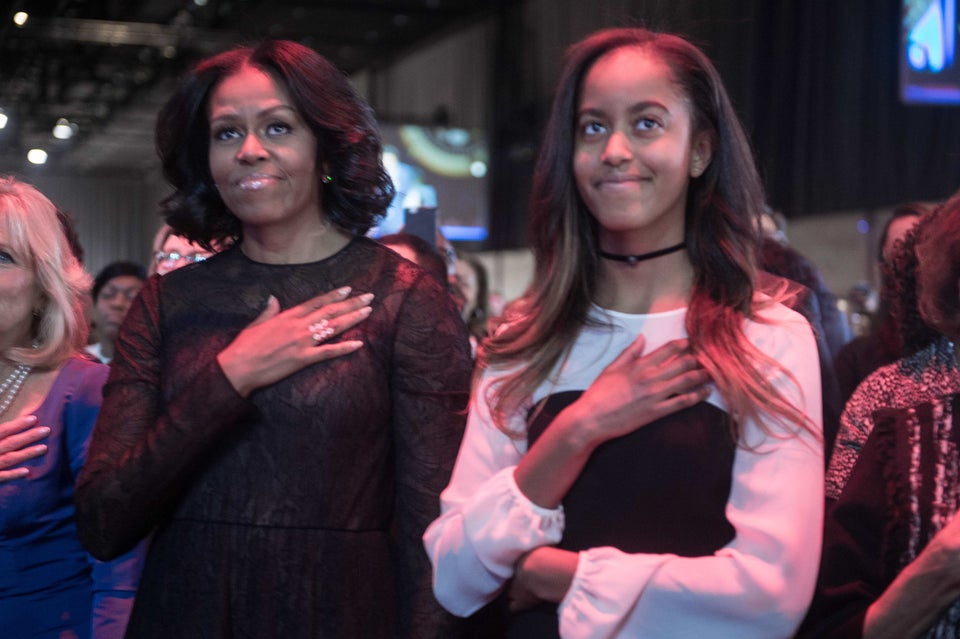 President Barack Obama's Final Farewell
Popular in the Community