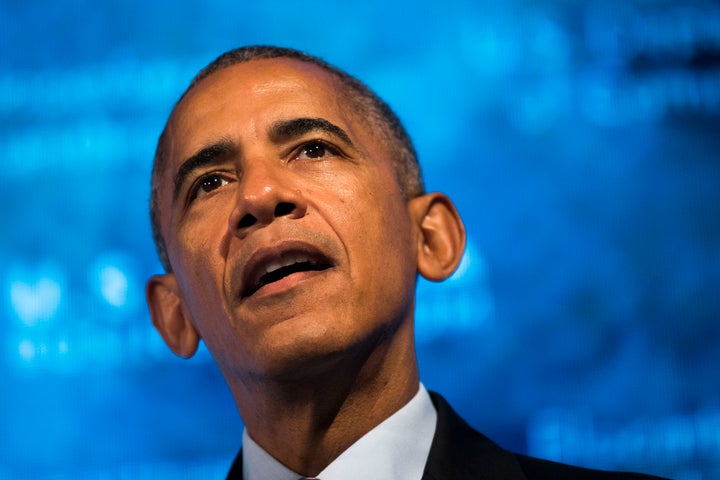 President Barack Obama, known for generally keeping a cool temperament, revealed that he sometimes will privately write scathing responses to his critics that he doesn't share publicly.
Historian Doris Kearns Goodwin asked Obama if he ― like Presidents Franklin Delano Roosevelt and Abraham Lincoln ― ever wrote responses to critics that he didn't make public. Obama told Goodwin that he did it "all the time."
"I will write a response—a full rant," he told Goodwin in an interview that appears in the November issue of Vanity Fair. "And then I'll crumple it up. Every once in a while, my team here will hear me go on a rant. Generally speaking, people who know me will tell you that my public persona is not that different from my private persona. I am who I am. You sort of get what you see with me. The two exceptions are that I curse more than I should, and I find myself cursing more in this office than I had in my previous life."
"And fortunately both my chief of staff and my national-security adviser have even bigger potty mouths than me, so it's O.K. And the second thing is that I can be much more sarcastic and, I think, sometimes withering in my assessments of things than I allow to show in my public life," he continued.
Occasionally, Obama admitted, those unrestrained feelings slip through to public life. One example of that may have been last year, when the president was asked about his strategy for combatting ISIS.
In the wide ranging interview, Obama addressed his legacy and the challenges of communicating at a time when Americans can turn to whichever media sources best align with their beliefs.
Obama also admitted that as president he hasn't always been able to speak out on issues in the way he might if he were a private citizen.
"There are institutional obligations I have to carry out that are important for a president of the United States to carry out, but may not always align with what I think would move the ball down the field on the issues that I care most deeply about," he said.
As Obama has campaigned for Democratic presidential nominee Hillary Clinton, he has consistently attacked the judgement and qualifications of Republican nominee Donald Trump.
"Everybody can tweet, but nobody actually knows what it takes to do the job until you sit behind the desk," he said at a Clinton rally in July.
Calling all HuffPost superfans!
Sign up for membership to become a founding member and help shape HuffPost's next chapter
BEFORE YOU GO