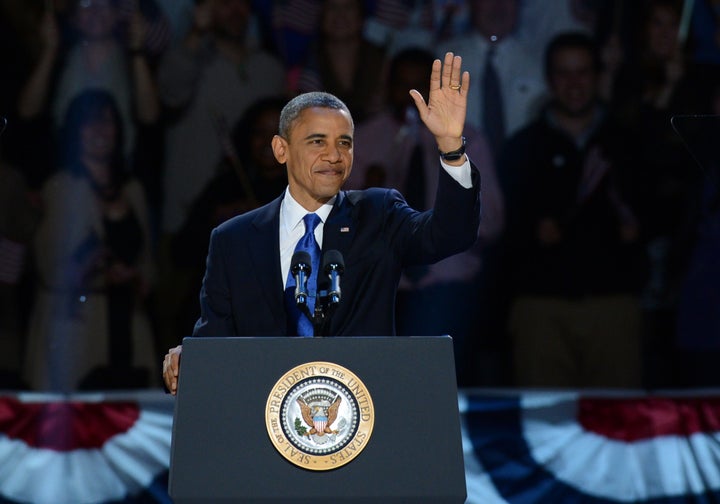 WASHINGTON -- There has been post-election glee among Democrats, including the highest reaches of the Obama campaign, over the failure of big-moneyed conservative donors to swing the 2012 election.
Sen. Chuck Schumer (D-N.Y.) declared triumphantly during a Christian Science Monitor breakfast on Thursday morning that "Karl Rove's reputation is going to take a significant hit" after his nonprofit and super PAC arms shot blanks. Later that day, President Barack Obama's top adviser, David Axelrod, said that if he were one of those donors who had funded the Rove groups, he'd be "asking for a refund."
But beneath the gloating, there's a belief among party operatives that Obama was uniquely qualified to survive in the super PAC era. As Democratic lawmakers take stock of what happened on Tuesday, there is a renewed sense that, absent some form of campaign finance reform, they will be disadvantaged in future electoral cycles.
"I know some people are looking at the impact of [super PAC spending] on the president and saying it doesn't matter," said Rep. Chris Van Hollen (D-Md.). "I think that overlooks the special characteristics of this presidential race and ignores the fact that it could have huge impacts on congressional races."
Unwilling to risk those impacts and genuinely concerned about the absence of campaign finance regulation, Van Hollen said he will re-introduce his Disclose Act during the next congressional session. The proposed law won't stop or change super PACs, but it would require nearly all outside groups that engage in political spending to identify their donors.
Whether Van Hollen's bill has any chance is another story. It failed in the last two Congresses, and with the conventional wisdom at least coalescing around the notion that outside money didn't make all that much of a difference in 2012, it may be even harder to pass this go-around.
Yet even Obama's own advisers, in their post-election bluster, argue that reforms are needed. In a follow-up statement to The Huffington Post, Axelrod marveled at how super PACs "pummeled the Senate [Democratic] nominees where, arguably, they should have had more influence, and they lost seats." But he added there was "no doubt" that the president "was well-fortified to take them on in ways future nominees may not."
There are several reasons why Obama was uniquely qualified to run in the post-Citizens United era. His ability to draw historic levels of youth and minority support provided one element of fortification against big money's influence. African-American turnout was higher in Ohio, Virginia, North Carolina and Florida in 2012 than it was in 2008. One Obama staffer said that the reelection team could sense early on that the black community felt emotionally "protective" of the president in addition to being angered by various voter restriction laws pushed by Republican governors. By the time Election Day rolled around, the implications were clear. One campaign volunteer, who asked to remain anonymous because he was not authorized to speak to the media, said he spent Tuesday getting out the vote in predominantly black neighborhoods in Richmond, Va.
"Every door I knocked on, the person said they either had voted already or were going soon," the volunteer said. "I didn't really have to do much work."
The ability to turn out minority voters was a manifestation of the Obama campaign's robust ground game. Organizing for America will serve as a template to follow for future presidential candidates. But it won't be easy. A far-reaching, grass-roots-oriented infrastructure requires a legion of devoted volunteers and a never-ending reservoir of cash. And on that front, again, the Obama campaign was unique.
The most important attribute that allowed Obama to maneuver past the pro-Romney super PACs, however, was that he was already a defined figure. Top Obama aides were heartened when the public's perception of the president stayed largely positive despite months of hammering from outside groups.
"We had no idea what the impact of unlimited spending would be in this election -- we knew going in we would be outspent and wouldn't be able to counter it dollar for dollar on the air," said the Obama campaign's press secretary, Ben LaBolt. "We won't know the full scope of its impact for some time, but we helped diminish it by countering with a strong ground organization on the theory that a call from a friend or neighbor is more effective than any advertisement. And ultimately, the American people knew Barack Obama, his values, and what he stood for, and his numbers never went through seismic shifts throughout the course of the general election."
Whether a non-incumbent candidate with a smaller campaign infrastructure could withstand the super PAC spending that Obama faced is a proposition that may be tested in the next cycle.
Secretary of State Hillary Clinton and Vice President Joe Biden, two potential 2016 Democratic nominees, are well-known commodities. Having both served in the Obama administration, they have cachet among his followers. Clinton, in particular, could have the same type of emotional appeal for women voters that the president was able to invoke among African-Americans. She also could inspire the type of super PAC culture on the Democratic side that conservatives built in 2012.
But simply assuming that she or Biden could replicate the Obama model is a risk that Democrats aren't eager to take. And not just for the presidential contest. Even though Senate Democrats nearly swept the 2012 elections, the battle for the House was altered by outside cash.
"The influence of money is still pernicious, bad, and I would hope that reform of financial contributions would be something high up on the agenda in 2013," said Schumer, as a coda to his glee over Rove's 2012 failures.
Campaign finance reformers are already airing warnings that Tuesday's results should not be used as an excuse to maintain the status quo.
David Donnelly, Executive Director of Public Campaign Action Fund, declared, "This entire system is teetering, and those that argue super PACs don't have influence are whistling by the graveyard."
REAL LIFE. REAL NEWS. REAL VOICES.
Help us tell more of the stories that matter from voices that too often remain unheard.
BEFORE YOU GO
PHOTO GALLERY
Lies GOP Tells About Women's Bodies