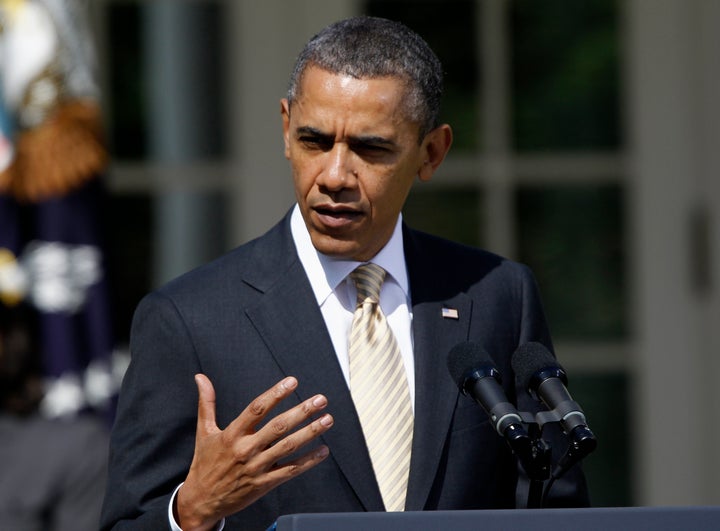 WASHINGTON -- Two weeks ago, much of the political and legal world thought it would be unthinkable for the Supreme Court to overturn President Barack Obama's signature health care law. Now, following several unnerving days of oral arguments, Democrats are frantically considering how they would respond should the Affordable Care Act be ruled unconstitutional.
The law's proponents have always challenged the idea that the law's individual mandate could be replaced with an alternate provision, though progressives like Howard Dean have insisted that enough people can be compelled to buy insurance without strict financial penalties to make an alternative feasible.
Equally debatable is what type of political response will work best were the Supreme Court to strike down the law. Some believe that it would be best for Obama to simply move on to another legislative goal. Others in the party see value in focusing attention on the individual provisions that would be overturned, such as the end of discrimination against people with pre-existing conditions.
Then there are those who think the president could do well by squarely targeting the Supreme Court, accusing the justices of rank partisanship and judicial activism. On Monday morning, Rep. James Clyburn (D-S.C.), a member of House Democratic leadership, joined that camp.
"Well, in terms of the Congress, I believe that it would be off base for us to [go after the Court]," he said on MSNBC's "Morning Joe." "But for the president, I don't think it is. I think the president ought to take a look at what went on in the years before. We have seen presidents run against Congress and we have seen presidents run against the Supreme Court. Franklin Roosevelt did it to the Supreme Court; Truman did it to the Congress. I think that the president would take a look at exactly what he needs to do to connect with the American people. Let them know he has done everything that he can possibly do. And ask them to give him a mandate for the years going forward."
With his remarks, Clyburn becomes one of the highest-ranked Democrats to express support for turning the court's political make-up into a campaign issue. Others have preceded him to that conclusion. Neera Tanden, the president of the liberal think tank Center for American Progress, for example, predicted that there would be a negative reaction against an "activist court rendering a partisan decision" should the Affordable Care Act be overturned.
Meanwhile, the pro-health care reform group Protect Your Care recently told the Washington Post that it would shift its focus from promoting the law toward going after the court, should a negative decision be handed down.
"Since Bush v. Gore, from the progressive side, it would be the most galvanizing Supreme Court ruling ever," said Eddie Vale, a spokesman for the group. "You'd have a 5-4 court, in clearly a partisan political decision, striking down not just President Obama's biggest legislative accomplishment but also the biggest progressive legislation since LBJ."
Popular in the Community