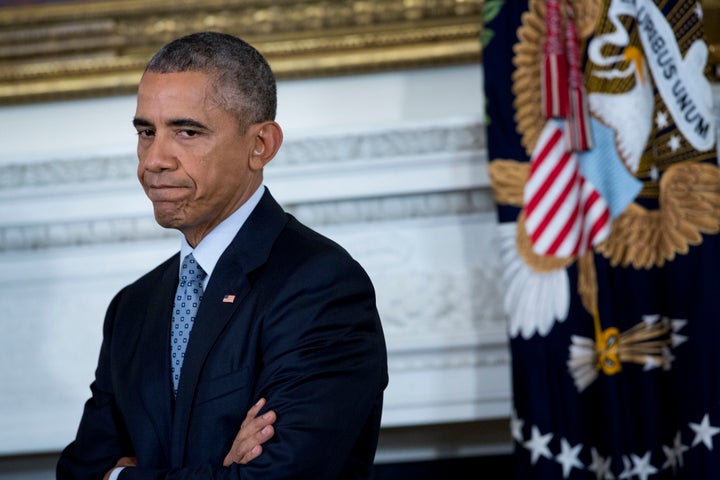 WASHINGTON -- The Obama administration on Monday announced that it had sealed the biggest trade deal in history. Sorta. 
The actual text of the agreement hasn't been released. Some final details may or may not remain up in the air, and the Office of the U.S. Trade Representative can't say when they'll be available.
The agency has, however, released a fact-sheet laying out the broad terms of the deal, which remain largely in line with what Democratic critics have long expected. Congressional Democrats still loathe the agreement between the United States and 11 Pacific nations, known as the Trans-Pacific Partnership, and key Republican leaders didn't exactly celebrate the administration's announcement.
"I am afraid this deal appears to fall woefully short," Senate Finance Committee Chairman Orrin Hatch (R-Utah) said in a written statement. Hatch, who heads the committee responsible for trade deals, is Obama's top TPP ally in the Senate.
House Ways and Means Committee Chair Paul Ryan (R-Wis.) -- who also leads a panel that oversees trade -- said in a statement that he is "reserving judgment" and has "concerns surrounding the most recent aspects of the agreement." 
The battle lines on TPP have been clear for years. Environmental groups and public health experts have lobbied fiercely against the pact, arguing that it will empower big corporations to undermine important regulations before international trade courts and drive up prescription drug prices. Labor unions say the pact will offshore U.S. jobs to low-wage countries with poor human rights records, such as Vietnam and Malaysia. Corporate lobbying groups including the U.S. Chamber of Commerce strongly support the TPP, arguing it will boost American exports.  
In June, Congress granted Obama so-called "fast track powers" on trade, which bars legislators from amending or filibustering the final agreement, making it far easier for TPP to pass. But the margin in the House was very narrow -- one vote shy of defeat -- giving opponents some hope that the final terms will peel off enough lawmakers to kill the deal, which must still pass both chambers of Congress.
The politics of the 2016 presidential primaries will help that cause, as will the resignation of House Speaker John Boehner (R-Ohio) -- a strong TPP supporter -- at the end of October.
Democratic opposition to TPP has already created headaches for presidential candidate Hillary Clinton, who has avoided taking a position on the pact, saying she is waiting to see the final terms of the deal. In her book Hard Choices, Clinton wrote that she opposes key provisions included in the pact. Sen. Bernie Sanders (I-Vt.), who has been running a strong primary campaign for the 2016 nomination, has been unequivocally against the TPP for years. He blasted the administration's announcement on Monday.
"Wall Street and big corporations have won again," Sanders said. "In the Senate, I will do all that I can to defeat this agreement."
But Obama has the Senate sewn up. There are a handful of House Democrats who voted for the fast-track bill that may flip. Oddly, however, it's the Republican side of the aisle where progressives have the best opportunity to pick up votes. The "most recent aspects of the agreement" Ryan referenced in his statement are small concessions that the administration reportedly made to progressive voices. Ambassador Michael Froman proposed removing anti-smoking rules from the sets of regulations that can be challenged before international tribunals. Froman also backed down from efforts to secure 12 years of monopoly protections for cancer drugs, according to sources familiar with the talks. 
None of these changes mollified Democrats in Congress. But they have angered some Republicans, and give anyone interested in changing positions an excuse to move. Trade is a contentious issue in the Republican base. Many conservative groups vehemently oppose TPP,  and Republican presidential frontrunner Donald Trump has been fanning those flames. He's called TPP a "disaster" and appeared in a radio ad hammering the "bad, bad deal." Trump has targeted the agreement's failure to tackle currency manipulation by Japan as a chief failure. Currency manipulation allows governments to make their goods cheaper in foreign markets without damaging wages or living standards for their own workers. It is one of the few issues to fracture TPP's corporate coalition, generating outrage from American auto companies. On Monday, Ford issued a statement opposing the deal.
"We recommend Congress not approve TPP in its current form, and ask the Administration to renegotiate TPP and incorporate strong and enforceable currency rules," Ford lobbyist Ziad Ojakli said.
But while TPP's political vulnerabilities are principally among Republicans, the Obama administration is already making a largely progressive sales pitch for the deal, touting protections for wildlife and enforceable labor standards. Environmental groups and unions have been largely unimpressed, noting that the administration hasn't really enforced such rules  in existing trade pacts. The Sierra Club and other groups have noted that the environmental chapter the administration touts doesn't address climate change.
It will be months, however, before Congress actually votes on TPP. Obama has to give Congress 90 days notice before signing the pact, and give them 60 days to review a public text. Most experts expect a vote in February, at the earliest, which would place the vote right in the midst of 2016 primaries in Iowa, New Hampshire, South Carolina and Nevada.
On a Monday conference call with reporters, Reps. Rosa DeLauro (D-Conn.) and Marcy Kaptur (D-Ohio) said that scheduling could only help their efforts to defeat the pact.
"That's perfect timing," DeLauro said.
Calling all HuffPost superfans!
Sign up for membership to become a founding member and help shape HuffPost's next chapter